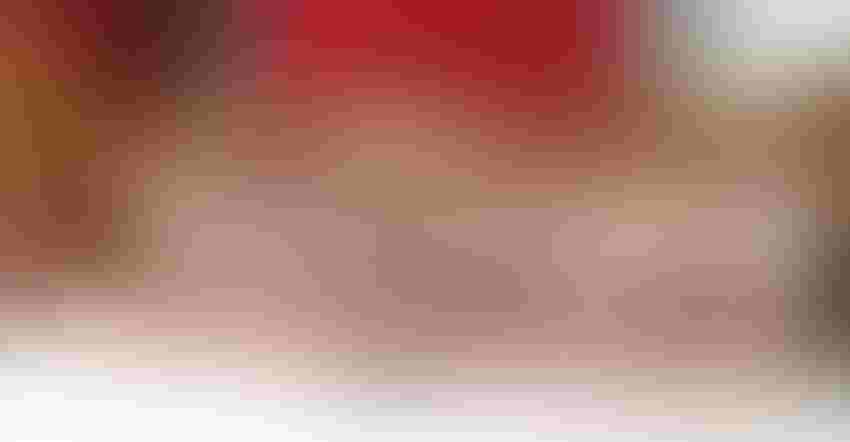 FRESH PERSPECTIVE: Life behind the meat counter, slicing bacon, served as a training ground in ag communications for College Farmer Elizabeth Wyss. Today, she is using her voice as an Science and Agricultural Journalism major to share stories that impact farmers and consumers.
Elizabeth Wyss
By Elizabeth Wyss
"Does the deer blood bother her?" a family friend asked my dad, while a three-year-old me sat on the counter at the Russellville Locker and Feed Store watching my cousins process deer.
"I don't know," my dad replied, "Elizabeth, does the deer blood bother you?"
"What deer blood?" I said.
"I guess not," my dad said.
As one might assume from my attitude about the deer blood, I have a pretty unique agricultural background. Growing up as the daughter of a small-town butcher and cow-calf operator, I have had the privilege of seeing animal agriculture from the field to the freezer. From a young age, I've been working behind the counter at the family business, slicing bacon, selling hamburger, and, in-season, taking deer cutting instructions.
Working in the family business has provided me with an abundance of opportunities to advocate for the agricultural industry. Even though our processing plant is located in a very rural area, conversations sparked at the meat counter revealed some of the most prevalent agricultural misconceptions in the minds of consumers. From explaining why we can't turn a hunter's whole deer into tenderloin steaks or why we can't make fat free lard from their hog (yes, those things really happened), I've seen consumer concern, and often confusion, about where their food comes from.
In addition to consumer concerns about their food, the meat industry faces other unique challenges such as government regulation and economic issues. Like many sectors of agriculture, we face the challenge of pleasing everyone, our consumers and the regulators, while feeding our communities and making a living.
My unique agricultural background and love of FFA public speaking led me to pursue a degree in science and agricultural journalism at the University of Missouri, where my agricultural communication skills have been shaped to make me a better advocate for the industry. Spending time in the journalism school has put me in the path of many urban students who are just as curious about their food as the customers at the meat counter. My journalism school classmates exemplify the recent wave of young consumer curiosity, and because I am often the only agriculture major they know, I've learned more about other sectors of agriculture from answering their questions.
As this year's College Farmer columnist, I am eager to share some of my unique agricultural background and college experiences with the readers of Missouri Ruralist.
Subscribe to receive top agriculture news
Be informed daily with these free e-newsletters
You May Also Like
---