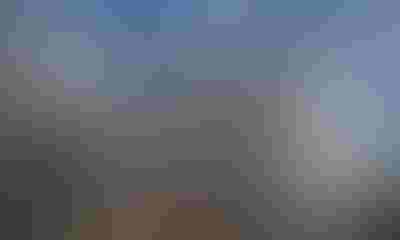 Rains that flooded parts of northern Iowa in September caused water to rise above the ears on the cornstalks, and above soybean plants in a number of fields. In other fields and areas of fields there was flooding of the crop, but the water didn't rise enough to put the ears under water.
Grain submerged by uncontrolled floodwaters is considered adulterated under the federal Food, Drug and Cosmetic Act, explains Charles Hurburgh, a grain quality expert at Iowa State University. Adulterated material cannot be put in commercial facilities of any type, where there would be a chance of that grain entering the human food supply or animal food.

DRY THAT GRAIN: Mold on grain along with stalk rot issues are impacting corn that's being harvested in many parts of the Midwest this fall. Using proper drying and storage practices will help protect grain quality, reduce discounts and maximize profitability.
There were a number of flooded (water over the grain height) fields in northeast Iowa during September, notes Hurburgh. Late September rains increased the scope of this problem to north-central Iowa as well. Consequently, grain from these fields where mold is showing up on the grain is being docked heavily on price. In some cases the elevator or commercial facilities are refusing to buy the grain.
Some grain buyers are wrongly interpreting adulteration issue
Now, as fields are being harvested in October, a new twist has emerged in the flooded grain saga. Some grain buyers are interpreting the adulteration issue to apply to ponds and other low spots in fields—not connected with streams and rivers. "This is not true," says Charles Hurburgh, an Iowa State University ag engineer who is the states' grain quality expert. "Grain submerged in ponds or low areas of fields is probably moldy and bad. But that's a quality issue, not an FDA food safety issue."
Buyers are within their rights to reject any grain lots or loads of grain on whatever criteria they choose, he notes, but in this case FDA is not the source of rejection. Only uncontrolled flood waters from streams and rivers are considered adulterated. The logic is streams and rivers have the potential to carry a myriad of contaminants.
"So, these grain buyers can either buy the grain or reject it, but this is not a grain quality issue," says Hurburgh. For recommendations on what you can do with this grain, read Hurburgh's article "Management of Flood Submerged Grain" available on the ISU Extension grain quality website extension.iastate.edu/grain/.
Mold-affected corn requires proactive grain storage management
Moldy corn caused by plant diseases like diplodia ear rot along with stalk quality issues reported in many parts of the Midwest this fall mean farmers need to dry corn properly and be especially proactive in protecting the quality of their stored grain.
Gary Woodruff, a grain conditioning specialist with Grain Systems Inc. (GSI), recommends that harvest be completed as soon as possible for corn infected with mold or stalk quality issues. Drying with a high temperature dryer at 180 degrees plenum temperature or higher will help extend storage life, he says, but even that cannot eliminate a reduction in how long the corn can be stored. Woodruff also advises:
•Discoloration and low test weight are good indicators of grain with a limited storage life.
•Dry any affected corn to one point lower than normal moisture content, preferably at 14% or below, to reduce water which can promote additional mold growth.
•Maintain a bin inside temperature in the 30s or below. Temperatures below 50 degrees reduce mold and insect activity, and colder temperatures further reduce the chance of corn going out of condition.
•Monitor the stored corn carefully each week to detect any smell, crusting or increase in the moisture content at the surface of the stored grain and take action immediately if detected.
•It's best to leave the grain cold until sold, rather than increase aeration. Aeration is only for changing the temperature of the grain. High aeration airflow will not extend storage life, and as static pressure rises above 4 inches, it may create issues resulting from air temperature rise from the heat of pressurization.
•Market any mold-affected corn early, before the temperature begins to warm up next spring. "Mold-affected corn has a shorter storage life, even with careful management, and should be used early and first, leaving higher quality corn for longer storage," Woodruff notes.   
•Always consult your local ag university and Extension service for recommendations best suited for your area as they vary depending on local climate and conditions. For Iowa that's extension.iastate.edu/grain.
"Through these management steps, farmers will be better able to protect grain quality, reduce discounts and maximize their profit potential," Woodruff says.
Subscribe to receive top agriculture news
Be informed daily with these free e-newsletters
You May Also Like
---