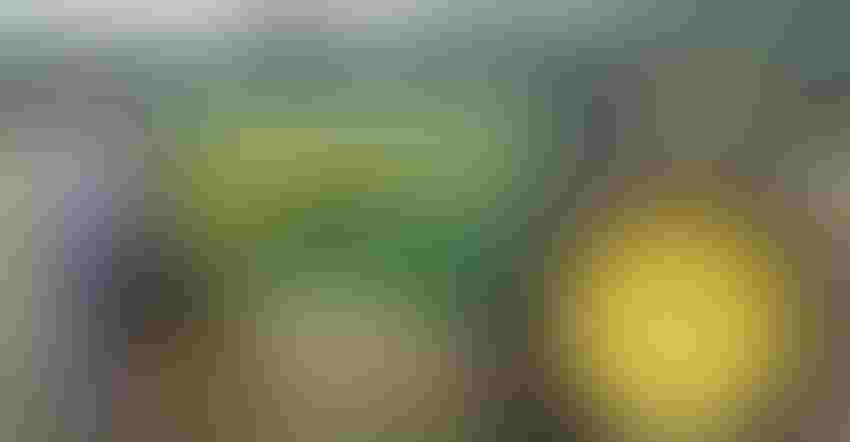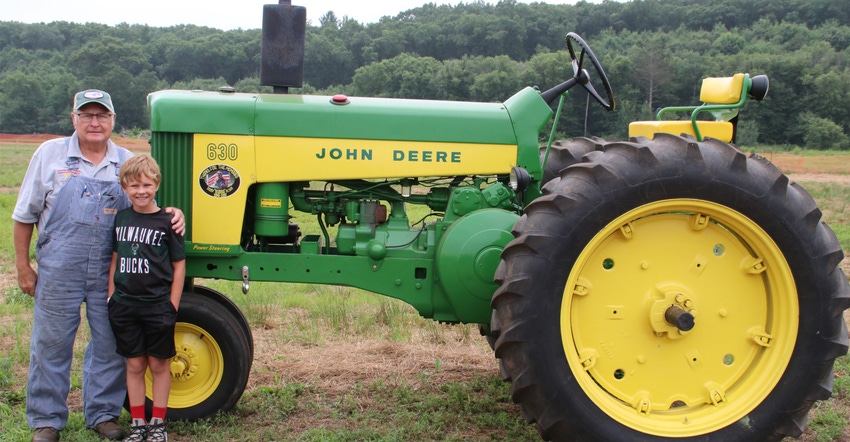 SENTIMENTAL FAVORITE: Daryl Dehnke's grandson Derrick would like to take over his grandpa's extensive tractor collection someday. He has already claimed one tractor and named it "Double D."
Harlen Persinger
While growing up on his dad's farm in Fall Creek, Wis., Daryl Dehnke worked the fields doing tillage chores, raking and baling with a model A and model 50 John Deere tractor. After his parents retired, he purchased one of the machines, which propelled him to start collecting. He now has about 30 John Deeres and other tractors, plows, crawlers and other pieces of equipment.
"My favorite tractor today is a 1959 model 630 John Deere," says Dehnke, who now lives on an acre of land in Eau Claire, Wis. "I purchased it from the second owner, Bob Miller, a hobby farmer from Elk Mound, for $5,000 in 1981. He used it to prep his land and handle custom jobs. That 630 came off the showroom floor from Morrison Implement in Chippewa Falls."
Mint condition
After mechanical work was completed on the clutch, radiator and engine, the tractor was sandblasted and painted by Rob Detwiler. The cost was $3,000 to restore the 630, serial number 631193, back to mint condition.
This two-cylinder tractor, manufactured in Waterloo, Iowa, from 1958 to 1966, was part of the 30 Series. The original price in 1958 was $2,955. There were 17,307 units made, and it was available in row crop, standard, orchard and high-crop variants. Features include a narrow front end, power steering, open operator station, 4-by-2 two-wheel-drive chassis, 20.5-gallon fuel capacity, differential mechanical drum brakes, six forward and one reverse gear, and a 5-liter, two-cylinder, gasoline liquid-cooled engine.
Dehnke takes the 630, which has 4,800 hours on the tachometer and is used 30 hours each year, to various shows and Pioneer Day events during the summer. For the past few years, he has picked up his grandson Derrick from the local elementary school and driven through McDonald's for a burger and fries. Derrick would like to take over the collection someday. He has already claimed one tractor and named it "Double D."
"This is my favorite tractor because it was the last two-cylinder unit my dad, Henry, a true John Deere man, purchased," Dehnke says. "It has excellent maneuverability, good brakes, and I enjoy the electric starter and power steering. Raking hay with that machine when I was 13 brings back a truly peaceful time."
Persinger writes from Milwaukee, Wis. To have your favorite tractor featured, email or send in a photo of yourself with your tractor, along with a 300-word write-up about the tractor, to: [email protected] or Wisconsin Agriculturist, P.O. Box 236, Brandon, WI 53919.
Subscribe to receive top agriculture news
Be informed daily with these free e-newsletters
You May Also Like
---