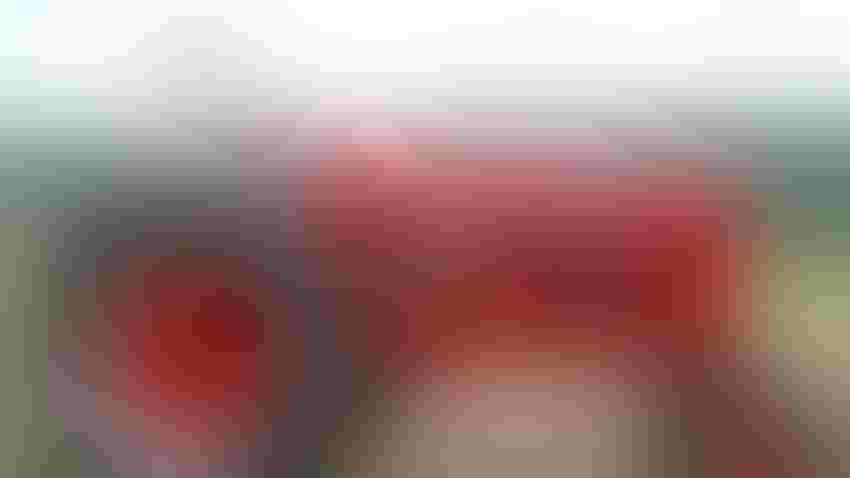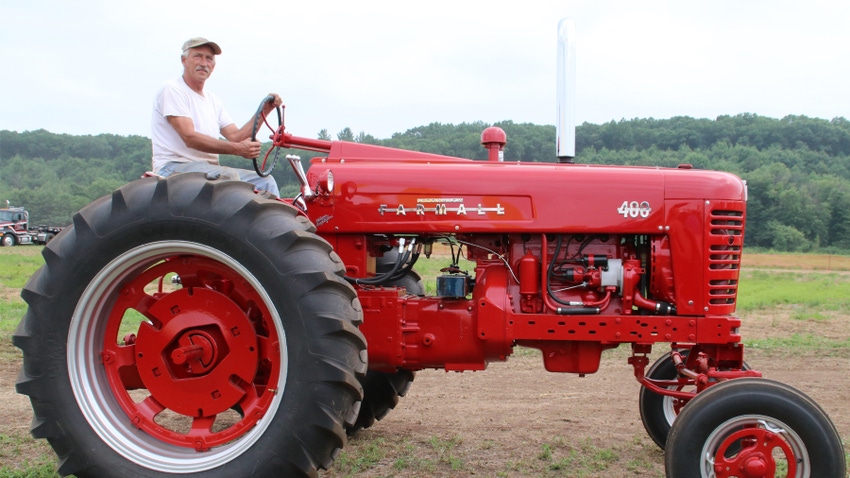 SHOW READY: Glen Green takes his 400 Farmall to tractor shows across the state.
HARLEN PERSINGER
When Glenn Green of Cadott, Wis., bought a 1954 model 400 Farmall tractor for $1,400 in 2013, he never envisioned the end result for that machine. It seemed in relatively poor condition, so his original plan was to remove some of the parts to use on a different 400, and take off the power steering and add that feature to a Super M.
After a little research, Green learned that a previous owner, Scott Knuth, had used the tractor for hauling manure. It then went to Green's neighbor Joe Smith, who purchased the 400 on an auction in Fall Creek, Wis., in 1998.
Because the rig had mainly worked in the woods, its overall condition was in rough shape when Green acquired it. It needed a battery box, timing gears, carburetor kit, repairs on the torque and couple of new tires. The seat was worn out, the starter needed to be rebuilt, and new gears had to be replaced in the transmission because there were missing teeth.
TLC transforms 1954 tractor
"Through the winter of 2013-14, my dad, Orville, who is good at dealing with mechanical problems, and I began fixing the worst parts. One replacement just led to another," says Green, who owns a portable sandblasting company. "After the tractor was stripped down, a new radiator was installed. I sandblasted the frame, painted everything and built the stainless steel drawbar. Today, it looks like it came directly off the dealer's showroom floor."
This row crop tractor, which also came in Standard and Hi-Clear high-top models, was manufactured from 1954 to 1956 by Farmall as part of International Harvester in Rock Island, Ill. There were 40,957 units built with the original price of $3,500 in that first year of production. It was at that time the company decided to rebrand its product line, switching from a letter designation to numbers.
Once in the field, the 400 offered a fantastic value in the 40- to 50-hp class. Features included: a 4-by-2 two-wheel-drive chassis, open operator station, manual steering (power optional), wide or narrow front end, manual disc brakes, 21.5-gallon fuel capacity, 12-inch dry disc clutch, torque amplifier power shift with 10 forward and two reverse gears, and a 4.3-liter, four-cylinder, liquid-cooled engine.
Green takes the 400 to Wisconsin shows such as Pioneer Days in Eau Claire, Hungry Hollow in Rice Lake and Red Power Roundup in Union Grove. Normally Green drives the tractor and his wife, Cindy, polishes and waxes everything. During the winter, it's stored in a heated shed along with a 1952 model M and 1955 model 400.
"I have always been partial to the red line of equipment because my first experience learning to drive was on an M Farmall when I was 8, helping to build fence and load logs on the Skidway in the woods," Green says. "The 400 has good maneuverability and offers a smooth ride. This is my favorite tractor because I was able to restore it to mint condition and now take time providing TLC to make sure everything looks sharp."
Persinger writes from Milwaukee. To have your favorite tractor featured, email or send in a photo of yourself with your tractor, along with a 300-word write-up about the tractor, to: [email protected] or Wisconsin Agriculturist, P.O. Box 236, Brandon, WI 53919.
Subscribe to receive top agriculture news
Be informed daily with these free e-newsletters
You May Also Like
---