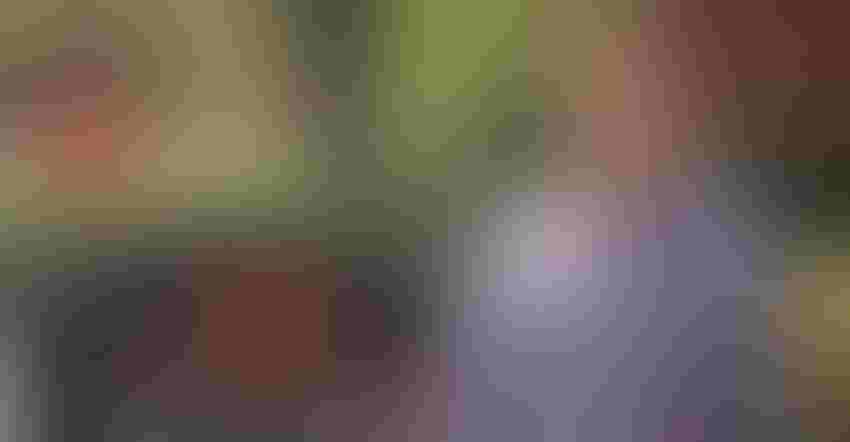 Steve Beck returns to Oklahoma to lead the Oklahoma 4-H Youth Development Program at Oklahoma State University.
Trisha Gedon, OSU
When Steve Beck took the helm as state 4-H program leader for the Oklahoma 4-H Youth Development Program, he knew there would be challenges in his new position. He was not, however, expecting to start his role without employees in the office.
Beck returned to Oklahoma in late March, amid the COVID-19 pandemic, following nearly five years as the 4-H Youth Development department head at New Mexico State University. Before he went out of state, he spent 10 years as a county educator in Harper and Kingfisher counties, and another seven years as a state specialist in Oklahoma 4-H administration.
"I thought I would be seeing some familiar faces when I got back, but the pandemic had other ideas," he said. "I'd planned on hitting the ground running by making in-person county visits because I wanted to talk in person with educators to learn more about their 4-H programs and find out how I and the rest of the state staff could improve our support to them."
Thanks to technology, Beck has been able to conduct his visits while still maintaining social distancing. He has already contacted his peers through online virtual meetings, which will continue over the next several weeks.
(The competition can be fierce at the annual 4-H Cupcake Wars competition at the Oklahoma State Fair. Photo by Todd Johnson)
As state program leader, Beck said his role is to support the traditional values of 4-H while seeking opportunities for innovation.
"The Oklahoma 4-H program is built on a strong foundation of what we call traditional programming. These programs are the backbone of 4-H and I will continue to support them," he said. "However, we live in a rapidly changing world, and in order to continue to meet the needs of our club members and remain relevant to community needs, we must adapt through innovation and new projects. We must be seen as leaders in youth development.
"Regardless of whether our youth are raising a steer for a livestock show or working on a robotics program, the goals are the same," he said. "We want all youth to experience the outstanding benefits that come from being involved in 4-H. Oklahoma 4-H has exceptional educators and volunteers who provide club members the opportunity to belong to an organization that teaches them life skills through experiential, hands-on learning."
(Oklahoma 4-H'ers enjoy the great outdoors during an archery competition.Photo by Todd Johnson)
Beck said his previous years in Oklahoma 4-H, coupled with his leadership role in New Mexico, have given him the needed perspective to deliver quality programming and work with clientele on a daily basis.
"Our educators are extremely busy doing great work with our youth and volunteers, and I need to work closely with them to find new programs and innovations that will be beneficial," he said. "In this time of social distancing, it's crucial to find resources to help our 4-H educators continue to deliver quality programs."
Challenges
Beck said one of the challenges facing 4-H today is finding innovative ways to reach new audiences and market programs. He said recruiting and training new volunteers to lead programs is also a priority.
"Our parent volunteer base is very different than it was 20-plus years ago, and we need to develop new strategies that will engage and allow volunteers to work with us around their busy schedules," he said.
Thomas G. Coon, vice president for agricultural programs at OSU, said Beck is definitely an asset for Oklahoma 4-H.
"Dr. Beck proved to be an innovative and compassionate leader during his time as state 4-H leader for New Mexico State University. That's no surprise to us from our experience with Dr. Beck's programmatic leadership previously with Oklahoma 4-H," Coon said. "We already see the impact of his insights and empathy as Oklahoma 4-H adapts to fostering positive youth development through online resources during the COVID-19 pandemic."
(While traditional agriculture projects are a staple in the Oklahoma 4-H program, projects such as robotics have become quite popular. Photo by Todd Johnson)
Beck said returning to Oklahoma is like coming home, and he is looking forward to settling into his new leadership role.
"I'm proud to be part of this team. I'm looking forward to taking my experiences as program leader in New Mexico and being able to provide a clear message conveying the decisions I'll make in Oklahoma," he said. "One thing New Mexico taught me is that green chile sauce goes on almost everything."
Beck earned his bachelor's degree in agricultural education from OSU, his master's degree in secondary education from Northwestern Oklahoma State University and his doctorate degree in health, leisure, and human performance from OSU.
Source: is OSU, which is solely responsible for the information provided and is wholly owned by the source. Informa Business Media and all its subsidiaries are not responsible for any of the content contained in this information asset.
Subscribe to receive top agriculture news
Be informed daily with these free e-newsletters
You May Also Like
---