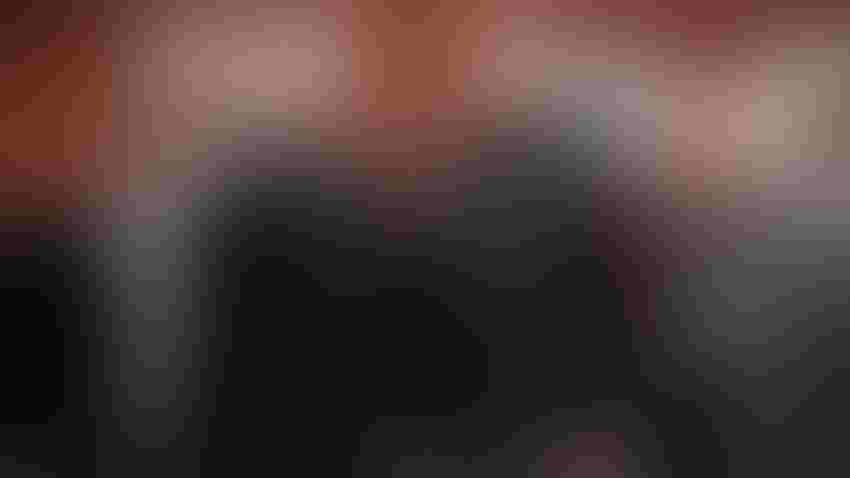 MASTERS: The Prairie Farmer Master Farmer Class of 2023 being honored today includes (from left) Martin Barbre, Ron Moore, David Meiss and Curt Strode.
Betty Haynes
Prairie Farmer is honoring four Illinois farmers as 2023 Master Farmers today at its annual event, held in Bloomington, Ill., at the DoubleTree Hotel. The award honors exceptional agricultural production skills, commitment to family and service to community. This year, a new Honorary Master Farmer also will be recognized.
The Master Farmer winners include:
The 2023 Honorary Master Farmer is Robert Easter.
Prairie Farmer will present plaques to each Master Farmer that bear a bronze medallion, which is an exact replica of the gold medals presented to the inaugural class of Master Farmers in 1925. All past Master Farmers are invited to attend and welcome the new class into the fold, and RFD Radio Network's Rita Frazer will offer up the keynote address for the day.
Candidates are nominated by farmers, neighbors, agribusiness leaders and farm organizations throughout the state. Judges for the 2023 awards were Karen Corrigan, McGillicuddy Corrigan Agronomics; German Bollero, University of Illinois College of Agricultural, Consumer and Environmental Sciences interim dean; Linnea Kooistra, 2011 Master Farmer; Dwight Raab, First Midwest Bank agribusiness vice president; Steve Carson, Farm Credit Illinois; and Mike Wilson, Farm Futures editor.
Here's a look at all the stories, profiles and lists for this year's winners:
Meet the 2023 Master Farmers. They are Martin Barbre, David Meiss, Ron Moore and Curt Strode. Plus: Bob Easter is the newest Honorary Master Farmer.
Martin Barbre: Building for the future. This 2023 Master Farmer from Carmi builds for the next generation on his farm, in farm organizations and all the way to Washington, D.C.
David Meiss: Leading, serving with humility. This 2023 Master Farmer from Gridley is a servant-leader around the farm and for his family, his community and his church.
Ron Moore: Asking questions to learn. This 2023 Master Farmer from Roseville works to leave life and land better for the next generation.
Curt Strode: Farming for the next generation. This 2023 Master Farmer from Marietta has brought the next generation to the farm, led his community well and still has lessons to share.
Robert Easter: Honorary Master Farmer. Here's how a career in swine nutrition led a Texas farm boy to become president of the University of Illinois — plus how he really learned to lead.
Illinois Master Farmers through the decades. Who's been a Prairie Farmer Master Farmer? Here's a look, plus Honorary Master Farmers.
2023 Illinois Master Farmers: What their friends say. The letters that pour into Prairie Farmer offices in support of Master Farmers make for the most uplifting reading we do all year. Here's a slice of the stories they tell about the 2023 Master Farmers.
How to nominate a Master Farmer for 2024. Do you know someone who should be named a Master Farmer next year? Here's how you can nominate them.
Illinois Master Farmers rooted in history. With nearly 350 Prairie Farmer Master Farmers on the rolls, here's a look at how it all began.
Prairie Farmer Master Farmer. Find all things Master Farmer here, including the nomination form and the list of past Master Farmers.
Growmark is the financial sponsor of the Master Farmer award. To nominate a farmer for the 2024 Class of Master Farmers, email [email protected] for a nomination form or download one online.
Subscribe to receive top agriculture news
Be informed daily with these free e-newsletters
You May Also Like
---