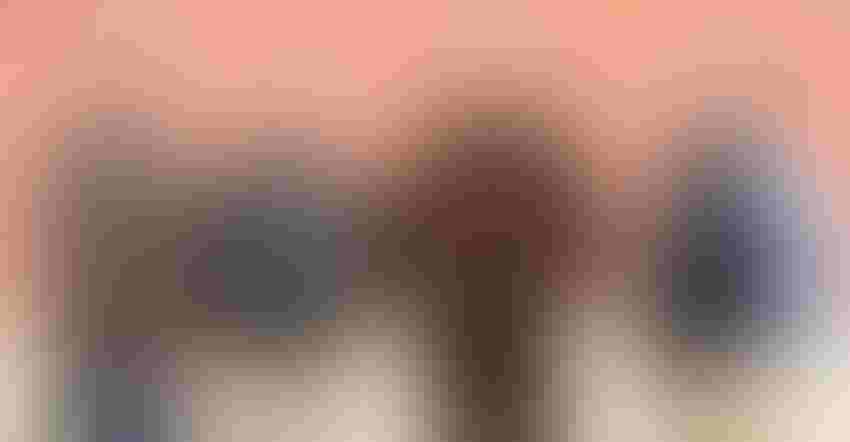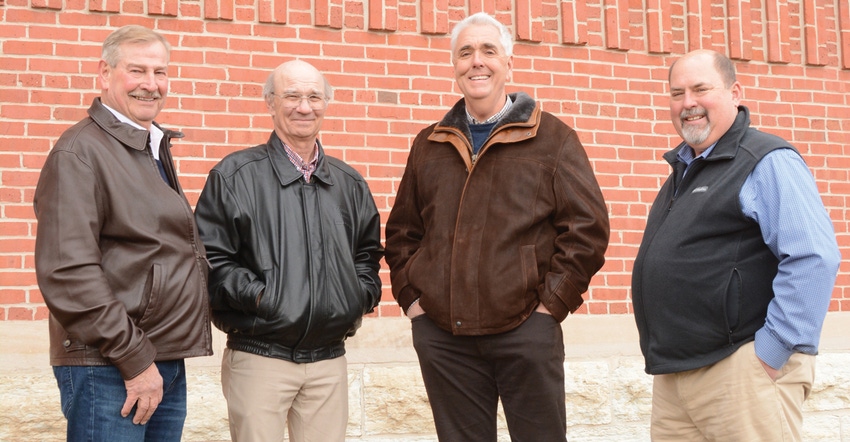 RESPECTED: The 2022 Master Farmers are Jim Raben (left), Darryl Brinkmann, Doug Schroeder and Curt Zehr. 
Holly Spangler
When the letters of support pour in accompanying Prairie Farmer Master Farmer nominations from across the state of Illinois, they add personal insight and touching memories about time spent with the honorees — on and off the farm. They also paint a picture of the farmer's character, forged during community fundraisers, late-night meetings and harvests for neighbors.
For many Master Farmers, reading the letters is both a humbling and honoring experience.
Here's a look at what some of the closest friends, family, landlords, suppliers and more have to say about each member of the 2022 class of Prairie Farmer Master Farmers.
Darryl Brinkmann
"I owe a lot of success to my dad for guiding me through marketing plans, sitting hours with me each year calculating record books, and most of all assisting in the day-to-day operations while I am no longer near the farm as much."
Danielle Brinkmann, daughter
"Darryl Brinkmann embodies the spirit of this award and continues to be an ardent supporter of agriculture in his community and beyond — never afraid to accept leadership roles on important issues affecting the industry."
Bradley D. Conant, Farm Bureau manager, Clinton County, Ill.
"I was always impressed with how Darryl led with strength but also with humility and a servant's heart. Although he was in the top leadership role in an organization that was gaining in importance in the industry, Darryl never sought out the spotlight or sought any perks."
Donnell M. Rehagen, National Biodiesel Board CEO
"Throughout all of these endeavors, Darryl's authenticity, character and integrity are the guideposts of his leadership. He is a solution-oriented individual, which describes an attribute farmers, and particularly, Master Farmers, must possess."
Greg Webb, ADM state government relations vice president
"As a constituent, Darryl has called me and visited my office to lobby on issues important to agriculture and the rural community. Darryl has kept me up to date on many agricultural issues. He is a true asset to me."
Charlie Meier, state representative, 108th District
Jim Raben
"Jim is in the top 1% of farmers in the community, he is conservation-minded, sustainably responsible, and his farm is one of the most productive in the county. Each piece of land that Jim farms is a better, more productive farm because he has farmed it."
Craig Abell, Syngenta strategic business partner and Mahomet, Ill., farmer
"Jim is a passionate advocate for farming. Despite having received very little actual orthopedic care from me over the years, he has managed to feed my entire office and hundreds of patients with his yearly delivery of premium, fresh-picked corn."
Jeana Lee, M.D., MBA, Tri-State Orthopedics
"Jim has been unwavering in his commitment to U.S. farmers and for end users, traveling the globe to markets as far-flung as Vietnam, Myanmar, Panama and Tunisia to ensure trade routes were never closed and that the U.S. agriculture industry continued despite the specter of COVID."
Ryan LeGrand, U.S. Grains Council president and CEO
"When asked if Jim is financially and environmentally sustainable, what comes to mind is that he has used advanced technologies in farm equipment, has an up-to-date grain handling and storage facility, and he and his wife, Marilyn, have a picturesque farm — all evidence of being financially responsible."
Jimmy D. Ellis, Harrisburg, Ill., farmer
"Jim is very gracious to give his time to others for the betterment of the community. His willingness to help the community sets him apart from other individuals, paving the way for future generations."
Don Downen, Shawneetown, Ill., farmer
Doug Schroeder
"The world needs more of Doug Schroeder, who has dedicated his life to growing good every chance he gets."
Betsy Osman, Illinois Soybean Association
"Doug Schroeder lives his Christian faith, leads by example, cares for others and advances the needs of his family all as top priorities. Doug is a professional of consummate skill, and he makes farming look easy."
Ellen Gregg, vice president, Farm Credit Illinois
"Doug saw ISA through a trade war. He helped us navigate a global pandemic. Over my long career, I've enjoyed working alongside many leaders, advocates and agronomic trailblazers. But none quite like Doug Schroeder."
John Lumpe, Illinois Soybean Association CEO
"Doug has shown the rare ability to look at technological advances, evaluate them on their merit toward the goal of profitability, then accept those that improve his operation while understanding that not all farm innovations are right for every farm operation."
Kent Meister, Illinois Farm Business Farm Management
"Doug's willingness to lead has certainly changed the face of Illinois agriculture! He was the farmer leader who took the first step in a renewed relationship between Illinois Soybean Association and Illinois Corn Growers Association. Because of his effort and vision, our organizations are partnering together, combining efforts and generating a lot of good for the grain farmers we represent."
Rodney Weinzierl,
IL Corn executive director
"Doug is a demonstrated leader, a successful farmer, a friend and support to all who know him."
Steve Pitstick, Maple Park, Ill., farmer
Curt Zehr
"Curt's dedication to his farm and his family, and his experience with the pork industry, places him as one of the premier farmers in Illinois."
Cheri Bustos, U.S. representative
"I treasure his friendship, and I am a better person for knowing Curt Zehr."
Jennifer Tirey, Illinois Pork Producers Association executive director
"As a kid, my dad would take me to the Zehr farm to purchase replacement females for what was our 4-H project at the time. Curt was always willing to give me the same time and attention as a young kid that he did to anyone else. That passion for making the next generation better and his work toward always providing a quality product has made him a man that many throughout the livestock business admire and try to model their own careers after."
Blane Olson, Elkhart, Ill., farmer
"Curt and his wife, Sue, serve their family, valuing the relationships with their children and grandchildren above everything else. Curt is deserving of this award not simply because of the farmer and leader he is, but because of the man he is."
Mike Levin, Illinois Soybean Association, senior director of government affairs
"Curt is willing to ask the tough questions and have the hard conversations, but always with a focus on collaboration and problem solving. He knew that being part of the group that was investing $4 million of farmer dollars annually was an important role, and he never took it lightly."
Julie Hewitt, Illinois Nutrient Research and Education Council
"There is no one more passionate about pork production and keeping family pork operations successful and thriving. Curt also provides meat for local fundraisers, and I have heard numerous compliments that Curt's pork is the best they have ever tasted."
Dana Wiegand, Compeer Financial officer
Subscribe to receive top agriculture news
Be informed daily with these free e-newsletters
You May Also Like
---