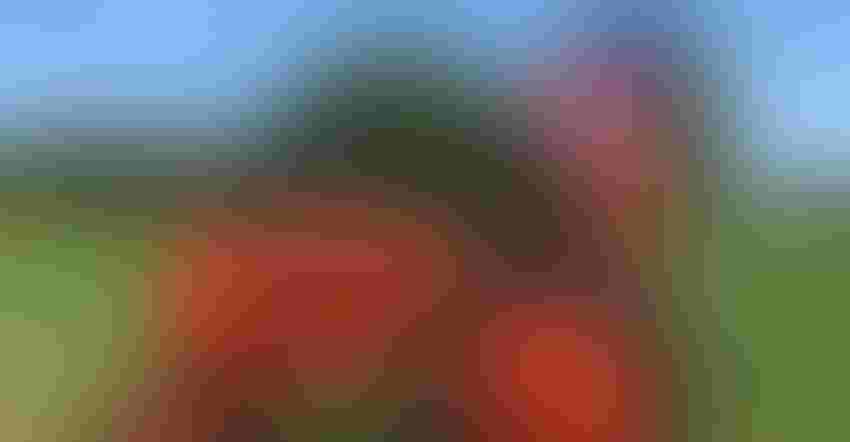 FAMILY FAVORITE: Elmer Seehafer Jr.'s dad bought this Co-op E3 tractor for $2,500 from Marshfield Local Farmers Co-op in the spring of 1953.
Courtesy of Elmer Seehafer
With 35 Holsteins in the milking string, Elmer Seehafer needed to improve efficiency for his forage and corn crops. So in the spring of 1953, he purchased a new model Co-op E3 tractor from Marshfield Local Farmers Co-op for $2,500 to team it with a used 1949 International Harvester McCormick 45 hay baler. He needed this equipment not only for his operation but also because there was a big demand to put up hay for several neighbors. At that time, the only other machines on the 200-acre farm were a 1949 John Deere B and a Farmall H.
"Since the E3 had a live rear power takeoff and high-low shift with the basic four-speed transmission giving it eight forward gears, we were able to bale twice as much in a day," recalls Elmer's son, Elmer Jr. "That orange tractor soon became our main workhorse, operating the McCormick two-bottom, 14-inch moldboard Little Genius plow; 8-foot disk; running the 24-inch cylinder McCormick threshing machine; cleaning the barn; hauling manure; plowing snow and cutting firewood."
This machine, manufactured in Brantford, Ontario, was the same model as the Cockshutt 30. The Co-op brand was born out of the desire by farmers to reduce cost through ownership of machinery production and a simple tractor they could afford. After World War II, an arrangement with Cockshutt led to the new E Series of Co-op tractors, which were simply branded as Cockshutt models. Poor sales led the Co-op facilities being sold to Cockshutt in 1952, and the Co-op brand was discontinued.
Features included a wide front end, open operator station, 15-gallon fuel tank, fenders, tool box under the seat, belt pulley, standard front axle, mechanical contracting band brakes, cushion seat, 28-hp rating, two lights in the front and one in the rear, oil pressure, amp meter and temperature gauges, and a Buda 2.5-liter, four-cylinder, liquid-cooled gasoline engine.
Before his father passed away in 1972, Elmer Jr. took possession of the tractor while his brother Kenny got the John Deere B. Over the next few years, the E3 was mainly used to rake hay and pull wagons. From 1985 to 2005, the Co-op was parked in the shed.
Restoration effort
In 2008, Elmer Jr. undertook the task of restoring the tractor to its original condition. It was difficult to start, so the engine was taken to a machinery shop, completely rebuilt, cleaned and recorked. Stainless steel plugs were used to fill a couple of small holes between the water jacket and push rods. The Marathon County, Wis., farmer sandblasted the body and used a disc grinder to smooth out everything for priming and repainting. Extra time and care were needed to repair the sheet metal over the radiator and front grill. The entire project took three years and cost about $12,000.
"I was able to take the tractor to the Wisconsin Farm Technology Days, which was held on my brother's farm where I grew up. Today, I use it to rake hay, put up 100 bales in the summer and bale straw at the Gas and Steam Engine Show in Edgar," he says. "And in 2019, it was quite a thrill to drive the E3, along with 1,100 other tractors, over the Mackinac Bridge on the annual antique tractor crossing.
"It was a labor of love and well worth the time, investment and self-satisfaction I received seeing that E3 all shined up again. Dad would be very proud of the way the Co-op looks today. This is our favorite tractor because it was the best one we ever had on the farm, especially for baling."
Persinger writes from Milwaukee, Wis. To have your favorite tractor featured, email or send in a photo of yourself with your tractor, along with a 300-word write-up about the tractor, to: [email protected] or Wisconsin Agriculturist, P.O. Box 236, Brandon, WI 53919.
Subscribe to receive top agriculture news
Be informed daily with these free e-newsletters
You May Also Like
---