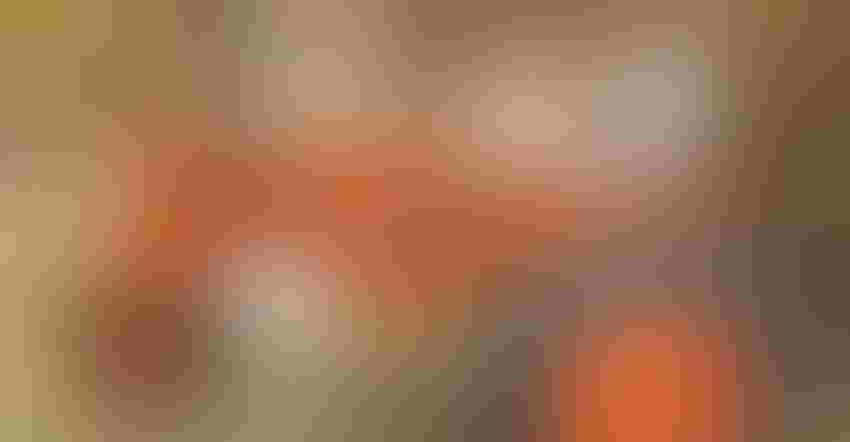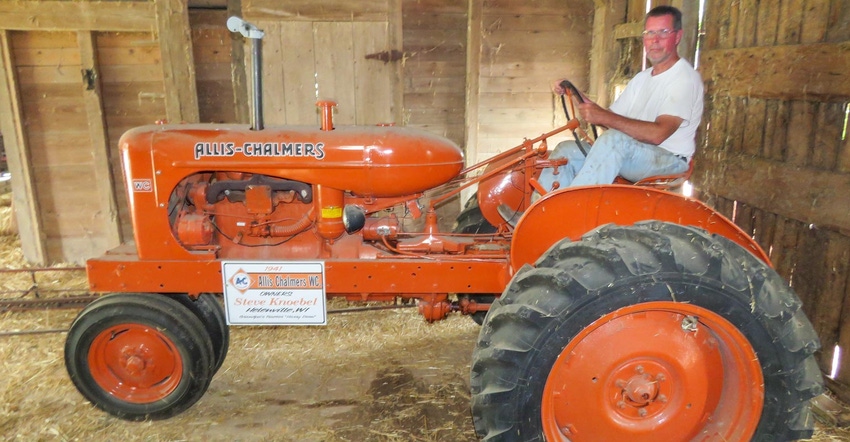 WORKHORSE: This 1941 Allis-Chalmers WC immediately went to work on Harry Dorn's farm, operating the two-bottom plow, 10-foot disk, two-row cultivator, New Holland chopper, two-point mower and long-hopper AC blower. His grandson Steve Knoebel (pictured) now owns the tractor.
Harlen Persinger
Prior to World War II, owning a tractor was a luxury for a small percentage of American farmers. Even though Harry Dorn fit that criteria, he felt it was time to add something on wheels to handle his 80 acres near Pewaukee, Wis. So in 1941, he sold two teams of horses and purchased a new 1941 Allis-Chalmers WC from E.J. Connel Equipment Co. in Waukesha, Wis.
The machine immediately went to work pulling or operating the two-bottom plow, 10-foot disk, two-row cultivator, New Holland chopper, two-point mower and long-hopper AC blower, says Steve Knoebel, Dorn's grandson.
"One of my first jobs with the WC was driving on a 6-foot roto small-package round baler," Knoebel recalls. "It was difficult to steer because of the narrow front end. I would just select first gear and head straight down the hay row, keeping a close eye on the baler as crews loaded the bales onto the rack."
The WC was manufactured in West Allis, Wis., from 1933 to 1948. Restyled in 1938, starting with serial number WC 74330, it had a rounded radiator and larger tires than the earlier models, and was the first tractor tested on rubber tires in Nebraska. Features included manual steering, open operator station with steel pan seat, belt pulley, electrical charging generator system, four forward gears and one reverse, 35 to 40 hp, and 15-gallon-capacity fuel tank.
Best-selling tractor
This tractor was designed from its start as a nimble, low-cost but well-powered row crop tractor. The WC was the best-selling tractor model Allis-Chalmers ever built, with 178,202 units rolling off the assembly line. It was popular during the Great Depression for its good value, affordable price and frugal design elements.
Over time, Dorn teamed the WC with two other Allis-Chalmers tractors, a D-17 and WD. When Knoebel graduated from the University of Wisconsin-River Falls in farm management and started his own operation in 1989, the tractor was gifted to him by his grandmother Ester. It was retired and parked in the shed. In 2014, he restored the machine. The plugs, electrical wiring, tires and one rim were replaced before it was sandblasted and painted for $1,700.
Knoebel grows corn, soybeans and hay; custom-raises dairy heifers; and runs 300 head of Angus cows and calves in Jefferson County near Helenville, Wis. His wife, Jody, and daughters, Jessica, Elizabeth and Lindsay, operate Jelli's Market. They raise strawberries, raspberries, blueberries, pumpkins, asparagus, sweet corn, green beans, tomatoes, cucumbers, broccoli, zucchini and annual flower bedding plants. There are also peach, pear, plum and apple trees. They make their own jams, pies, apple cider donuts and other baked goods. Processed Angus beef, pork, lamb, chicken and turkey are sold through the market.
"My grandfather was a very progressive farmer and the first individual in the area to own a pull-type Allis-Chalmers all-crop combine," Knoebel adds. "The WC is my favorite because it was Grandpa's first tractor and has been on this place for 79 years. Hopefully, it will remain in the family for many more decades."
Persinger writes from Milwaukee, Wis. To have your favorite tractor featured, email or send in a photo of yourself with your tractor, along with a 300-word write-up about the tractor, to: [email protected] or Wisconsin Agriculturist, P.O. Box 236, Brandon, WI 53919.
Subscribe to receive top agriculture news
Be informed daily with these free e-newsletters
You May Also Like
---