Pieces of honor: Group sews, presents quilts to veterans
Pieces of honor: Group sews, presents quilts to veterans
Quilts of Valor are presented to military members and veterans to provide comfort and healing. The Iowa Master Farm Homemakers made quilts and presented them to members of the military, veterans and their loved ones.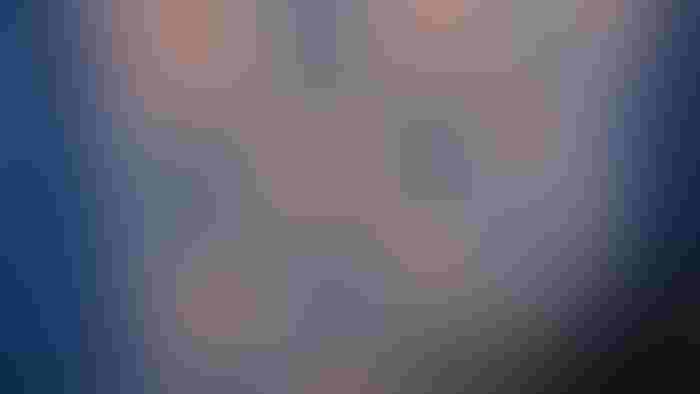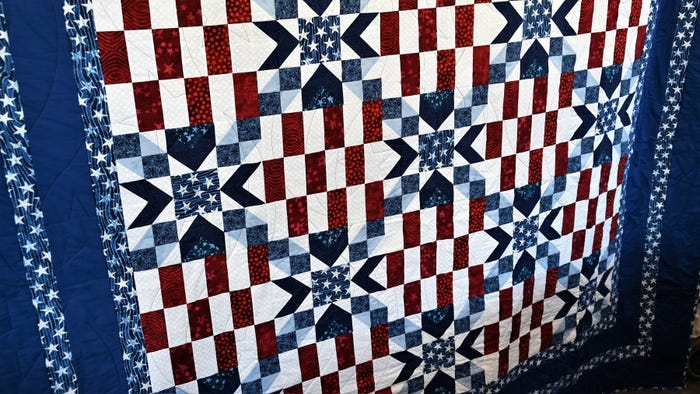 QUILT OF VALOR: The Quilts of Valor Foundation has provided more than 345,000 quilts to service members and veterans to provide comfort.Jennifer Carrico
Taking care of those who take care of you is certainly nothing new in agriculture and honoring those who have served is just a part of this. The Iowa Master Farm Homemakers recently gave back to some very deserving soldiers through the Quilts of Valor program.
IMFH member Joyce Stover helped organize a day for members to sew quilts for the Quilts of Valor at Prairie Pointe in Pella, Iowa. The group cut fabric, ironed, sewed and enjoyed time together to learn more about quilting and those to whom the quilts would be given.
Stover is also part of the Southeast Iowa Patriotic Quilters, who have sewn numerous quilts for soldiers in their part of the state. There are nine quilting groups in Iowa who are connected with the Quilts of Valor Foundation. "Most of the quilters will donate their time and the materials to make the quilts. It's a way of giving back to those who have helped conserve our freedom," Stover says. "The mission of the Foundation is to cover service members and veterans touched by war with comforting Quilts of Valor."
The group was started in 2003, after founder Catherine Roberts had a dream while her son was deployed to Iraq. In the dream she saw a young man sitting on the side of his bed in the middle of the night, hunched over. He had war demons clustered around him, dragging him down into an emotional gutter; in the next scene he was wrapped in a quilt and felt comfort and healing. Since 2003, 345,635 veterans and service members across the country have been comforted by a Quilt of Valor. In Iowa, 864 people have received a quilt since 2015. The groups are found all across the country. In Iowa, the organization is broken down into districts, and Kathleen Jones is the state coordinator.
"Being able to use our talents to provide something special for others is great," Stover says. She, along with 12 other IMFH members, worked all day to piece together six quilt tops to be made into Quilts of Valor and presented at a later time.
Presenting the quilts
The IMFH group wanted to present quilts to people they were connected with, and the organization found many of their own were touched by war. This led to the nomination of two husbands, a brother and a daughter of members.
Denis Schulte of Badger was one of the recipients, "It was wonderful to receive a Quilt of Valor from these women who put their heart and soul into making them to honor the military for what they've done."
Schulte served 30 years in the Army and Army Reserves. He grew up on the family farm, and his dad had a milk route. After two years of college at Iowa State University, he decided to voluntarily enlist in 1976, and eventually became lieutenant colonel. He did return to ISU to finish his degree and went on to work in industry for many years while staying active in the Army Reserves.
Now retired, Schulte continues to give back to his country by serving on the firing squad at military funerals and volunteering whenever he can. "It means a lot to receive recognition for something I never expected it from," he adds.
Emily Elkin of Story City was also a recipient of a Quilt of Valor. Elkin holds the rank of sergeant first class and serves as a senior instructor at Camp Dodge for the Iowa Army National Guard. She is on M-day status, which means one day a month and two weeks of annual training a year.
Elkin says her mom, Leah Maass, an IMFH member, was pretty sneaky about the special surprise of the Quilts of Valor for herself and her dad, Robert Maass. "I tear up just thinking about it. When I signed up to be in the military, I thought a four-year commitment was so long, and now 25 years, later I don't know how to leave it," Elkin says. "To be recognized by such an amazing group of Master Farmer Homemaker women was quite an honor."
She has been happy with her military career and the places she's been through the years. Elkin says retirement from the military will happen sometime soon. She is enjoying learning to help farm on the family operation near Ellsworth with her father and brother, and be able to raise her children — the fifth generation — around agriculture.
"The opportunities I have had in the military have been amazing, which includes receiving this beautiful quilt from a mom who has always supported that decision," Elkin adds.
Ronald Gauger of Lone Tree, husband of IMFH president Joyce Gauger, also received a Quilt of Valor from state coordinator Jones.
For more information on Quilts of Valor, visit qovf.org and for more information on the Iowa Master Farm Homemakers, visit iowamasterfarmhomemaker.org.
Subscribe to receive top agriculture news
Be informed daily with these free e-newsletters
You May Also Like
---