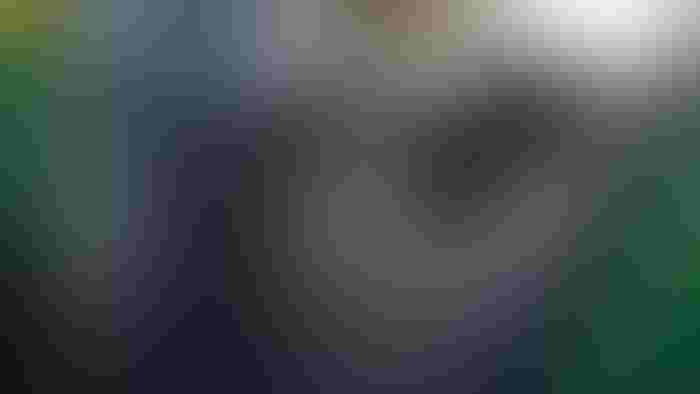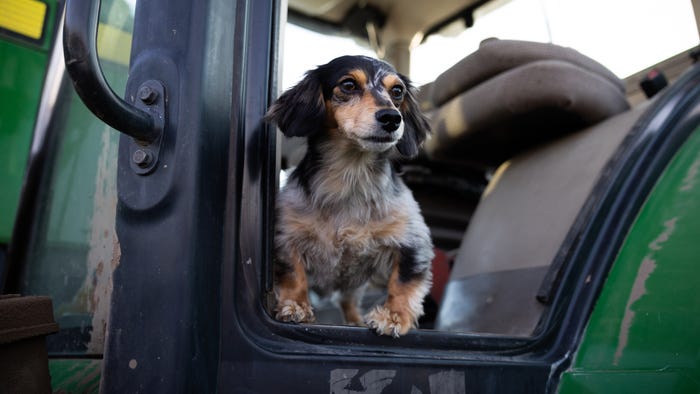 When Adam and Stacey Olin of Alexis, Ill., got the call that their long-haired miniature dachshund, Koda, had been awarded the title of 2023 Prairie Farmer Favorite Farm Dog, they laughed and smiled from ear to ear.
"I was shocked," Adam explains. "I didn't think he'd have a chance, since he's kind of an accidental farm dog."
Weighing in at 7.5 pounds, Koda's road to becoming a farm dog is far from typical. Adam and Stacey were living and working in Chicago when they received Koda from a breeder in May 2021. He was the runt of his litter and a fighter from the start, as the breeder was initially concerned that the pup wouldn't survive.
"He is a little dog with a big personality — and was from the get-go," Stacey says.
Although Stacey had always dreamed of having a long-haired miniature dachshund, Adam was skeptical, knowing the couple would soon move to the family farm in Alexis.
"I didn't want a little dog," Adam says, explaining that he thought a larger breed would be better suited for farm work. "I didn't think he would jive with the lifestyle out here. But I was wrong."
Initially, while Stacey was at work, Koda would spend time with Adam on the farm so he didn't have to be alone during the day. Soon, Koda began to accompany Adam on errand trips around town, first to the insurance office and then the bank. 
Soon Koda became the Olin Farms co-captain of the truck, tractor or combine, lying in the sun and barking at varmints. And now when the tractor approaches, Koda lets out a squeal of excitement and wags his tail happily.
"During harvest and planting season, I find myself picking him up from the field at night from the seat of some farming vehicle," Stacey says. "I didn't expect that for him or myself. But he really does love it." 
Koda has also become a canine agriculture advocate via his Instagram profile @kodatheminidappledoxie. He's starred in Instagram reels showing his followers, including Stacey's Chicago-based family and friends, what harvest is like in Mercer County. 
And although he may not have herding or labor abilities, Koda's value to Olin Farms shines through in his company.
A true ally
"Koda's farm dog utility lies in the mental health component of farming, especially during difficult seasons like harvest or planting," Stacey says. "I've seen firsthand evidence of the benefit of having an actual companion in the tractor or combine from sunrise to sunset, especially during busier times of the year." 
Koda's name couldn't be more perfect. Stacey says she picked the name Koda in memory of her beloved grandfather, who was an avid Chicago Bears football fan.
"Koda means ally," she says. "Which is what my Papa and I used to call each other."
"And he is that for our family," Adam adds. "He's the perfect companion when you're alone in a tractor all day." 
The winners of the 2023 Prairie Farmer Favorite Farm Dog Contest are: Koda, first place; Trumpy second place; and Roxie third place. Honorable mentions go to Bally, Chief, Dudley, Spike, Petey, Marley and Mack.
For Koda's first-place win, Adam and Stacey receive a $100 prize, a family farm photo shoot and wall art featuring Koda. Second-place Trumpy, a yellow Lab who lives for farming, earns his owners Mark and MiKayla Thomas of Oakford, Ill., a $75 prize. Roxie the Dalmatian wins third place and her owner, Don Telgmann of Strasburg, Ill., receives a $50 prize.
Honorable mentions go to entries from Richard Burns and Bally, Kickapoo, Ill.; Taylor Cherry and Chief, Villa Grove, Ill.; Tom Collins and Dudley, Urbana, Ill.; Samantha Toay and Petey, Marley and Mack, Stockton, Ill.; and Scott Vogler and Spike, Colchester, Ill. Check out this slideshow to learn more about each dog.
Koda in brief: Loyal, loud and loving
Farm job: Riding in the tractor
Food: Peanut butter spoon, bacon, steak
Tricks: Sit, high-five, stand on hind legs
Chew toy: John Deere Busch Light cans
Person: Grandpa
2nd place: Trumpy
"Trumpy lives for farming! Every morning he pulls on my husband Mark's sleeve until they walk out the door just so he can jump on the back of the pickup and ride to the farm shop. He rides with us in all the tractors, semis, combines, work trucks, etc. His favorite thing to do during harvest season is sit in the front window of the combine watching for rabbits running through the rows. He is so adamant about being with us on the farm that if he is left at the house, he runs to the river bottom to find us. During the off-season, he sits at the shop all day, or he hunts rats around the grain bins." — Submitted by Mark and MiKayla Thomas, Oakford, Ill.
3rd place: Roxie
"Our dog Roxie is a 7-year-old Dalmatian. She's our favorite mouse catcher, side-by-side rider and cattle watcher. She used to love the cows' milk tank and enjoyed rinsing out leftovers during our dairy farm days. We sold out of the dairy cows a few years ago and still keep our livestock farm with steers. Roxie is very lovable and active on the farm, although she loves a sleepy sunny day sometimes, too. I have never seen a dog that loves to give hugs as much as our Roxie dog!" — Submitted by Don Telgmann, Strasburg, Ill.
Honorable mentions
Best farm manager: Bally the West Highland terrier is the first to the barn every morning to oversee feeding the cows, then rides in the tractor to put out the hay. She spends the rest of the day ferreting out unwanted varmints, welcoming newborn calves and making sure every farm visitor is approved, says owner Richard Burns of Kickapoo, Ill.
Most photogenic: Chief is a very fun-loving pup who loves to hunt, swim and take long naps on the farm shop floor. He is a 1-year-old golden retriever who has become a beloved member of the family farm, says owner Taylor Cherry of Villa Grove, Ill.
Three amigos: Petey the golden retriever, Marley the Labrador, and Mack the golden retriever greet all farm visitors who stop by the shed. They all love Ranger rides, overseeing harvest, running through creeks, rolling in snow and carrying around corncobs. Owner Samantha Toay of Stockton, Ill., says they are the best company and adore children.
Oldest fur pal: Spike is a 14-year-old blue heeler who loves to check cows, ride in the pickup truck and sit in the side-by-side. When 85-year-old owner Dale Vogler of Colchester, Ill., says, "Let's check cows!" Spike is ready to go.
Most loyal: When Dudley the Yorkie's owner, Wanda, was diagnosed with Alzheimer's disease, Dudley helped Wanda make the transition from the farm to an assisted living facility. Wanda passed away in March 2020. Owner Tom Collins of Urbana, Ill., says Dudley kept his family going.
Subscribe to receive top agriculture news
Be informed daily with these free e-newsletters
You May Also Like
---