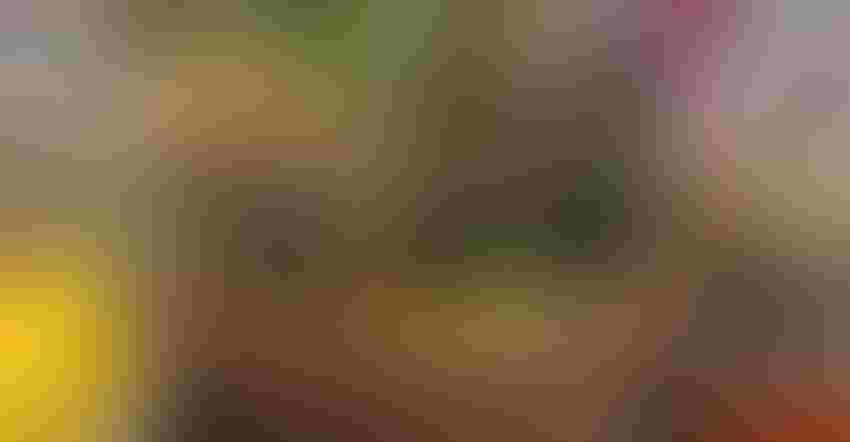 ALL THE ANSWERS: Nebraska Extension specialists share their knowledge every week about gardening, landscaping and turfgrass questions that viewers are asking.
Curt Arens
Each spring, the annual return of "Backyard Farmer" to the airwaves is as eagerly anticipated as the return of Sandhill cranes to Central Platte waters.
The show has been a shared Nebraska experience for generations, featuring practical lawn, landscaping and gardening advice leavened by lighthearted fun. This year, the beloved program celebrates its 70th anniversary.
The show, produced by Nebraska Extension and Nebraska Public Media, retains the same basic format now as when, on June 1, 1953, grainy images of University of Nebraska faculty members appeared on Lincoln-area TV screens during the show's debut broadcast.
In the familiar setup, a host directs viewer questions to a four-member panel of specialists, usually from Nebraska Extension, in entomology, horticulture, plant pathology, and turfgrass and weeds.
Viewer questions not surprisingly run the gamut: Can I treat this mold growing on my tomato plants? How can I thicken up the grass in these thin spots in my yard? Any suggestions on how I might save this visibly stressed tree? What can I do to stop the outdoor critters that keep chomping on my vegetables?
Long run
The program, which has been characterized as the longest-running locally produced program in the country, will be saluted statewide in April by a gubernatorial proclamation declaring Backyard Farmer Week.
The show is scripted in order for it to move along and end on time, but that still leaves plenty of opportunity for the panelists' interactions and a certain unpredictability. That down-to-earth aspect has long connected with viewers as the scientific element blends with the human element, says Kim Todd, host of the program since 2004.
"The fact that we make mistakes, forget to say something, mispronounce words, talk with our hands, and refer to off-air and personal experiences to illustrate our points makes us very human," says Todd, associate professor of agronomy and horticulture and Extension landscape specialist.
"And since we rotate panelists, those interactions and comments change weekly. Our viewers establish personal connections with us simply by watching the show, and when we meet and greet at live events, they don't see anyone different — albeit a couple of us are a little shorter in person than when sitting in the studio."
Wide audience
That sense of connection extends to viewers across the country, notes John Cariotto, a master gardener in Lincoln who coordinates care for the "Backyard Farmer" Garden and Turf Garden on East Campus. He also is one of the volunteers taking viewer phone calls during the show.
"'Backyard Farmer' is on the air, but it's also on the Internet," he says, "so people from all over the world can watch 'Backyard Farmer.' We get calls mostly from the viewing area, which includes people from Nebraska, South Dakota, Iowa, Kansas and even Colorado and Wyoming."
But he's also gotten calls from well outside the Midwest.
"I've talked to people from Georgia and other places in the South," Cariotto says. "So the impact of 'Backyard Farmer' reaches far beyond the borders of the state of Nebraska. And I imagine that there are people who know Kim Todd and Roch [Gaussoin] and Dennis [Ferraro] and Sarah [Browning], and all of those folks who are on the air."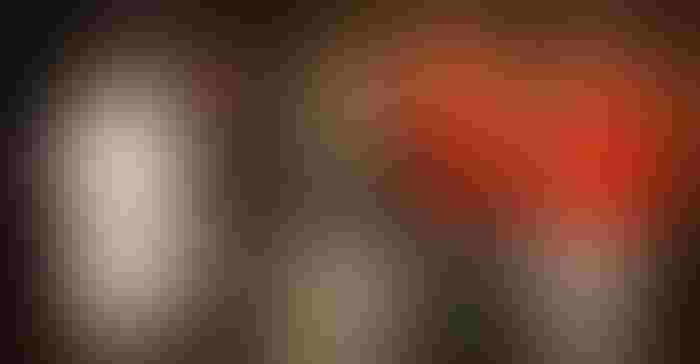 THE CREW: Sharing knowledge in a homespun, accurate way is one of the reasons "Backyard Farmer" has been popular for so many years. Pictured here during the 60th anniversary season in 2012 are Nebraska Extension entomologist Fred Baxendale (left), host Kim Todd, Extension turfgrass specialist Roch Gaussoin, Extension plant pathologist Loren Giesler and Extension educator Sarah Browning.
Along with its relatable appeal, "Backyard Farmer" offers important practical advice, say Nebraska residents who have participated in Nebraska Extension's Master Gardener program.
"As a master gardener, the information I glean from the show further solidifies what I have learned," says Elaine Pile, a Gering resident. "The show gives easily understood material to all viewers, whether they are beginner or seasoned gardeners. The presenters are aware of the varied climate and growing conditions in Nebraska, which is extremely important to viewers as they ask questions."
The information presented by the panelists, she says, "can be trusted and is unbiased."
Jo Bek, a master gardener in Curtis, sounds a similar theme. "I have always been struck by the ability of the panelists to impart science and still be able to enable a layman to be able to understand what they are talking about," she says. "They also are able to give instructions that are not going to be costly for the gardener to implement. Any research that is done by the university is also explained and shown how best to be implemented."
Storied history
"Backyard Farmer" started out on KFOR-TV (now KOLN/KGIN-TV). In 1955, the program moved to Nebraska Educational Television Channel 12, which was located in the basement of the Temple Building on City Campus. Key figures in launching the program to early prominence were George Round, director of university relations and longtime host of the program, and producer Jack McBride, a pioneering leader in Nebraska public television.
The inaugural broadcast in 1953 featured the kind of relaxed banter that quickly became a familiar part of the show, as Round joked straight away with horticulturalist Wayne Whitney.
Whitney, who would appear on the show through 1976, stood out as a colorful character, blending serious advice with wry comments, and writing and drawing on a board to accompany panelists' explanations. Viewers came to know his oft-used phrase that plants need "tender loving care."
Gardeners need to appreciate the nutrient value of manure, Whitley often noted. After a viewer called in and said a cow had eaten all the foliage off her favorite bush, Whitney shared his advice: Turn the cow around.
The human element has long provided an enduring connection with viewers. On a 1987 live program at the Nebraska State Fair, plant pathologist David Wysong sampled hot peppers and discovered that one contained super-heat that nearly left him melting on the air. On the same show, horticulturalist Don Steinegger explained how to judge whether a watermelon is ripe. He was not keen on the thumping method.
Entomologist Fred Baxendale loved to bring insects onto the program and show them off. The little creatures, he regularly noted, are "part of nature's wondrous pageantry."
"These are one of the good guys," he said on one show, referring to a caterpillar-hunting beetle. On another occasion, a yellowjacket stung his thumb off-camera, and he had to answer a question on-air while his eyes teared up. Another time, he brought a large group of squash bugs that began crawling all over the panelists' desk, threatening to take things over.
Covering entire state
Over the years, "Backyard Farmer" has made a special effort to include features from around the state, and the show's panel has regularly traveled the state to meet directly with Nebraskans.
"'Backyard Farmer' is revered among Nebraska gardeners because of the timely, expert advice shared through the panel, as well as the special features and segments," says James H. Locklear, director of conservation at Lauritzen Gardens in Omaha. "And it's wonderful how different parts of the state are highlighted and celebrated through the on-the-road features, whether the BYF panel is broadcasting from a location away from Lincoln, or when an interesting gardener or landscaping project is profiled."
The show's hosts have noted that the dedication of volunteers is one of the main ingredients that have contributed to Backyard Farmer's success. The volunteers' work also includes helping with the "Backyard Farmer" Garden on East Campus. During warm-weather months, the garden receives a steady stream of visitors through scheduled tours and impromptu visits, says Lincoln master gardener Cariotto.
"I've led a number of those tours," he said, "and we also have people who drive in from every place in the state, and sometimes outside the state, to see the garden. So, you can see that the Backyard Farmer TV show is having a major impact in the excitement about gardening."
In recent years, an ironic result of the COVID-19 pandemic has been to boost the show's viewership as people turned toward alternative uses of their spare time. Since March 2020, the numbers for the "Backyard Farmer" YouTube channel have soared to more than 10 million views.
Just as one generation of the show's panelists has passed the duties to the next generation of Extension specialists, "Backyard Farmer" itself has been a shared experience across generations of Nebraskans.
"We hear from our loyal viewers about how they watched the show with their parents or grandparents," Todd says, "and we get questions from young parents on behalf of their small children, or from adult children who have moved to a different state."
That ongoing interaction demonstrates the program's continuing relevance for viewers. Above all, Todd says, "It is instilling in the people who will care for this planet and one another an appreciation for the wonder and complexity of gardening."
"Backyard Farmer," treasured by generations of viewers, remains a hardy perennial in the life of Nebraska, some seven decades old and still growing.
The 70th season of "Backyard Farmer" premiered April 7 on Nebraska Public Media, and airs at 7 p.m. Thursdays through September, repeating at 10 a.m. Saturdays on Nebraska Public Media, and at 4 p.m. Sundays and 5 p.m. Mondays on Create. Learn more at byf.unl.edu.
Simmons is with IANR News.
Source: IANR News, which is solely responsible for the information provided and is wholly owned by the source. Informa Business Media and all its subsidiaries are not responsible for any of the content contained in this information asset.
Subscribe to receive top agriculture news
Be informed daily with these free e-newsletters
You May Also Like
---