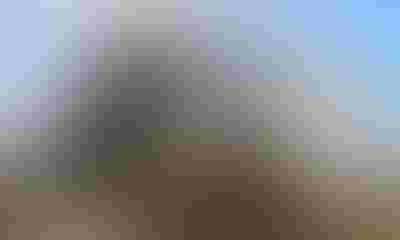 Skyrocketing land and water prices along Colorado's Front Range is spurring farmers, including large dairies, to purchase quality farmland across state lines, including western Kansas and Nebraska and southeast Wyoming. 
Adding to Wyoming's appeal is its "extremely attractive property taxes and no state income tax, which helps keep agriculture operating costs down," says John Pearson, owner of Buffalo, Wyo.-based Pearson Real Estate Co.
CATTLE DRIVE: Eastern Colorado farmers, including those who operate large dairies, are helping to drive a strong market for quality farmland in southeast Wyoming.
Pearson says farmland prices along the Front Range in Colorado are $6,000 to $9,000 per acre, and many farms are being sold for development. On top of this, municipalities and industry are actively buying agriculture water rights, which has "driven the price of agriculture water through the wall."
The value of water, says Pearson, could be as high as 30% to 50% of the value of the farm.
Since Front Range farm prices have skyrocketed, he notes that farmers wanting to expand are actively seeking land elsewhere, and Platte, Goshen and portions of Laramie County in southeast Wyoming have become big draws.
"We've been seeing quite a number of dairies in Colorado buying farmland in southeast Wyoming," Pearson says. "That's been going on for a number of years. The dairies find cheaper farmland prices up here, and it's not that far to truck hay and grain. They are adding Wyoming farms for the production value."
In eastern Colorado, he notes, farmers are competing with municipalities and industry for water, but that is not yet happening in Wyoming, which is helping to keep agricultural land prices down.
However, that is slowly changing because the demand for quality farmland is so high, Pearson says.
"Local farmers are having to compete with a different pool of buyers than they used to—there are the big dairies acquiring land, and a lot of business people are buying farms and ranches," he says. "I believe this change is here to stay." 
Southeast Wyoming
The 160-acre Wales Farm near Wheatland sold for the asking price of $679,250, or $4,245 per deeded acre.
"This offering did not hit the open market. The sellers gave us a listing for a buyer we already had. They didn't think we could get their asking price, but we did," Pearson says.
This was an estate sale following the deaths of William "Will" and Maxine Wales, who enjoyed raising livestock.
The buyer operates large dairy farms on Colorado's Front Range and purchased the Wales Farm strictly for its agriculture production, says Pearson, who notes that the farm produces up to six tons of "very high quality" alfalfa hay per acre.
He describes the farm as a "low Class A to high Class B with a relatively new center pivot, a nice residence, a full set of farm buildings, good soils and very good water rights."
Subscribe to receive top agriculture news
Be informed daily with these free e-newsletters
You May Also Like
---