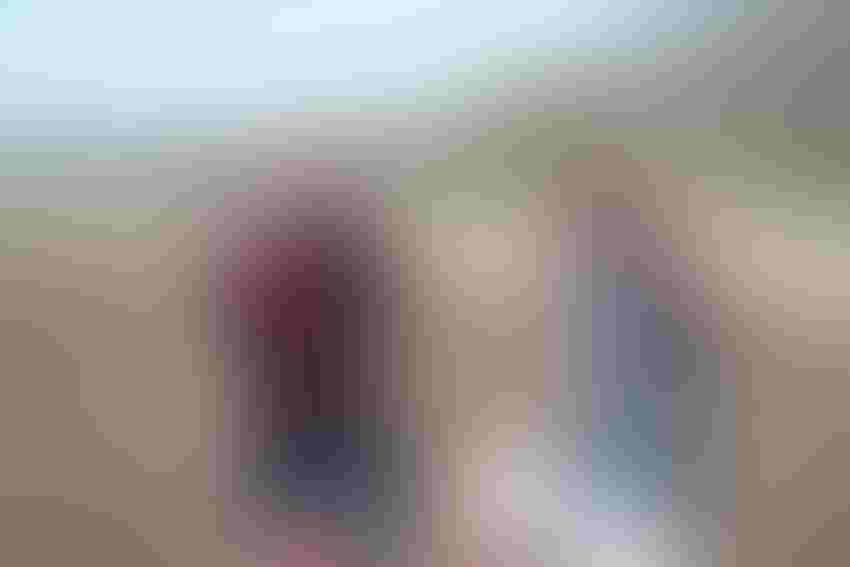 "They're (landowners) ecstatic the farm is worth so much more now, but they didn't put any value back on me for doing it," says Oregon, IL farmer Dan Luepkes, with son David.
Mike Wilson
This story is about a guy who just wanted to do the right thing – for himself and one of his landlords – only to have the effort blow up in his face. It's also about how traditional tenant-owner relationships can be disrupted by big profit margins and internet technology.
Four years ago Oregon, IL farmer Dan Luepkes rented a 300-acre farm from an 81-year-old widowed landlady. It was one of those farms few wanted; wet, and nutrient depleted. It had all kinds of issues, leading to a couple years in Prevent Plant.
The earlier tenant had passed away, and his widow recommended Luepkes as a new tenant to the owner. Luepkes got the lease, and set to work making the farm productive.
"My father trained me to leave a farm in better shape than I found it," says Luepkes, who farms with his son, David. "I'm the kind of guy who is going to fix a farm – that's who I am. So I went at it like I own it."
The Luepkes are no slouch at farming, growing award-winning yields in both no-till dryland and irrigated corn and soybeans. Dan put in tile and applied tons and tons of chicken litter and micro nutrients to the new farm, eventually investing $350,000.
Most property owners would be grateful. And Dan had a great relationship with the owner, who had a reputation for being loyal to her tenant operators. All that changed when she brought her daughter in to begin making lease decisions.
"Her daughter had no connection to the land or farming," recalls Luepkes. "Her first visit to the farm was when I showed her around the property."
Instead of thanking Luepkes for the work, she began looking for a new tenant. Without alerting Luepkes she listed the farm at a website where people can, among other things, bid up cash rent offers. Luepkes says she included in the listing all the improvements he had made.
Local farmers would not bid on the lease out of respect for the Luepkes. A big operator from another township bid $460 per acre. USDA shows Ogle County, Illinois non-irrigated cropland rented for an average $254 per acre last year.
Luepkes was not given an opportunity to match the offer. And, despite early assurances from the elder owner, he lost the lease.
It's hard to say how the decision will play out for that family's reputation in the farming community. But maybe reputation and loyalty no longer matters when money is calling your name.
Ag disruptors
Land owners have every right to get what they can from their asset. That's capitalism. And the internet has disrupted plenty of traditional industries, so farming should not consider itself immune, no matter how deep traditions run.
Websites that offer transparency in land offers certainly help owners who want to attract more potential buyers or find more rent income. Detractors of these sites say they promote land bidding wars and enable big operators to come in to a neighborhood, pay a lot upfront, then mine the soil and bypass local ag retailers.
It's my opinion that the technology will attract more land competition, which will drive up costs, make farm margins slimmer, and shut out more young farmers.
To me a greater worry is not technology; it's people. There's a growing disconnect between farm-centric, older generation owners and their non-farming children or heirs.
When the younger generation does not value what the tenant does for their family's land, watch out.
"In Iowa a third of the land is estimated to be owned by people with no farm experience," says Mike Downey, an associate at Next Gen Ag Advocates, which helps multi-generation families set up transition plans.
Best practices
If Luepkes had a 'do-over,' he might have first tried for a four or five-year lease as he shared his plan to improve the farm's productivity. It's an argument that would resonate with most owners who grew up on the farm the tenant is improving.
If that doesn't work, put your planned investments in tile, fertility, or lime in writing. Document any improvements over and above industry standard maintenance, or replacement fertility levels.
"If you are applying X amount above typical maintenance levels, set up something like an amortization table over three or four years – and if the leases changes hands the landowner must reimburse for the unallocated portion," says Downey, who writes the 'More than Dirt' blog at FarmFutures.com. "For example, if you applied $100,000 more in fertility over the standard maintenance level, you set it up on a four-year amortization and each year $25K is removed. This is similar to what people do with lime since it gets applied every four or five years."
Most commercial farms today have many proprietors and leases to manage. It's time to review those leases and begin a long-term strategy to engage, when possible, with future younger owner decision-makers. It may mean bringing your own younger partners into the tenant-owner relationship.
"If you have a lease with an owner with adult children, try to get them involved, to see how mom or dad interact with the tenant," suggests Downey. "Try to create loyalty with the younger generation as they become the decision makers."
Luepkes has no recourse, and plans to be more careful going forward.
"I should have had more in writing," he says. "They just see it as a money source, without looking at how good the farmer is. I fixed their farm. They're ecstatic the farm is worth so much more now, but they didn't put any value back on me for doing it.
"This cost me a chunk of change and a lot of heartache," he concludes. "The neighbors were upset that they did this, but sympathy doesn't pay the bills."
Subscribe to receive top agriculture news
Be informed daily with these free e-newsletters
You May Also Like
---