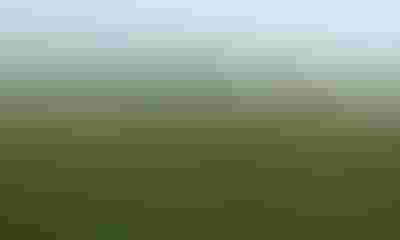 The regular monthly Iowa Learning Farms webinar for March will be Wednesday, March 16 at 1:00 p.m. This month's guest speaker is Liz Juchems, events coordinator with Iowa Learning Farms. Juchems will discuss a recent case study conducted by the Iowa Cover Crop Working Group (ICCWG) examining the economic value of cover crops.

GREEN COVERS: Cover crops are grasses, legumes or small grains grown between regular corn and soybean crop production periods to protect and improve soil. The most common cover crops in Iowa are fall-seeded cereals, such as rye. Late summer-seeded oats are sometimes used, although they winterkill.
This study is unique because of its focus on the economic value of retaining soil and soil nutrients. Scenarios in the Iowa Nutrient Reduction Strategy call for cover crops on up to 60% of row crop acres in Iowa (about 12 million acres). As farmers seek more information about cover crops, this research study provides one method to quantify the economic value of cover crops and their ability to prevent soil erosion.
What are the benefits of using cover crops? 
According to the USDA's Sustainable Agriculture Research and Education program (SARE) successful book, "Managing Cover Crops Profitably," cover crops provide both economic and ecological benefits such as:
1.   Reduce fertilizer costs
2.   Reduce the need for herbicides and other pesticides
3.   Improve yields by enhancing soil health
4.   Prevent soil erosion
5.   Conserve soil moisture
6.   Protect water quality
7.   Help safeguard personal health
Juchems works closely with ILF Partners to conduct on-farm research, organize field days, and to schedule community and youth outreach events. Juchems obtained her undergraduate degree from Iowa State University in Ag Business and Economics, and a Master's Degree from University of Nebraska-Lincoln in Ag Economics. 
The ILF webinars are held on the third Wednesday of each month at 1 p.m. They are free, and all that is needed to participate is a computer with Internet access. To log in, go to connect.extension.iastate.edu/ilf/ at 1 p.m. on the afternoon of the webinar and log in through the "guest" option. Webinar participants will be able to converse with Juchems by typing their questions through the chat function. The webinar will be recorded and archived on the ILF website for viewing at any time at extension.iastate.edu/ilf/Webinars/.
Now 62 webinars archived on various topics for your viewing
ILF has hosted a webinar every month since January 2011. To date, there are 62 webinars to view on a wide range of topics including soil erosion, cover crops, buffers, bioreactors, and farmer perspectives.
Established in 2004, Iowa Learning Farms is building a Culture of Conservation, encouraging adoption of conservation practices. Farmers, researchers and ILF team members are working together to identify and implement the best management practices that improve water quality and soil health while remaining profitable. Partners of Iowa Learning Farms are the Iowa Department of Agriculture and Land Stewardship, Iowa State University Extension and Outreach, Leopold Center for Sustainable Agriculture, Iowa Natural Resources Conservation Service and Iowa Department of Natural Resources (USEPA section 319), Conserva­tion Districts of Iowa, Iowa Farm Bureau, Iowa Water Center and Practical Farmers of Iowa. For more information about Iowa Learning Farms, visit the website: extension.iastate.edu/ilf.
Subscribe to receive top agriculture news
Be informed daily with these free e-newsletters
You May Also Like
---