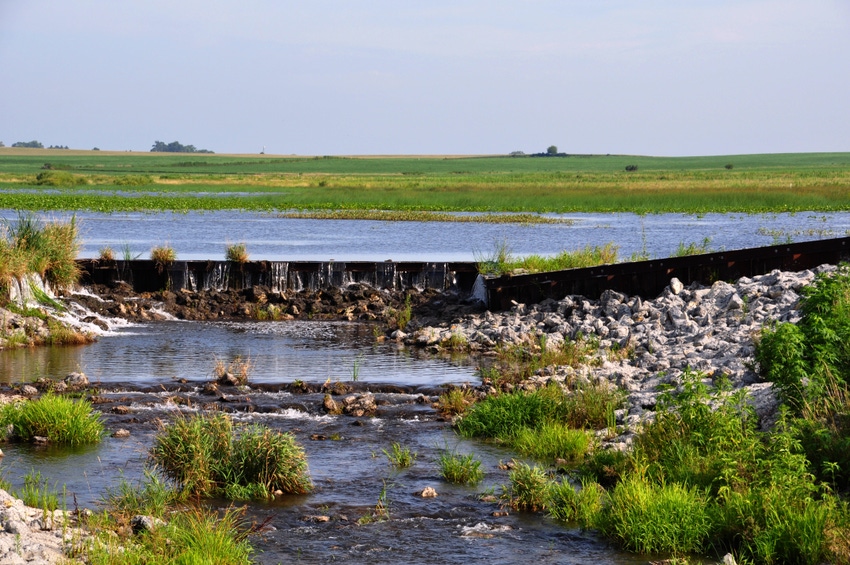 CREP wetland on Tim Minton farm, Dallas County, Iowa.
The 2015 nitrate pollution lawsuit by Des Moines Water Works against three drainage districts in Iowa was dismissed on March 17. The Iowa Supreme court ruled that the state's water quality problems should be resolved by the state legislature, not the courts.
The Des Moines utility wanted drainage districts regulated (ultimately farmers and their field drainage tile outlets) under the federal Clean Water Act as a "point source," like manufacturing plants and businesses. The big question now becomes, what are next steps by the legislature?
Iowa farmers, like those in other states, are attempting to work with public and private sector stakeholders to improve nutrient use efficiency while exploring/adopting practices that reduce erosion and runoff while building soil health.
But, with this ruling, has the sense of water quality urgency been lost?
Can more farmers push forward, voluntarily, to improve soil health and cut soil erosion while reducing nitrogen and phosphorus loss in a measured, whole-watershed way?

Are farmers waiting for regulations to force change?

Is age, fear, independence or stubbornness blocking change?

Are commodity organizations overpromising change, or are farmer members underdelivering on this change?

Is a lack of federal/state dollars halting farmer improvements?

Is there confusion on which combination of practices to adopt that will deliver the best results?
Most likely there are farmers (and consulting retailers) who would answer yes to one or several of these questions.
From my vantagepoint – seeing and writing about a wide variety of farmers across many geographies who employ science and practices that improve both water quality and soil – I know farmers can achieve great things when they learn the value for their farm. No one wants harmful water or unproductive dirt.
We feature soil-minded, sustainably-focused farmers often in the pages of Corn+Soybean Digest and in online stories. For instance, on page 12, farmers and experts talk about how to increase soil water holding capacity to save yield. Last month we highlighted how lost soil costs 15 bu./acre/year, and focused on the technology that helps farmers measure soil loss. We also showed real data on how cover crops reduced nitrate loss by 70% -- and increase soil organic matter by 2% over time. The success stories continue.
Time to prove voluntary action
Now is the big opportunity for all farmers to prove that they can voluntarily take the next steps to improve soil and water quality – whether the land is owned or rented. And for every rented field, farmers could talk to each landlord about increasing the value of their land investment – then show them data to prove it. Maybe that will lead to a better land partnership – one of shared costs and long-term leases.
Urgency to start making a real difference in every field is a noble calling.
I sincerely thank you for reading, for viewing more valuable content on csdigest.com, for subscribing to our newsletters, and for being willing to Think Different.
Subscribe to receive top agriculture news
Be informed daily with these free e-newsletters
You May Also Like
---