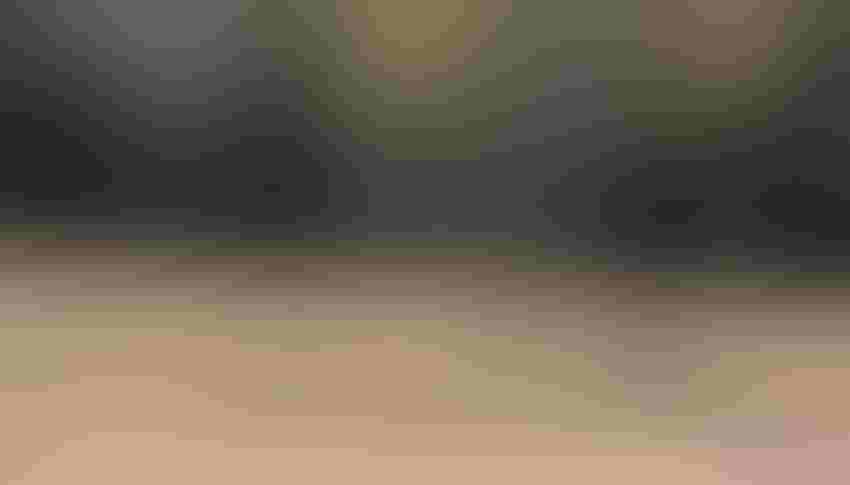 Elk meander through a meadow near woodlands. Wyoming is incentivizing the creation of wildlife corridors on ranchland to accommodate big-game migration.
USDA ARS
The USDA is pledging $16 million toward efforts in Wyoming to preserve big-game habitat on working ranchland, and U.S. Agriculture Secretary Tom Vilsack says such partnerships could be scaled up throughout the West to support voluntary, producer-led conservation.
In 2023, the Natural Resources Conservation Service will provide $10 million from the Agricultural Conservation Easement Program and another $6 million through the Environmental Quality Incentives Program to help producers and Native American tribes preserve migratory species such as elk, pronghorn antelope, and mule deer.
"I think it's fair to say that USDA has long recognized the importance of working with farmers, ranchers and other private landowners through a voluntary, incentive-based approach," Vilsack said Oct. 17, as he and Wyoming Gov. Mark Gordon signed an agreement in Washington, D.C. The signing was streamed online.
Wyoming has been bringing representatives from agriculture, conservation groups and other interests together for several state-led habitat initiatives, including the establishment of big-game migration corridors in which certain development is limited through voluntary easements.
"I think it's a statement that Wyoming is an 'and' state," Gordon said. "We believe in wildlife, energy development and ranching operations … Wyoming ranchers and farmers really do deserve to be recognized and honored for their role in wildlife management."
Vilsack said Wyoming has been an innovator.
"Wyoming under your leadership, governor, is again breaking ground," the secretary told Gordon. "Today I'm really pleased to formalize this partnership with Wyoming to preserve iconic species like elk and mule deer that migrate twice a year … If you follow their routes, they quickly end up outside of national parks and other public lands."
A vital role
Private lands "play a vital role in creating a patchwork with public lands" to enable the migration, Vilsack said.
USDA Under Secretary Robert Bonnie outlined the contours of the agreement in May at the University of Wyoming's Yellowstone National Park 150th Anniversary Symposium. Monday's signing formalized the pact.
The agreement follows similar projects in other regions, including the Working Lands for Wildlife's Framework for Conservation Action in the Great Plains Grasslands and Sagebrush Biome, unveiled last year by USDA. The NRCS' Working Lands for Wildlife program has enabled more than 8,400 producers across the U.S. to conserve 12 million acres of prime wildlife habitat since 2010, according to the agency.
The Wyoming pilot also further focuses the Farm Service Agency's commitment to helping producers protect and maintain grasslands through grazing and to supporting plant and animal biodiversity in key zones, USDA officials say.
EQIP and ACEP will complement a habitat lease offering through the Grassland CRP program, which helps landowners preserve grasslands while still allowing for haying and grazing activities.
Officials say the pilot will facilitate compatibility between programs, enabling producers to stack different farm bill program benefits in ways that fit their operations. Producers who sign up through EQIP will also receive additional ranking points on their Grassland CRP applications, the USDA says.
"About a year ago, the USDA and Wyoming started having conversations about how we can work closely together," Vilsack said. "We took time to listen, learn and gather input from what landowners and stakeholders thought was best. We have a variety of programs through USDA.
Model for other regions
"Today we commit formally to work with you and our partners so that this model can be expanded to other states and regions," he told Gordon.
Vilsack said some funding will be used for "adding boots on the ground" to provide scientific data and ideas to "strategically deliver the right types of conservation practices in the right areas." He and Gordon said they hope the project will develop more trust among different interests.
"This honors the vital role of working farms," Gordon said. "The management that farmers and ranchers have done on private lands and public lands are key to making sure we have abundant wildlife going forward. This sets up a program that rewards ranchers for doing what they've done."
NRCS and FSA will announce details on how to participate soon.
About the Author(s)
Subscribe to receive top agriculture news
Be informed daily with these free e-newsletters
You May Also Like
---