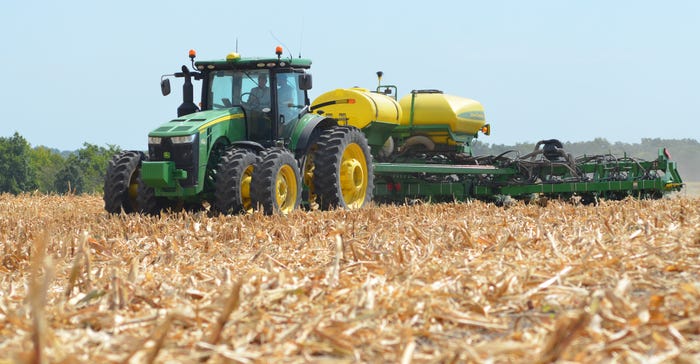 "He has 50 acres of cereal rye to plant before he leaves," joked Neal Bredehoeft, as USDA Undersecretary for Farm Production and Conservation Robert Bonnie took another pass around the Lafayette County farmer's recently harvested cornfield.
Bonnie visited the farm outside of Blackburn, Mo., to promote the recent announcement of $2.8 billion for 70 Partnership for Climate-Smart Commodities projects across the country that spans all 50 states and Puerto Rico.
"We think it'll probably hit 25 million acres," Bonnie said. "We'd estimate probably 50 million metric tons of greenhouse gas carbon removal as a result of the projects."
The undersecretary said the unique aspect of the projects, funded by the Commodity Credit Corporation, is the partnerships formed between farmers, universities, commodity groups and companies.
"The idea behind the partnerships program is to do a voluntary, incentive-based, market-oriented approach that is farmer led. You all put together these projects yourself. You help design them," Bonnie explained. "Our interest in this program from the get-go was to deploy climate-smart practices at scale, and to help them with funding. But also funding the measurement, monitoring and verification that would go along with that."
Targeting cover crops
One of these projects is the Farmers for Soil Health Partnership. It is a $95 million project collaboration between the American Soybean Association, United Soybean Board and the National Pork Board.
Jack Cornell, director of sustainable supply for the United Soybean Board, said the project has several opportunities for farmers to participate.
"We're creating a market platform for farmers to sell their commodities and have the General Mills of the world be able to purchase some of those sustainable climate-smart commodities," Cornell said. "The other thing, the big thing is really a cost-share program. It's direct funding to farmers to implement some of these conservation practices on their farm."
The Farmers for Soil Health Partnership project estimates up to 1.5 million new acres into cover crops. And that brought Bonnie to rural west-central Missouri and Bredehoeft Farms.
Farmer insight on climate
The Bredehoeft family has been farming this ground since 1907. Back then it was a diverse crop rotation of oats, hay, wheat and corn. "When my parents took over, my dad was very conservation-minded," Bredehoeft explains. The family put in terraces and waterways. "I guess it carried over to us."
The Bredehoefts started no-tilling in 1990, and went 100% no-till five years later. By 2012, the family incorporated cover crops, placing cereal rye on all the corn ground. Being rewarded for the practice is important.
"Farmers across the country have been doing no-till and cover crops — climate-smart agriculture — for a number of years," the third-generation farmer said. "It is important to be rewarded a little bit. But maybe it will encourage other folks to keep on with those practices."
Bonnie said USDA is negotiating with all 70 projects for funding right now, and it will take some time to filter funds to farmers. "Our hope is to get dollars deployed so we start affecting decisions come spring in the next growing season," he added.
USDA has another $700 million in project funding to announce later in the fall, Bonnie said. Those are for smaller projects targeted at smaller producers and historically underserved producers.
"I believe that agriculture is going to have to lead the way on climate-smart farming because we are getting labeled, whether we deserve it or not," Bredehoeft said. "If we can put some data together, again, that shows this is helping the climate, helping the environment, then we can maybe keep on farming in a way we want to."
Still, the undersecretary realizes that for any government program or partnership on climate to work, it must pencil out for farmers, ranchers and forest owners. So, he plans to continue to travel across the countryside, hop in a few tractor cabs, plant some cover crops and do a lot of listening to farmers.
"At the end of the day, if it doesn't work for agriculture," Bonnie added, "it's not going to work for the climate."
About the Author(s) Editor, Missouri Ruralist
Mindy resides on a small farm just outside of Holstein, Mo, about 80 miles southwest of St. Louis.
After graduating from the University of Missouri-Columbia with a bachelor's degree in agricultural journalism, she worked briefly at a public relations firm in Kansas City. Her husband's career led the couple north to Minnesota.
There, she reported on large-scale production of corn, soybeans, sugar beets, and dairy, as well as, biofuels for The Land. After 10 years, the couple returned to Missouri and she began covering agriculture in the Show-Me State.
"In all my 15 years of writing about agriculture, I have found some of the most progressive thinkers are farmers," she says. "They are constantly searching for ways to do more with less, improve their land and leave their legacy to the next generation."
Mindy and her husband, Stacy, together with their daughters, Elisa and Cassidy, operate Showtime Farms in southern Warren County. The family spends a great deal of time caring for and showing Dorset, Oxford and crossbred sheep.
Subscribe to receive top agriculture news
Be informed daily with these free e-newsletters
You May Also Like
---