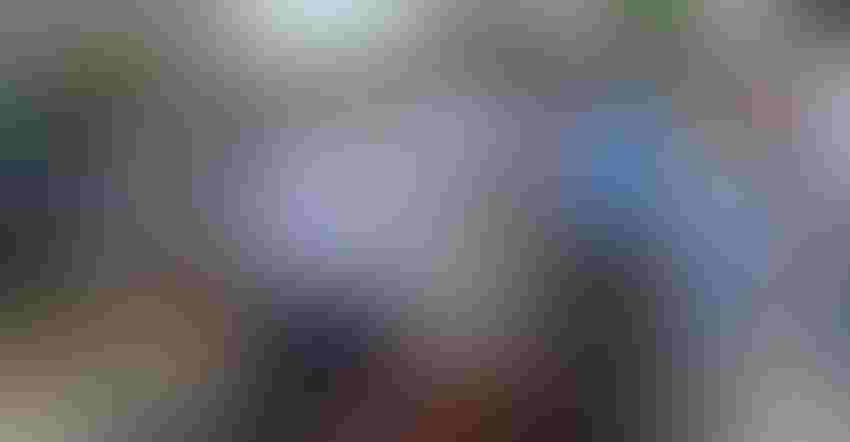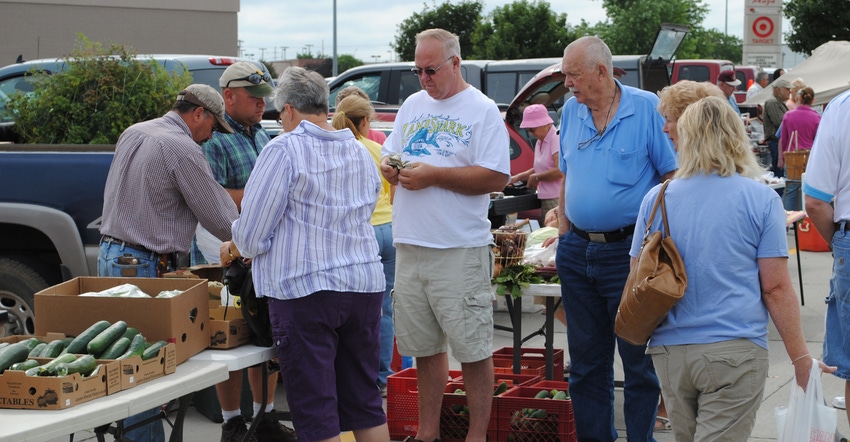 RAIN OR SHINE: Farmers markets go on, rain or shine. There are many benefits to marketing through farmers markets, but vendors must also understand regulations surrounding the markets.
Curt Arens
Vendors at farmers markets run the gamut, including vegetable growers, home bakers, cottage food producers, meat and dairy producers, and prepared food or craft vendors.
There are many benefits of being a vendor at a farmers market, but you need to understand the regulations governing markets and some of the challenges before you sign up to be a vendor.
Nebraska Farmer asked Margaret Milligan, program coordinator for Buy Fresh Buy Local Nebraska, to discuss some of the more common regulatory questions that vendors may ask.
In Nebraska, "to understand regulatory requirements, the best place to start is to familiarize yourself with resources of the Food and Consumer Protection program of the Nebraska Department of Agriculture," Milligan says. Their resources, available at nda.nebraska.gov, explain the permit requirements of specific products sold at farmers markets.
Know the rules
"Also, keep in mind that each market has their own policies. For instance, some markets may require vendors to have liability insurance," Milligan explains. "It's a good idea to contact your local or regional health department and the municipality where the market is held to find out if they have any additional requirements. In general, red meat must be slaughtered, processed and packaged under USDA inspection, not in a custom-exempt plant. It must be refrigerated or frozen and labeled appropriately, and the vendor must have a permit to sell at a farmers market."
Poultry producers also are required to have a permit. "Slaughter and processing requirements differ depending on if the vendor raises the poultry or not," Milligan adds. "Eggs sold at farmers markets must be maintained at least 45 degrees F. Vendors don't need a permit, but must have an Egg Number, which is free and is obtained from NDA."
Permits are generally not required to market fresh, whole, uncut fruits and vegetables; fresh or dried herbs; and some baked goods, jams and jellies. Vendors selling homemade baked goods, condiments, jams and jellies, candy, snacks, or preserved foods at a farmers market should familiarize themselves with Nebraska's Cottage Food Law.
Each state's department of agriculture may have specific regulations governing vendors at their farmers markets, so producers need to be aware of what is required.
Prepare for challenges
"There is a high level of commitment," Milligan says about marketing through farmers markets. "To maintain a good reputation and draw customers, consistency is key, and this is why most farmers markets are open rain or shine and require vendors to stay open during the market, even if it is a slow day." As outdoor events, markets can span the hottest and most volatile seasons, often falling on weekends, so it can be challenging to make that schedule work.
For many farmers, marketing may not be their strength. "Direct-market producers often must wear many hats," Milligan says, "producing, storing, transporting, selling the product and, crucially, forming relationships with customers."
Someone might be good at the production side — growing or raising a quality product — but they might not have the desire to engage with the public in person or maintain the online presence that's often needed for direct marketing, Milligan notes. "If you don't like marketing, find someone who does and hire them," she says.
There is a vast variety of markets across Nebraska and the Great Plains, some with only a handful of vendors and limited management. Others have dozens of vendors and a dedicated market staff. Budgets for the markets vary as well, as does the attendance and the target audience.
"Do your research, and be realistic about sales goals," Milligan adds.
Visit buylocalnebraska.org to get details about permitting or for other support in direct marketing. Learn about Nebraska regulations governing farmers markets by calling NDA's Food Safety and Consumer Protection Focus Area at 402-471-3422.
In other states, vendors can contact the state department of agriculture for information.
About the Author(s)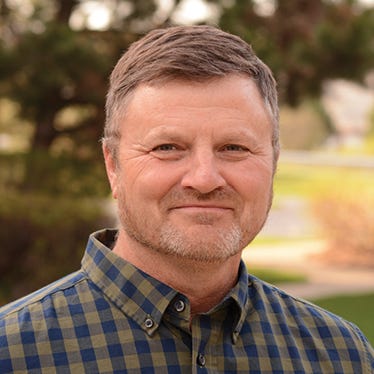 Curt Arens began writing about Nebraska's farm families when he was in high school. Before joining Farm Progress as a field editor in April 2010, he had worked as a freelance farm writer for 27 years, first for newspapers and then for farm magazines, including Nebraska Farmer.
His real full-time career, however, during that same period was farming his family's fourth generation land in northeast Nebraska. He also operated his Christmas tree farm and grew black oil sunflowers for wild birdseed. Curt continues to raise corn, soybeans and alfalfa and runs a cow-calf herd.
Curt and his wife Donna have four children, Lauren, Taylor, Zachary and Benjamin. They are active in their church and St. Rose School in Crofton, where Donna teaches and their children attend classes.
Previously, the 1986 University of Nebraska animal science graduate wrote a weekly rural life column, developed a farm radio program and wrote books about farm direct marketing and farmers markets. He received media honors from the Nebraska Forest Service, Center for Rural Affairs and Northeast Nebraska Experimental Farm Association.
He wrote about the spiritual side of farming in his 2008 book, "Down to Earth: Celebrating a Blessed Life on the Land," garnering a Catholic Press Association award.
Subscribe to receive top agriculture news
Be informed daily with these free e-newsletters
You May Also Like
---