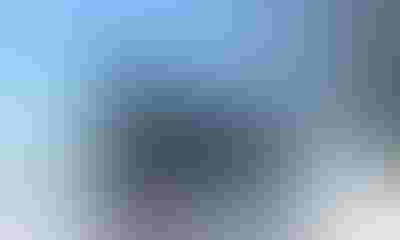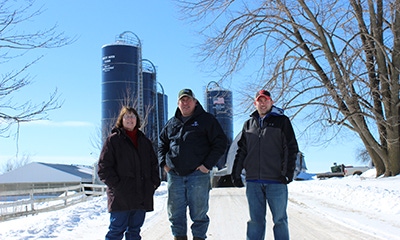 Like many dairymen, Mark Dietsche began milking cows for his father at the age of nine. By crawling up the stanchions between the cows, he was able to reach the pipeline.
The Dietsche family has a long history farming in Dunn County. They moved to the county in 1864 and settled on a farm near the Red Cedar River. In the 1940s, Mark's father purchased the farm where Mark and his family continue to milk cows and raise crops today. He is the fifth generation to farm in Dunn County.
Mark and his wife Lynn have four children -- daughters Rachel, Laura and Rebecca and son Aaron.

The Dietsche family works together on their farm near Bloomer. From left are Lynn, Mark and Aaron.
After graduating from University of Wisconsin-River Falls in 2010, Aaron returned to the farm and plans are in place to begin transitioning ownership of the farm to him later this year.
Early years
While attending college at UW-River Falls, Mark and his brother purchased the farm from their father in December 1977. Since he was a senior in college during the transition, Mark commuted to school in order to finish his degree while managing the dairy.
During the early years of his farming career, he faced many challenges. The 1980s were a trying time for many farmers financially. These problems were compounded for many farms by a major drought during the growing season of 1988.
"Our corn yield averaged six bushels per acre that year," said Mark. By watching costs closely and building the herd, Mark was able to position himself for the future. Changes continued in the operation as Mark and his brother purchased a neighboring farm in the early 1990s. After renovating the old facilities on the newly purchased farm, the brothers divided their herd and split the farmland in 1997. During this time, Lynn left her career in nursing to work with the day-to-day operations on the farm.
Today, Breezy Haven Farms straddles the Dunn and Chippewa county line about 10 miles outside of Bloomer. Since 1997, Mark has increased his land ownership to nearly 1,200 acres and his dairy herd to 120 cows. Steady progress has been made over the years as Mark invested in calf and heifer facilities, machinery storage, grain bins and irrigation. Plans are in place to construct a double-8 parallel parlor in 2016. Mark and Aaron have also started work on the future site of a bunker silo that will be used to replace Harvestore silos for silage.
The dairy herd is composed of around 100 Registered Brown Swiss and 20 Holstein cows.
"My father bought 12 Brown Swiss cows when he got started," said Mark. "We've been milking Brown Swiss ever since and its worked well. Our cows produce a 4.6 Fat and 3.6 Protein test."
All cows are housed in a freestall barn and milked in tie stalls. Cows are fed a total mixed ration of feeds grown on the farm.
Over the years, Mark has consistently exported groups of bred heifers to Mexico. Longevity and calf care are two reasons the farm has an abundance of heifers and cows. "The oldest Brown Swiss we've had lived to be 19 years old," said Mark. "Lynn takes care of the calves and does a great job -- her nursing background has really helped. We just don't lose calves due to the level of attention she provides."
Taking advantage of genomic testing is the next step for them as they look to improve the herd.
Approximately 850 acres are cropped in a rotation of alfalfa, corn and soybeans. With higher yields due to advances in plant genetics and management practices, more acres are devoted to cash crops. Starting in 2007, Mark started to implement a Natural Resources Conservation Service 590 nutrient management plan. He uses the plan to make decisions on manure and fertilizer applications. Using no-till, waterways and contour strips has helped limit soil loss. Aaron holds a Certified Crop Advisors certification through the American Society of Agronomy, which has been an asset for the farm.
Utilizing an existing high capacity well on the property, two irrigation pivots covering approximately 140 acres of cropland were installed in 2014. Previously, the well had been installed to water a five-acre strawberry patch. The patch was maintained by Lynn and their four children to assist in paying for college tuition.
Mark's enterprise is unique in nature, as he owns nearly all of the land he operates. All land is either contiguous or adjacent, which is convenient to operate.
"We've been fortunate to have good neighbors over all these years," said Mark. "Land is usually only for sale once in a lifetime. Bringing the next generation back to the farm usually requires more acres."
Residents of the Town of Grant are proud to maintain their rural landscape. The town has been zoned in farmland preservation since 1981, making it one of the first. Not many rural residences are present in the town due to the zoning. Involvement in the creation of an Agricultural Enterprise Zone has been an endeavor Mark has taken on in recent times. This area would provide tax credits to property owners who sign a 15-year contract to keep land, as it is now, farmland.
Mark's involvement in local government led to his election to the chairman's position in the Town of Grant in Dunn County. He has also served previously on the town board, plan commission, county board of adjustment, and Bloomer School Board.
"When you're farming, you've got to figure out how much work you want to do," said Mark. "We've been able to work together as a family to keep the farm moving forward into the future."
Subscribe to receive top agriculture news
Be informed daily with these free e-newsletters
You May Also Like
---