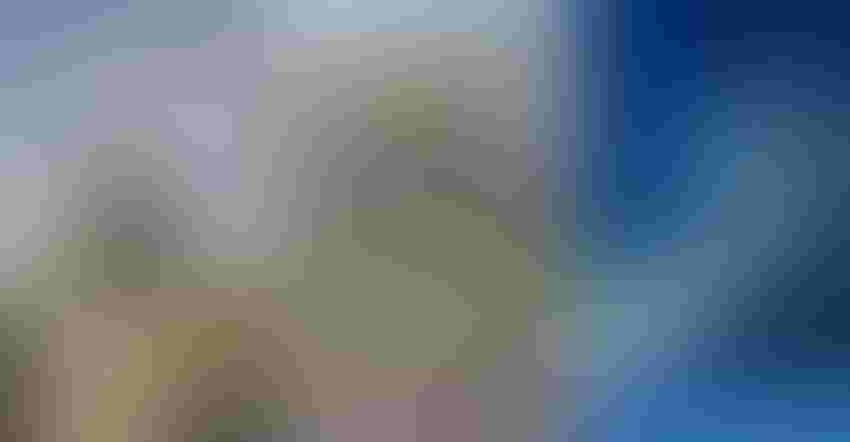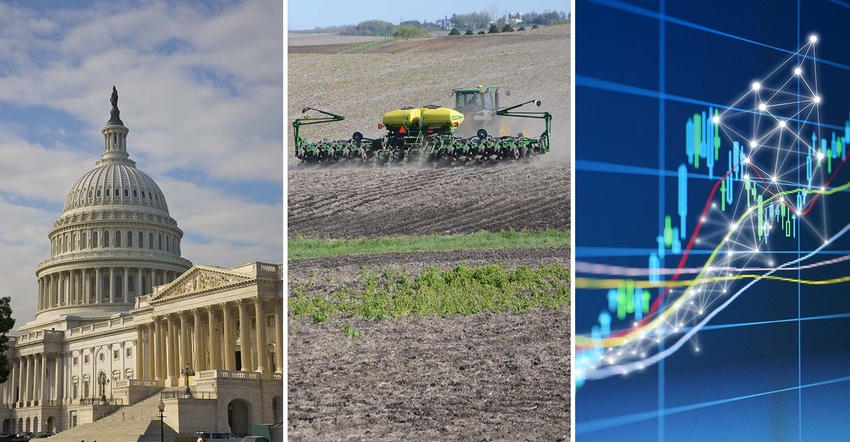 LOOKING AHEAD: The January Farm Progress 365 virtual seasonal sessions will dig into key topics farmers will want to track in 2023, provide tips on maximizing planter performance, and offer a live look at the January 12 USDA report. (Capitol: Barry Winiker/The Image Bank; Planting: Willie Vogt; Market: blackred/Getty Images Plus)
For farmers, hitting the ground running has a range of meanings. From keeping up on policies that may impact the farm, to getting equipment ready, and even to getting a leg up on crop marketing. It's a busy time, and the next seasonal session series for Farm Progress 365 are set to help.
The sessions will run at a new time as a kind of virtual "lunch and learn" for viewers. Speakers will go live at Noon Central time each day. Here's a rundown of the topics to be covered in these concise, half-hour sessions.
January 10 – Key issues facing the 2023 crop season
There are a lot of external forces impacting the grain and livestock markets. Getting a handle on what's ahead can help you keep your business plan on track. To help with that effort, David Widmer, co-founder and managing partner with Agricultural Economic Insights will be on hand to dig into a range of topics. AEI is a leading ag economics firm providing in-depth analysis on key trends for the industry.
From the farm bill to global regulatory challenges, Widmar will offer insights on key areas farmers may want to follow in the coming year.
January 11 – Is your planter really ready to go?
The planter is your investment in a payback you collect with your combine later in the season. But to make that investment, this piece of equipment must be in top-top shape. Lost time at planting can cost plenty in lost time, and potential yield later.
In this live session, we're turning to a maintenance expert. Peter Illingworth is the farm technician who keeps the equipment humming at the Throckmorton Purdue Ag Center a working farm at the university. For more than 22 years, Illingworth has keep those machines running, and over time he's picked up a few tricks he'll share in his discussion of planter prep and maintenance for 2023.
This real-world discussion of planter challenges offers viewers a chance to get some key questions answered too. It's the benefit of a live virtual session.
January 12 – A look at the latest USDA report
On January 12, USDA will release its January report at 11 a.m. Central time. We'll go live at Noon Central with Jacqueline Holland, market analyst for Farm Futures. She'll offer up-to-the-minute insight on that latest report and take questions from viewers about what the agency has shared.
This is an exciting live session with fresh information directly from the report. It's a first for Farm Progress, and an opportunity for Farm Progress 365 viewers to get quick insights on what's in that report.
All sessions start at Noon Central at FarmProgress365.com. Mark your calendar now to attend and plan to join in the conversation.
The site is also where you'll find past virtual sessions to check out. You'll find timely insights on a range of topics in those past sessions, and you'll also find special programming from farm shows too. Check it out.
About the Author(s)
Subscribe to receive top agriculture news
Be informed daily with these free e-newsletters
You May Also Like
---