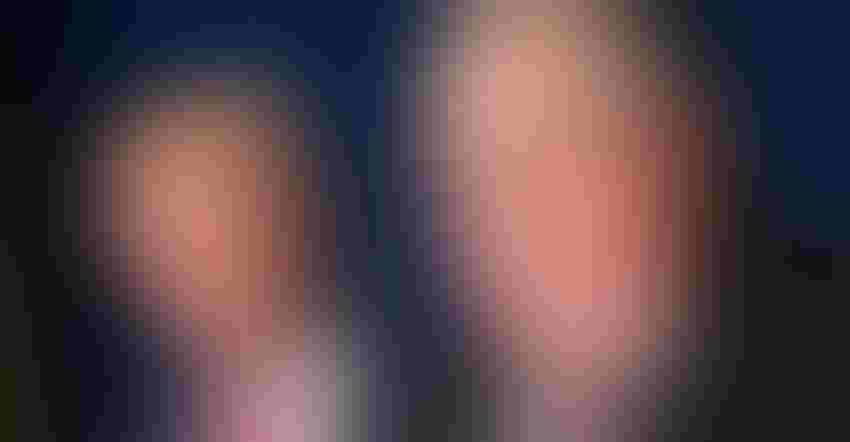 Donald Trump (L) listens as Sam Clovis speaks at a press conference.
ScottOlson/GettyImages
The nomination of Sam Clovis to be USDA's chief scientist was controversial even before he was implicated in special counsel's Robert Mueller's Russia probe, but it appears the probe is the proverbial straw that broke the camel's back as Clovis has withdrawn his nomination. He retained the support of Agriculture Secretary Sonny Perdue and it appears he will continue to work at USDA in a role that doesn't require congressional approval.
"Sam Clovis's decision to withdraw his nomination as chief scientist is a victory for science and our farmers who rely on agricultural research," said Sen. Debbie Stabenow, D-Michigan, ranking member on the Senate Agriculture Committee. "From day one, it was clear to me that Sam Clovis was the wrong choice for our farmers and ranchers. His lack of qualifications and long history of politically divisive statements were disqualifying, and the recent news surrounding his time as co-chair of the Trump campaign has raised even more questions."
Here's a look at some of the stories about Clovis. 
Sam Clovis was nominated to be Under Secretary for Research, Education, and Economics in July. "Dr. Clovis was one of the first people through the door at USDA in January and has become a trusted advisor and steady hand as we continue to work for the people of agriculture," Perdue said. "He looks at every problem with a critical eye, relying on sound science and data, and will be the facilitator and integrator we need. Dr. Clovis has served this nation proudly since he was a very young man, and I am happy he is continuing to serve." Stabenow expressed concerns about the appointment of Clovis, questioning his qualifications for the job.
In August, a coalition of 54 farming, food, consumer and environmental groups joined to opposed the nomination of Clovis. They said he lacked a science background and had no background in food or agriculture. Sen. Chuck Schumer, D-N.Y., and Sen. Brian Schatz, D-Hawaii, also called on President Trump to withdraw the Clovis nomination.
 Earlier this week, 3,100 scientists signed a letter charging that Clovis didn't meet the qualifications outlined for the position in the 2008 farm bill.
Court papers released Monday showed Clovis, 68, had encouraged George Papadopoulos to arrange meetings between Trump's aides and Russian officials. – Los Angeles Times
The agribusiness lobby found Clovis to be helpful in providing information to Trump and persuading him not to immediately withdraw from NAFTA. – New York Magazine
Subscribe to receive top agriculture news
Be informed daily with these free e-newsletters
You May Also Like
---