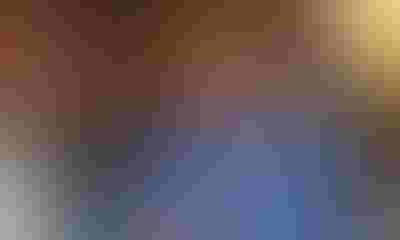 The 2017 Farm Futures Business Summit is headed for a new location with a high-energy message for the future of your business.
Our theme, "Poised for profits," will be front and center as farmers gather from around the country Jan. 19-20 at the newly renovated Waterfront Convention Center in Bettendorf, Iowa.
Despite a modest grain market rally earlier this year, farmers still find themselves at an economic crossroads. The summit will focus on how to capitalize on future opportunities despite these uncertainties.
Beyond farm-table connection

The 2017 Farm Futures Business Summit will be Jan. 19-20 at the newly renovated Waterfront Convention Center in Bettendorf, Iowa.
Phil Keiser, president and chief executive officer of Culver's Franchising System, Inc., will set the stage with a keynote presentation focusing on the ties between agriculture and one of the fastest growing fast casual restaurant chains in the nation. As CEO, Keiser oversees the direction and strategy for all of Culver's operations and maintaining mutually beneficial relationships with franchisees, suppliers, team members, guests and other stakeholders.
Attendees will learn about the deep connection that Culver's and their chain of nearly 600 restaurants are building with the agriculture industry. Keiser will discuss the restaurant chain's Thank You Farmers initiative, designed to recognize the individuals who have made Culver's a success and raise funds for young people who are choosing a career in agriculture. Keiser will also discuss how this initiative has influenced the organization's stance on some of the controversial issues the Ag industry faces today, as well as reaction from consumers, farmers and activists.
Lifelong learning event
The Summit's focus is to provide a lifelong learning event for progressive producers with a mindset of continued improvement, notes Virginia Tech economist Dave Kohl, who will also join us at the summit. "We are continuing to journey through economic, weather and marketing cycles, so this event is timely as the agricultural economic landscape is at a crossroads."
Kohl will offer his take on global and domestic economics, and the trends that will shape the future. In his high-energy style, the good doctor will provide steps to prepare your business to capitalize on the future. 
"While some in the agricultural industry are complacent, with a deer-in-the-headlights approach to management, others are making the necessary adjustments in business strategy to capitalize on these uncertain economic conditions where there are speed bumps and potholes around every corner," he says. "Which route will your business take? Will it lead to a high-speed exit ramp or to the valley of prosperity?"
Texas A&M ag economist Danny Klinefelter will share key management secrets that he has taught farmers for years through Extension and as director of The Executive Program for Agricultural Producers (TEPAP). He will also offer a look forward, and discuss management characteristics farmers will need to be successful.
At the summit, you can count on a high level of thought-provoking analysis from some of the country's leading experts on agricultural profitability. Breakout sessions will focus on grain marketing, enterprise analysis, estate planning, crop input budgeting and the financial outlook. Sessions will also focus on young farmers and women in agriculture. Award-winning farm broadcaster Max Armstrong will be on hand to emcee the always lively Bear Pit, where speakers and attendees gather to debate the hot topics of the day.
Financial consultant and Idaho rancher Dick Wittman will make a return appearance at the 2017 summit. Wittman will offer keys to family business, government and financial management. He will also guide a workshop on process improvement in modern farming.
"We operate in a global environment, where how we produce is becoming almost as important as what we produce," Wittman says. "Farm managers who adopt a continuous business improvement culture are capitalizing on opportunities to streamline efficiency, promote safety, reduce job process uncertainty, access value-added markets, and standardize quality of products and services provided. They do this by paying more attention to process improvement disciplines."
We'll be sharing updates to our agenda at FarmFutures.com/summit2017. For now, mark your calendars for Jan. 19-20. Set your phone mapping app to the Waterfront Convention Center, Bettendorf, Iowa. We're looking forward to bringing you another excellent program in 2017.
Subscribe to receive top agriculture news
Be informed daily with these free e-newsletters
You May Also Like
---