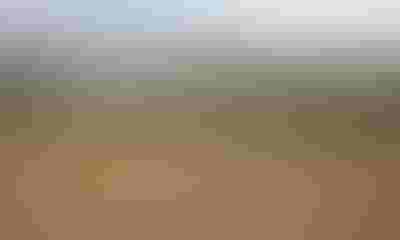 Editor's note: This is the second of a two-part series, check out the opening installment.
Self-made millionaire Toby Kimzey, who is now one of Wyoming's larger landowners, credits his wife, supportive parents, two hard-working sons and dedicated employees for the success of his family's business enterprise.
He says young people who don't have the means but who one day want to own a ranch or farm of their own can indeed do that if they're willing to truly embrace a spirit of entrepreneurship, and then take the necessary steps to get the job done.
ROOM TO ROAM: Toby Kimzey finds peace when riding horseback across lands like this (his family's Y Cross Ranch). Of such experiences, he says, "I know I'm closer to God."
"You have to dedicate yourself to going to work, making a wage, and then building it, building it, building it," Kimzey says. "You have to keep growing it, and sometimes this involves taking risks. Yes, there is truth in that old saying about risk and reward, but the risks you take should be calculated, looking at both upside and downside potential."
Kimzey also says that much of his success hinged on hiring good workers and the help of his wife.
"I couldn't have run the company without the help of Trisha. She's an excellent accountant, a very bright person, and we work well as a team," says Kimzey, who encourages all businesspeople, including ranchers and farmers, to truly value the work of each and every employee, from bookkeepers to top-level managers.
"I enjoy helping good people get work, and I believe in treating employees well," says Kimzey, whose oil casing business had nearly 500 workers during the last energy boom (he and Trisha sold the business in 2007, but he continued to manage it until 2012).
When the Kimzeys started enjoying financial success with their casing business in the 1990s, they began buying ranch or farmland in southeast Wyoming.
"We would buy a piece of land and make improvements, then sell the land when its value appreciated," Kimzey says. "Then we would wait for the right opportunity to buy another ranch or farm. You just keep trying to buy right and sell right."
That formula obviously worked as the Kimzeys now own four ranches and one farm in southeast Wyoming that total some 75,000 deeded acres. They annually run about 2,200 cow-calf pairs and grow 2,000 tons of alfalfa hay in addition to silage corn and wheat. Other businesses include a commercial grain elevator, car-care center, truck stop and gravel operation.
"My parents, Ralph and Mary, had a pretty tough time making a living farming, but they were still able to put enough away to enjoy retirement," says Kimzey, who notes that he and Trisha are also trying to help sons Kallen and Tyler, along with 200 employees, better their lives (the two sons assist with ranching operations, but most of their time is now spent building their own oil casing business).
Kimzey admits that his choice in life to keep building a business has brought many unavoidable challenges and plenty of headaches. It's during some of those times when he's feeling a little down that he heads to the ranch to find peace, quiet, solace and, perhaps, a greater purpose.
"I really enjoy riding horseback across the prairie, whether I'm working cattle with others or am out there alone," Kimzey says with a smile. "It's hard to explain the kind of 'quiet' I feel out there. But I know I'm closer to God."
Y Cross Ranch sale spurs strong debate
The Y Cross Ranch sale spurred much public debate because some thought the sellers—the University of Wyoming and Colorado State University—put big money ahead of the potential for student education on a large working ranch.
UW and CSU were gifted the 50,333-deeded-acre Y Cross Ranch in 1997 by the Courtenay Davis Foundation. But shortly after putting it on the market in 2012, the two universities were sued by Denver philanthropist Amy Davis, who said they failed to use the ranch as a classroom for students, straying from her family's wishes.
The universities also faced opposition from a small, but vocal group that included some university faculty members, some residents across the region and former Wyoming Gov. Jim Geringer, who believed that the universities opted for a large monetary gain instead of long-term learning programs at the ranch.
However, top UW and CSU officials, including deans of both agriculture colleges, defended the sale, saying the newly created endowments would offer far more support to students and programs over the long haul than retaining the ranch.
In 2014, the Wyoming Supreme Court sided with the universities, but discussions about the future of Y Cross Ranch were postponed by school officials following the passing of Ms. Davis, who was 86.
"Both schools were very sensitive to that," says Ranch Marketing Associates broker Ron Morris, who was selected to oversee the sale after the universities interviewed 12 Wyoming and Colorado land brokerage firms.
Morris notes that UW and CSU were later approached by the Davis estate, who wanted to work out an agreement in which the two schools would be compensated in exchange for not selling the ranch.
He says that the parties involved "came close to a deal," but when talks broke off officials at UW and CSU agreed that it was time to put the Y Cross Ranch back on the market.
"Both universities were very pleased that a local ranch family bought the Y Cross and will continue to run it as a working cattle ranch, with the potential that the two schools can still use it for a ranching classroom," Morris says.
Subscribe to receive top agriculture news
Be informed daily with these free e-newsletters
You May Also Like
---