Researcher who pioneered loss of stand to erratic placement and uneven germination says it still applies
Researcher who pioneered loss of stand to erratic placement and uneven germination says it still applies
However, Bob Nielsen says better equipment and more awareness mean there are fewer cases of lost yield today.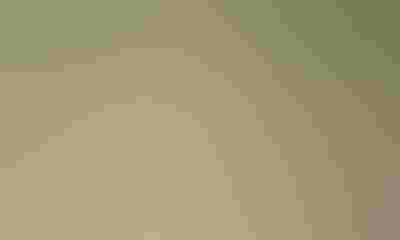 Bob Nielsen shocked farmers at planter clinics nearly three decades ago when he showed them how much yield they were losing because planters weren't placing seed evenly, and because in many cases, seeds weren't emerging uniformly and evenly. Late emerging plants typically became weeds.
Nielsen was credible because he had just completed research on plots showing that when stands were erratic, yield losses were real. They could go up to 5%. Even at $3 corn, a 5% loss on 200 bushel corn land could mean 10 bushels lost, or $30 per acre,

PICKET FENCE STANDS: Farmers chased them, but until people like Bob Nielsen proved to farmers they weren't getting them and it was costing yield, many weren't serious about planter maintenance.
In many cases the remedy was doing a better job of testing planter accuracy before the season began, and replacing worn and broken parts. Finger-pickup style planters were most common at the time.
Corn Illustrated 2/15: Preliminary results show no real yield difference for running planter level vs. not level
The invention of metering stands soon followed, and farmers began paying more attention to planter performance. Precision Planting was born as a company, founded by a farmer, Greg Sauder, Tremont, Ill., who began promoting Keeton seed firmers to improve stands. He and people he hired soon began finding numerous ways to improve planter performance.
He sold the company to Monsanto two years ago, and now heads another company that looks for total yield solutions. It's called 360 Yield Center.
Getting an update
We recently asked Nielsen for an update. Is the research he did more than two decades ago still valid? Can uneven spacing and uneven emergence still cause yield losses with today's modern hybrids?
"Yes, the research is still valid," Nielsen says. "However, there are far fewer fields which have severe problems with plant spacing and stand establishment as there were when I first did that research.
"We decided to do the trials because I walked too many fields where plant spacing was poor. I suspected that it was so poor in some fields that it was affecting yields. Our data that followed indicated that I was right."
In those days it wasn't unusual to find fields with a standard deviation of 3.0 to 4.0, he says. Standard deviation is a measure of how much a plant stand varies from the intended stand. In other words, if plants are supposed to be 6.5 inches apart in 30-inch rows and you find spacing down a row of 2, 6, 10, 8, 2 and 12 inches, for example, the variation from the average, or standard deviation, will be large.  In the real world, you would want to count a longer distance than just six plants to get a better feel for the deviation. In fields where planters do good jobs, the standard deviation should be down around 2.0, he says.
Corn Illustrated 2/8: OK, I was wrong about 500-bushel corn ceiling!
With innovations on modern planters and improved monitoring equipment to check singulation and other factors, it's easier to get better stands today, Nielsen says. "Plus people are now more aware," he adds. "They know that if they have very erratic stands, yield could suffer,"
You can still find a field here and there where someone should have paid more attention to the planter, but it is much less common today, he believes.
Subscribe to receive top agriculture news
Be informed daily with these free e-newsletters
You May Also Like
---