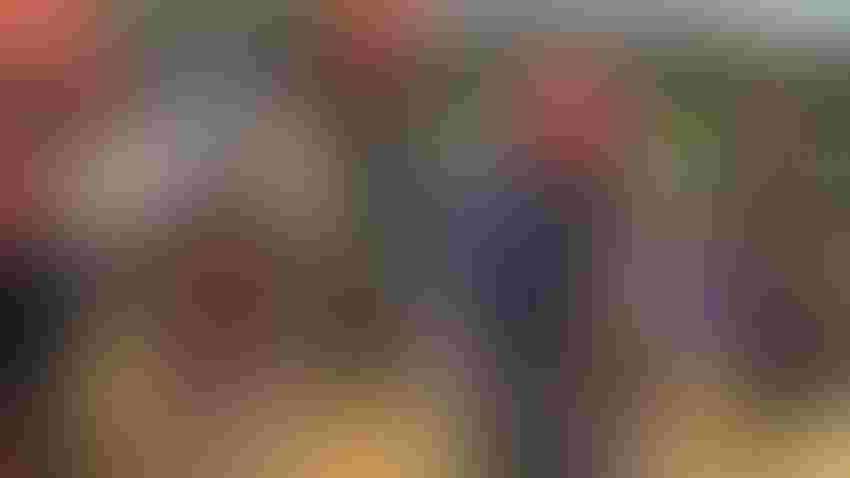 RESCUE SIMULATION: Fire departments that get grain rescue tubes from a program sponsored by Nationwide Agribusiness Insurance also get training. The simulation offers a real-world look at the challenge of grain bin rescues. Nominate your fire department by April 30.
Courtesy of Nationwide Agribusiness Insurance Co.
Grain bins are important tools on the farm, allowing producers to maintain control of what they produce until it's time to market the grain. They can also be death traps.
If proper health and safety procedures aren't followed, these valuable tools can trap an adult and, within seconds, sink them into the quicksand-like flow of grain, becoming fully entrapped with little hope of survival. For the most recent statistics reported, grain bin entrapments have resulted in 92 deaths in the past six years, not including 2022.
"You would think that people would get the message, and that they would not go [into a bin]," says Paul Stevenson, senior consultant for risk management services at Nationwide Agribusiness Insurance Co. "But just recently, I had a conversation with a farmer that was 72 years old and he went in. He was like 'I knew the hazards but went in anyway.'"
The key is raising awareness of the dangers, which is one reason for Grain Bin Safety Week running through Feb. 25. The idea is to help farmers better understand the hazards of entering a grain bin and putting in place plans to reduce the risk of losing someone to a grain entrapment.
In addition, Nationwide, along with its sponsor partners, continues the program of offering grain bin rescue tubes and training to fire departments across the country. Those departments have to be nominated, and from those nominations, Stevenson says at least 55 tube systems will be donated.
The program has gotten wider attention, and Stevenson says in 2022 Nationwide received more than 1,800 nominations, the most since the program started.
Tubes and training
What a fire department gets if selected for the grain bin rescue tubes is not only the tube but also training. For that training, the local department is encouraged to invite others.
"We ask them to bring in their mutual aid fire companies that would help in a situation like that," Stevenson says. "Not only are we training those 15 to 20 fire department people, but we'll probably get another 20 to 25 that are all mutual aid that are coming from surrounding communities to join the training."
The additional people help, Stevenson says, because a grain bin rescue requires as many as 50 people. The single grain rescue tube for that one fire department in an area can benefit more than that single station. "And that's the way we want it to be, it takes so many people to perform a successful rescue, and they really let the word out when they invite others to the training," he says.
The training is conducted by the National Education Center for Agricultural Safety. The comprehensive sessions include classroom education and rescue simulations, which involve bins loaded onto a 20-foot trailer, which hold about 100 bushels of grain each.
"We put grain up to about your waste in the tube," Stevenson says. "And in that simulation, you find you can't move."
Adds the center's director, Dan Neenan: "It's critically important to continue the hard work of getting rural fire departments the equipment and training they need to respond quickly in a grain entrapment scenario."
Selecting 'winners'
Communities can nominate their fire departments to get the grain rescue tube and training. Nominations opened in January and will run through April 30. Selected fire departments will be rewarded the tube and the training.
Stevenson says every nomination is read and ranked by a group of reviewers. With just 55 selected, the group works to find the best candidates for tubes and training. For example, if a nominee is in a region where a grain rescue tube has not been placed, it's chances might be higher in 2023. He says the aim is to expand the territory where these rescue systems are available.
But as they say, if you don't enter you can't win. Communities can nominate their fire departments by visiting a special Nationwide website.
Subscribe to receive top agriculture news
Be informed daily with these free e-newsletters
You May Also Like
---