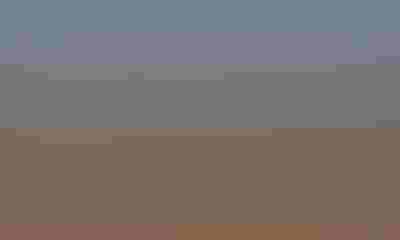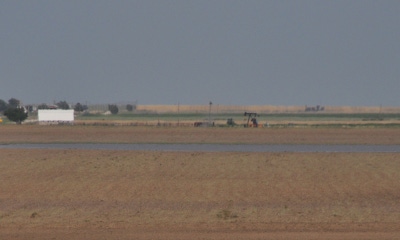 Among all the fascinating features of Kansas geography, perhaps none is more fascinating than playa lakes or "prairie potholes."
Playa lakes are temporary, shallow wetlands with a geology all their own. The native plants that grow there are unique and do not thrive in the cropland surrounding them. They can be mere marshy areas for years and then fill up after a heavy rain to create a shallow lake covering several acres.
Western Kansas farmer and seedsman Vance Ehmke has several playas on his land. He says he has enrolled the areas in the Conservation Reserve Program and plans to keep them there.

PLAYA LAKE: This playa lake on cropland owned by western Kansas farmer Vance Ehmke filled after a heavy rain in the summer of 2014.
"It isn't worth the effort to try to farm them," he says. "The soil is different. Typical crops like wheat don't thrive there. And you never know when they are going to turn into a lake and flood out anything you are trying to grow."
Playa lakes offer many benefits to people and wildlife. They help prevent flooding by collecting runoff from heavy rains, while at the same time providing critical recharge points for the Ogallala Aquifer.
Ehmke says he is always amazed at how quickly wildlife arrives when the playas fill up.
"There are birds there the very next day, like they have a patrol out to spot water. And within a few days, there are all kinds of fish, toads and frogs. The fish lay eggs that are dormant when the playa returns to marshland, and then they grow almost immediately. You will see birds feeding on the fish within a week or so."
Migratory waterfowl utilize playas for stopover points in both the spring and fall.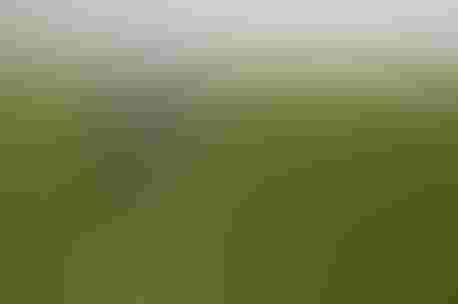 UNIQUE VEGETATION: Western Kansas farmer Vance Ehmke points out the unique vegetation that grows in a marshy playa lake on his farm.
The Natural Resources Conservation Service recommends that landowners plant grass buffers to slow sedimentation if the playa is surrounded by cropland. If they are on rangeland, the recommendation is to install a fence around the playa to allow the native grass and wetland plants to grow.
Several programs are available to help landowners pay for conservation practices including the Conservation Reserve Program and Continuous Conservation Reserve Program, both of which pay an annual rental payment. Both are administered by the USDA Farm Service Agency.
The Wetland Reserve Easement can be a good option for a landowner who wants to provide long-term protection of the wetland or restore it. The restoration option provides up to 75% of the cost of the restoration. The conservation easement payment is based off the fair market value of the land. It is administered by NRCS.
Habitat First is a program of the Kansas Department of Wildlife, Parks and Tourism's Private Lands Assistance Program. It is a good option if only a small playa is being considered for a native grass/forb buffer or exclusion fence. Habitat First can cover up to 75% of the establishment costs. The program makes a one-time payment, and the acres are not enrolled in a multiyear contract.
If you'd like to learn more about playa lakes, the Kansas Alliance for Wetlands and Streams will sponsor a workshop and tour on Jan. 10 and 11.
The workshop and tour are designed to provide and assist playa lake landowners and managers with state-of-the-art information, and program delivery and management options.
The workshop will take place at the Garden City Finnup Center for Conservation Education. It will feature four well-known speakers who have decades of playa lake experience in management, ecology, hydrology research and program cost delivery.
The one-day site tour will be in Lane County and will feature landowners who will show how playa lakes can be managed in effective and efficient ways for better conservation, recharge and recreational enjoyment.
If you would like to participate, contact Joe Kramer at [email protected] or Mary Howell at [email protected].
Subscribe to receive top agriculture news
Be informed daily with these free e-newsletters
You May Also Like
---