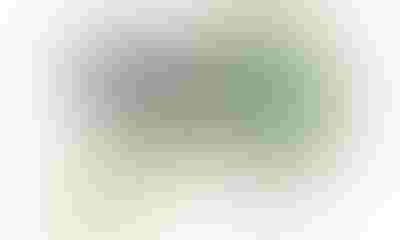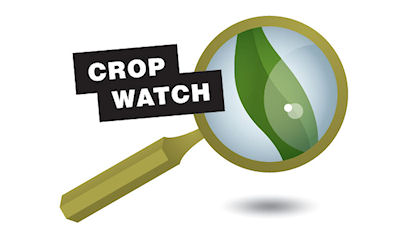 Which row would you harvest out of any field if you were looking for the highest yield possible? Would it be an outside row, or would it be a row from the center of the field?
Crop Watch 1/4: Seed industry experts don't expect farmers to back off corn seeding rates
The answer may depend on your past experiences, and on your production practices. The shot of this outside row from the 2015 Crop Watch field shows obvious signs of nutrient deficiency. If you look closely enough, you can determine that it is the classic sign of nitrogen deficiency.

Crop Watch 2016: Theory says outside row should yield more and farmers confirm it- but only if they get fertilized like the rest of the field.
Plants on the outside row were running out of nitrogen at this stage. It was early enough in the season that it likely affected yield, although this row wasn't harvested separately and compared to other rows elsewhere in the field.
The obvious cause of poor performance on this outside row here is likely that nitrogen application didn't extend to the most outside row in the field. Once past the first row walking in, nitrogen deficiency disappeared. Remember that the entire field yielded more than 190 bushels per acre.
This outside row is somewhat shorter, which is normal for outside rows. It doesn't need to work as hard or grow as tall to reach maximum sunlight.
Dave Nanda, a crops consultant who assists with the Crop Watch project, notes that capturing as much sunlight as possible is one of the factors that lead to top yields.
However, this row may be short because it was running out of nutrients to produce a bigger plant, not just because it was on the outside and didn't need to grow tall to find sunlight.
Why yellow? Obviously this outside row didn't get as much nitrogen as the rest of the field. In theory, outside rows should yield more because they have more access to sunlight than rows inside the field.
Some farmers are still trying strip cropping, growing corn in 8 or 6-row strips across the field. Those that try it repeatedly report that outside rows are shorter and yield more. They have competition for sunlight on only one side. The difference, of course, is that in a field situation, the outside rows of each strip receive as much nitrogen and other nutrients as the rows in the center.
Crop Watch 12/28: Why some farmers spread pollination window by planting two hybrids
So if you're ever in a corn trivia contest and you're asked: Which corn row in a field yields the most? The answer should be the outside row. But you have to add an asterisk. For that to happen it needs to have the same nutrients and water availability as all the other rows in the field.
Subscribe to receive top agriculture news
Be informed daily with these free e-newsletters
You May Also Like
---