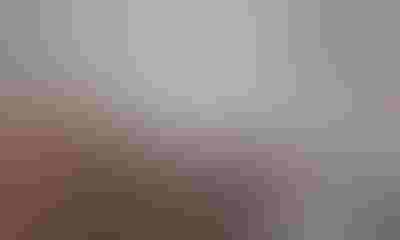 It's as much about the people as it is the equipment, says Doug deShazer, owner of the Lewis and Clark Pulley Museum in Crofton, about hosting the 11th annual hay tool swap meet and show for the North American Hay Tool Collectors Association. Nebraska is as far west as the organization has held their annual meeting and show.

ON DISPLAY: Steve Weeber, Iowa City, Ia., displays a rare hay trolley from the mid-1800s at the NAHTCA annual meeting in Crofton.
About 130 collectors attended this year's event, held this past weekend at the unique pulley museum. DeShazer and two or three other organization members hold the largest private individual collections of antique pulleys, hay tools, trolleys and hay forks in the country. "We are really happy with the turnout this year," deShazer says. "We had collectors from as far away as Montana and Idaho, North Carolina, Ohio, Michigan and even Australia." For deShazer and other collectors, the show is about talking shop with folks who know about the history of antique hay making tools dating all the way back to the mid-1800s.
NAHTCA members have literally written the book on the history of hay tools in America. According to the organization website, from 1860 through 1920, there were perhaps up to 100 companies making hay trolleys in North America as small, cottage manufacturers. But, as manufacturing of hay trolleys peaked, companies were consolidated into a few large manufacturers that dominated the market by 1945. Some hay trolleys were used as late as the 1980s to move hay bales. The commercial acceptance of the round baler was one of the technological developments on the farm that ultimately led to the end of hay trolley and pulley use.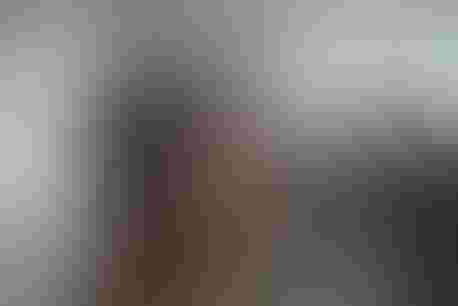 BIG HAY FORK: Bill Shields, Nampa, Idaho, brought along his restored Jackson fork to display at the swap meet and show.
Steve Weeber from Iowa City, Ia. was in on the ground level of the organization, hosting the first hay tool show 11 years ago and last year's 10th anniversary show at his museum. Weeber says that Ohio is the epicenter of hay tool collecting. This year's map of exhibitors and attendees shows this to be true, with more people coming from Ohio than any other state. "We are all old iron people," Weeber says. "Many of the folks here operated antique hay machinery when they were young."
But Weeber says that an entirely new generation is getting involved. "Our younger members are enthusiastic about collecting," he says. "They have helped us develop a website that has digitized data on the patents and manufacturing details of many types of hay tools. They also helped develop a Facebook page for collectors to connect with each other."
At shows, NAHTCA also often invites other old iron collector groups to join in the fun. "Over the years, we've invited a group of cream separator collectors and cast iron seat collectors to our show," Weeber says.
HAY HISTORY: About 130 collectors from around the country brought along rare and valuable hay tools and hay making machinery to the 11th annual show.
Bill Shields, Nampa, Idaho, brought along his large Jackson hay fork this year. "This is the second time I've attended the show," Shields says. "I try to find Jackson forks and restore them. I brought one this year because many folks in this part of the country have never seen one." Shields also built a scale model of the Jackson fork system, demonstrating how the fork was used in the 1800s to move and pile hay on the farm.
DeShazer says that the fun in the annual show is also in the pieces that collectors bring along with them to display or to swap or sell. "They love bringing new pieces they've located over the past year," he says. "Many of these pieces are quite rare and valuable and they are often things no one has seen before."
You can learn more about NAHTCA by visiting their website at haytrolleyheaven.com.
About the Author(s)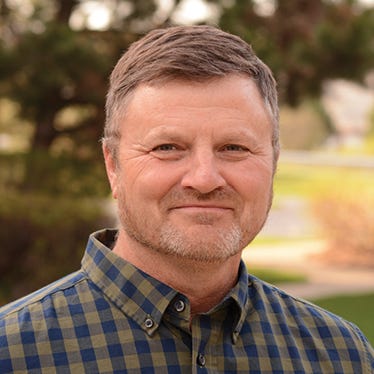 Curt Arens began writing about Nebraska's farm families when he was in high school. Before joining Farm Progress as a field editor in April 2010, he had worked as a freelance farm writer for 27 years, first for newspapers and then for farm magazines, including Nebraska Farmer.
His real full-time career, however, during that same period was farming his family's fourth generation land in northeast Nebraska. He also operated his Christmas tree farm and grew black oil sunflowers for wild birdseed. Curt continues to raise corn, soybeans and alfalfa and runs a cow-calf herd.
Curt and his wife Donna have four children, Lauren, Taylor, Zachary and Benjamin. They are active in their church and St. Rose School in Crofton, where Donna teaches and their children attend classes.
Previously, the 1986 University of Nebraska animal science graduate wrote a weekly rural life column, developed a farm radio program and wrote books about farm direct marketing and farmers markets. He received media honors from the Nebraska Forest Service, Center for Rural Affairs and Northeast Nebraska Experimental Farm Association.
He wrote about the spiritual side of farming in his 2008 book, "Down to Earth: Celebrating a Blessed Life on the Land," garnering a Catholic Press Association award.
Subscribe to receive top agriculture news
Be informed daily with these free e-newsletters
You May Also Like
---