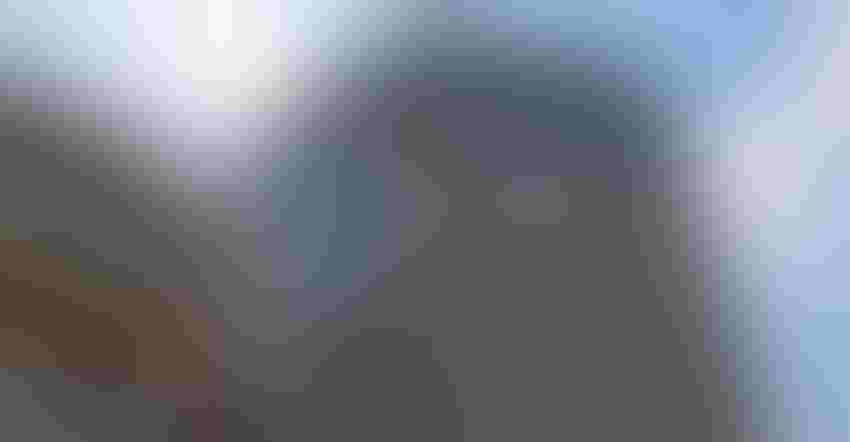 This bin looks fine on the outside, but what does it look like inside? It's critical to monitor grain quality now and until it's sold, says Gary Woodruff.
Market fundamentals forced most grain farmers to sock away as much of their corn and soybean crops as possible last fall. Many still hope to pull the trigger on a spring or summer rally.
To ensure your stored grain will remain in good condition when ready to be sold, Gary Woodruff with GSI offers advice on preserving stored grain.
What do you believe caused the problems with 2017 grain in spring and summer of 2018? Some people have gotten away from basic rules, which people like the late Purdue University engineer Bruce McKenzie instilled in generations of farmers years ago. Corn needs to go in the bin dry enough to match how long you intend to keep it. If you want to store until June 1, it needs to be no more than 15% moisture. To be held through summer, put it in at 14%. If you may hold longer than a year, bin it at no more than 13%. Then aerate properly and monitor.
Why did people get away from the basics? For the past decade or so before the 2017 season, there were marketing opportunities to move grain earlier in the year. Many people didn't hold grain into the summer or even into spring when corn prices were high. Second, we didn't routinely have warmer-than-normal weather in the fall when they were putting grain in storage in years when it would be held a long time. Many people put grain in the bin at 16% and turned on the fans. They got by with it because it wasn't as warm, and they sold earlier. Now that they're holding longer to try to get better prices, they're no longer getting by with it. If they put grain in the bin higher than 15% moisture and tried to hold until May or longer, the corn ran out of storage life, especially if it was a warm fall.
What other factors contribute to storage quality issues? Another large factor is size of on-farm storage bins on larger farms today. Many larger farms are really commercial grain operation centers — they just don't know it. Once you go bigger than a 48-foot-diameter bin or taller than a 30-foot eave height, you will likely encounter storage issues much faster than you realize. You must follow the rules, starting with binning corn at the proper moisture level. You also need to monitor it carefully. Whether you do that with aeration controllers or other sensing monitors is up to you. 
Why are you concerned about stored corn this year? A lot of corn was harvested early when it was still very warm. It was 90 degrees outside in September and 85 or higher in early October. Normally it's 60 degrees when you're harvesting corn. Grain temperature is one of the two factors that determines how long corn will keep without issues. The other is moisture content. The higher the temperature of the grain and the higher the moisture content, the lower the storage life.
What do you mean by storage life? This is generally considered how long you can store corn before it loses one marketing grade in quality and 0.5% in dry matter. In other words, how long can you hold it before it goes from No. 2 corn to No. 3 corn. The decline in quality is usually caused by disease organisms or insects. The warmer and wetter the grain in storage, the more active disease organisms and insects can be.
If someone binned corn at 16%, turned on fans and let them run, will grain likely be OK? No. That's part of the issue. If fans run when it's warmer than normal, they bring in warm air. They're doing nothing to cool the grain mass. To cool grain in the bin, run fans only when outside air temperature is cooler than the grain. You could do that with an aeration controller, which will only let fans run when that will occur. Or you could do it manually, running fans at night during warm stretches. Temperatures are usually cooler at night, even when it's warmer during the day.
What can we do if we have corn that was binned early at more than 15% moisture? Check condition of the corn immediately. If it's still OK, monitor those bins like a hawk.
Bechman is editor of Indiana Prairie Farmer, a Farm Progress publication.
About the Author(s)
Subscribe to receive top agriculture news
Be informed daily with these free e-newsletters
You May Also Like
---