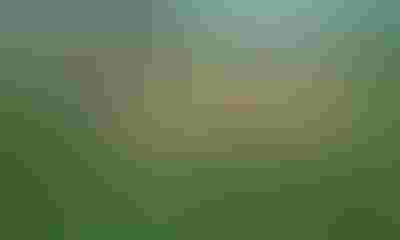 Dow AgroSciences chose the perfect background to officially introduce PowerCore insect trait control technology. Guests at the official announcement walked out to a beautiful green field of corn under sunny skies and pleasant temperatures. But when they got to the announcement site, they were greeted by three-feet long plastic insects on poles, hovering above the corn. Made to scale just for the event, the six insects represented corn insects controlled by new PowerCore traits technology.

"We will introduce it in the U.S. for the 2016-2017 seed selling season," says Brian Barker, U.S. Seeds General Manager for Dow AgroSciences. Barker said iit will be in several hybrids for sale for planting in 2017, including some hybrids with elite genetics. Since the sales season appears to be starting earlier this year than normal, he said it was important to let farmers know this new option would be available.
Insect control
The new technology controls six key pests, including European corn borer, southwestern corn borer, corn earworm, fall armyworm, western bean cutworm and black cutworm. Some of these are more of a threat in certain areas of the country than others, but almost all areas have issues with at least one if not more than one of these pests, Barker says.
There are traits on the market that control some of these insects, but three modes of action with three proteins make the new technology unique, Barker adds. He says that's important for two reasons. First, it delivers control against all of the insects noted. Second, with three modes of action, it provides better odds against possible development of resistance. The three modes of action apply to European corn borer, southwestern corn borer and fall armyworm. PowerCore contains two modes of action that control corn earworm, and one mode of action for western bean cutworm and black cutworm. Other major competitive technologies already on the market either don't control these last two insects, or also only control them with one mode of action.
There will be a 5% structured refuge for resistance management in the Corn Belt, and a 20% structured refuge for those growing these hybrids in the Cotton Belt. Refuge in a bag will be an option in the Corn Belt, Barker says.
"We will be offering a 5% in-bag refuge option as PowerCore Refuge Advanced for planting in 2017," he says.
Technology is here
This technology will be available in five seed brands for 2017, Barker notes. They include Mycogen, plus four regional brands. The regional seed companies that will offer PowerCore in certain hybrids include Brodbeck Seeds, Dairyland Seed, Pfister Seeds and Prairie Brand Seed. The technology may be made available to other seed companies in the future, Barker says.
While the PowerCore technology is new to the U.S. and will be planted commercially for the first time in 2017, it's not new to corn. "It was introduced in South America in 2012," Barker says. 'We have had three successful seasons with the technology there, so it's proven technology in corn. We're excited that we can now bring it to the U.S. and make it available to growers for next season."  
About the Author(s)
Subscribe to receive top agriculture news
Be informed daily with these free e-newsletters
You May Also Like
---