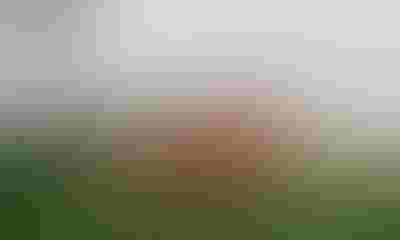 An emergency can happen on your farm at any time. While you can't control the weather or other natural disasters, being prepared can save lives and property.
*Farm emergencies such as fire, flood, tornado or even biological can happen without warning. Have a plan in place for your farm by evaluating potential hazards and identifying who to contact in case of an emergency.

Have a plan in place for your farm by evaluating potential hazards and identifying who to contact in case of an emergency.
*Familiarize local emergency response and/or town officials with your farm site. Provide them with a map of the site with buildings labeled and locations of water and electricity shut offs, chemicals, flammable liquids, and other hazards such as reception pits. Often times farms have multiple driveways to various buildings, be sure the emergency response unit understands which building to go to when called.
*Not all emergencies happen on the farm. If employees are operating equipment in the fields, develop protocols so you know where they are at all times and they understand where they will be working. Review emergency protocols with employees and verify they know how to call for help if an emergency happens.
*Train employees to use and know where emergency equipment is located and when to use it.
*Develop a plan for natural disasters such as fire and tornado that details where to meet and what protocols should be implemented.
*Post emergency contact information with names in key places around the farm and in tractors. Give copies of emergency contacts to all family members, employees and reliable neighbors. 
Make your farm accessible for emergency crews. If the emergency, such as a fire is isolated to your site, you may have several emergency vehicles arriving at once. Make sure the site is accessible and safe for them. In the case of a natural disaster such as a tornado, you may have many neighbor volunteers arriving in multiple vehicles. Be sure to keep roads and driveways in good repair so heavy emergency vehicles can access your buildings. Develop your emergency plan to detail how many people and animals are in your buildings at given times of the day. You may only have two employees in the barn at night and many more during the day. Emergency crews should be aware of how many people could be involved in an incident.
We typically first think about saving people, cows, buildings, and feed, but what about the office? A natural disaster could easily destroy your entire bookkeeping system. Be sure to store important paper documents in a fire-proof safe. Backup computer files to another computer off site or on a cloud-based file system.
What about a biological outbreak? Since the early 2000s with the foot and mouth outbreak, farmers have been very diligent about biosecurity on the farm. Develop protocols that reduce visitors' contact with feed, milking equipment, maternity and manure handling areas. If visitors need to see those areas, be sure to provide (or ask them to provide) disposable plastic boots, or even disposable coveralls. Local sales representatives should also be following simple biosecurity protocols you designate on your farm such as sanitizing boots or wearing disposable boots.
The stress and emotions of an emergency can throw well-laid plans out the window. Take time to review and practice emergency plans with your family and your employees. Be sure multiple people on the farm can carry out emergency plans in several areas of the farm. Remember, buildings and animals can be replaced, people can't be. Being prepared is your best bet for managing emergencies.
Bjurstrom is the Kewaunee County Extension agriculture agent.
Subscribe to receive top agriculture news
Be informed daily with these free e-newsletters
You May Also Like
---