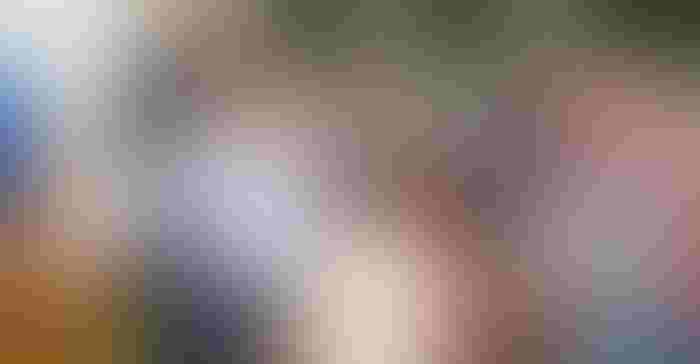 Military veteran Heidi Barber, right, demonstrates how to shear sheep during a Battleground to Breaking Ground workshop. The BG2BG program not only helped Heidi and her husband Ray (behind her in the gray shirt and cowboy hat), who is also a veteran, begin their own ranch, but now they mentor others pursuing the same dream. Melissa Blair, NRCS-TX
Heidi Barber said she's not a people person, but her actions speak louder than her words. 
After many years of serving and protecting her country, the military veteran now serves as an agricultural mentor to her peers through the Battleground to Breaking Ground (BG2BG) program, helping veterans use the skills they learned during their military career to create their own agricultural business.  
The BG2BG program, a four-phase educational program, teaches participants how to start and grow a farm or ranch through business planning, hands-on training, mentoring, disability assistance and connecting participants to agencies that provide assistance, including the USDA and its agencies.
Sheep ranch 
When Heidi's not mentoring, she and her husband, Ray, also a military veteran, are busy working the Hay Ewe Ranch, a sheep ranch they own and operate in the small town of Flat, near Gatesville and Fort Hood.  
The Barbers know what it's like to transition from military to civilian life. They both served in the Army for 20 years, which is why they enjoy sharing their knowledge and hosting workshops through the BG2BG program. 
See, Army veteran finds new 'search and destroy' mission in ag
The duo's interest in farming started after the couple retired and tried over-the-road truck driving before realizing what they really wanted was to work with something with four legs rather than 18 wheels.  
"I've always liked animals, and so we ended up getting two horses," Heidi said. She also went through the Equine Management and Agriculture Science program at Central Texas College. 
BG2BG
Heidi said she first heard about BG2BG when the program held an agricultural business workshop at the college. She and Ray took the first BG2BG session at Central Texas College and after attending the third workshop, applied for the program. 
In 2018, they got serious about looking into what type of operation they'd want to run. The information they learned through BG2BG proved helpful, including information about start-up first steps, business plan development, and how to make it all come together financially. 
Their initial idea was to work with cattle. But after researching, they changed course, especially as they learned how expensive the land was to graze cattle. As they continued through the program, all roads led to sheep and Hay Ewe Ranch, where they raise Dorper, White Dorper, and Katahdin. 
It was during this time Heidi was introduced to the Compatible Lands Foundation (CLF) and its partnership with Texas A&M AgriLife Extension Veteran's Farming Education and Training (FEAT), which provides hands-on learning and online education training. 
After graduating from the BG2BG program, Heidi was invited to become a mentor for the veteran training program, followed by an offer to be the farm manager at the FEAT farm. As a mentor, Heidi's goal is helping fellow veterans gain knowledge and experience to become successful in farming or ranching. Since 2019, the Barbers have held BG2BG workshops on everything from raising sheep and goats, welding, and pipe fencing.  
Managing resources 
Initially, the Barbers leased land at the FEAT farm site before applying for a "Compatible Land Application" to run their operation. They work with CLF to apply for assistance through agencies like the NRCS. 
Although they are still in the beginning stages of NRCS conservation work, the Barbers have used conservation practices such as planting Bermuda grass, rye grass, turnip, rapeseed, sugar beet, wheat, oats, and clover cover crops to create a variety of grasses to increase rain infiltration capability on the land and provide food for livestock and wildlife habitat.  
Learning to manage their own land has gone hand-in-hand with Heidi's ability to help others. 
"I've enjoyed working with people," she said. "I like teaching and it's an interesting perspective when you see someone make the connection with the animals or they make the connection with the vegetables and they realize 'Hey, I can do this, too.'" 
Finding Resources  
Heidi coordinated and presented a weeklong BG2BG bootcamp in July at the Flat Community Center where veterans and beginning producers learned the basics of vegetable, cattle, poultry, bee, sheep, and goat production. Lt. Col. Sandi Parriott was among the participants.  
Parriott, an active-duty U.S. Army veterinarian, was in private veterinary practice for more than 10 years before joining the service. She hopes to retire soon and operate her family's ranch in Kosse, Texas, along with the additional 135-adjoining acres she and her husband, who is also a retired Marine, purchased. 
"I've always wanted to ranch," said Parriott, who at the age of 11 dreamed of naming her future ranch, "Skippin' Filly Ranch." 
Today, that ranch is a reality. "Even though I thought up the name when I was 11, it has turned into a play on words and still is relevant. My daughter is our little "filly," and she is the inspiration to use the name for our ranch," she said. 
Thanks to assistance through the Department of Defense SkillBridge program, an opportunity for active-duty service members to gain civilian work experience during their last 180 days of service, Parriott's childhood dream has come to fruition. 
Mentor
Heidi is Parriott's mentor. Their common experience in the military as well as ranching has proven helpful. Parriott has accompanied Heidi to cattle auctions and introduced her to agribusiness colleagues. 
Working on the development of the business plan also has been beneficial, said Parriott. "It made it not so overwhelming. 
"I recommend BG2BG to anyone who is interested in agribusiness," Parriott said. "It's going to help you build that network of experienced people and experts that you can reach out to if you have a question or if you're just curious. They're very welcoming. It's a wonderful program." 
Cultivating new farmers. land 
Heidi said most people are surprised by how much they don't know and how much they will learn.  
"I learned how to find resources, so I didn't always have to turn to a person," she said, adding that at the same time, the availability of having someone to turn to often proved helpful when talking through a problem or comparing notes.    
Heidi has grown a lot through the BG2BG program. Beyond the boot camp training, she said the program has helped her in working with people.  
"It's kind of helped me a little bit because I kind of have to trust some other people at times. I've enjoyed working with everybody who has come through and that I've worked with as far as mentoring, and it's continued to push me to continue to learn." 
The Barbers continue to teach fellow veterans and beginning producers so they, too, can realize their farm or ranch dream and have the resources and mentors to be successful.  
USDA supports veterans and beginning farmers and ranchers through a variety of programs, and technical and financial assistance. NRCS supports the training program and its participants by providing guidance on obtaining financial and technical assistance. FSA helps participants expand and improve their operations. Watch the following video, "A Commitment to Veterans and the Land," to learn more. 
Source: USDA NRCS-TX 
About the Author(s) Public Affairs Specialist State Earth Team Coordinator, USDA-Natural Resources Conservation Service (NRCS)
Subscribe to receive top agriculture news
Be informed daily with these free e-newsletters
You May Also Like
---