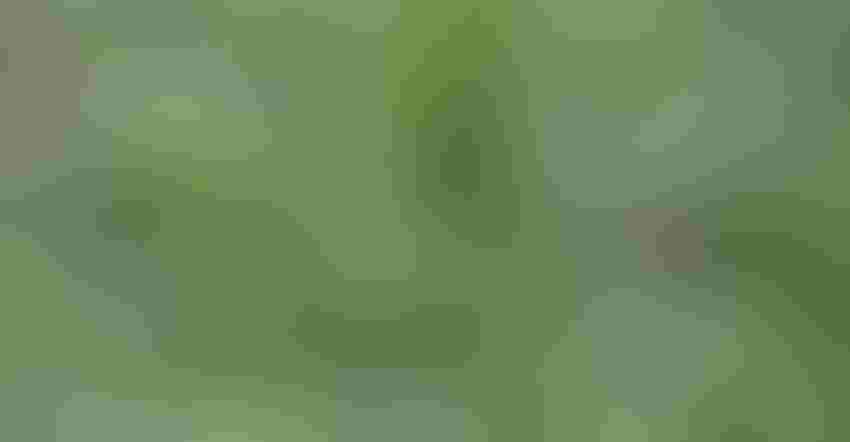 NO SPRAYING AFTER JUNE 20: Minnesota's new regulations for dicamba prohibit spraying after June 20 on dicamba-tolerant soybeans.
Bruce Potter, University of Minnesota
The Minnesota Department of Agriculture announced new restrictions on Dec. 12 for over-the-top use of dicamba on dicamba-tolerant soybeans for the 2018 growing season.
Dicamba is primarily used for controlling postemergence broadleaf weeds in various crops. In 2016, the U.S. EPA approved its use on genetically engineered soybean and cotton varieties.
The new Minnesota restrictions are in addition to those announced by EPA in October.
The affected formulations are XtendiMax by Monsanto, Engenia by BASF and FeXapan by DuPont. The decision follows MDA's ongoing investigation and an informal survey last summer into reports of crop damage from alleged dicamba off-target movement. Last fall, MDA received 249 complaints alleging dicamba drift damage.
In an effort to prevent dicamba-related complaints in 2018, Dave Frederickson, Minnesota agriculture commissioner, reviewed the new EPA label restrictions, the MDA's survey results and peer-reviewed literature, and he sought extensive input from the Minnesota Soybean Growers Association Drift Task Force, University of Minnesota Extension weed scientists, and the pesticide manufacturers on the underlying causes of damage.
Based on the review, Frederickson issued the following additional protocols for dicamba use during the 2018 growing season:
• No spraying is allowed after June 20. This cutoff date is expected to help reduce the potential for volatility. The majority of Minnesota soybeans are still in the vegetative growth stage by June 20, and research has shown that plants in the vegetative stage are less affected than those in the reproductive stage.
• No spraying is allowed if the air temperature of the field at the time of application is more than 85 degrees F, or if the National Weather Service's forecasted high temperature for the nearest available location for the day exceeds 85 degrees F. Research has shown that dicamba volatilization injury increases with an increase in temperatures.
"Dicamba is an important tool for soybean growers to manage weeds, and I believe these additional restrictions will minimize the off-target movement," Frederickson says.
The agency notes that these additional Minnesota-specific label requirements will appear on a separate label. Users must possess and follow both the label on the product container and the accompanying Minnesota-specific label. XtendiMax, Engenia and FeXapan formulations of dicamba are "restricted-use pesticides," for retail sale to and for use only by certified applicators. Violators will be penalized for illegal use, according to state statute. Penalties vary, based on gravity of the violation, history of past violations, economic gain and other factors.
Both MSGA and its drift task force commended MDA for its new dicamba labels.
"We need dicamba. We also need these new restrictions," Michael Petefish, MSGA president, says. "Producers need to have the ability to adapt this product to their operations. These additional guidelines will allow users to do just that in a safe and environmentally sound manner."
Bob Worth, MSGA director and drift task force chairman, says MDA's ruling is an important first step. "With the ruling, we encourage producers and applicators to attend one or more of the educational sessions during the winter production meetings across the state."
In October, EPA reached agreements with Monsanto, BASF and DuPont for new labeling requirements for dicamba.
Manufacturers voluntarily agreed to label changes that impose additional requirements for over-the-top use in 2018, including:
• classifying products as "restricted use" — permitting only certified applicators with special training, and those under their supervision, to apply them. Dicamba-specific training will be required for all certified applicators.
• requiring farmers to maintain specific records regarding the use of these products to improve compliance with label restrictions
• limiting applications to when maximum wind speeds are below 10 mph (from 15 mph) to reduce potential spray drift
• reducing the times during the day when applications can occur
• including tank cleanout language to prevent cross-contamination
• enhancing susceptible crop language and record keeping with sensitive crop registries to increase awareness of risk to especially sensitive crops nearby
North Dakota recently announced new rules for dicamba use on soybeans. Those include a ban on spraying certain dicamba formulations on soybeans after June 30, or when soybeans reach the R1 stage of development, whichever is earlier; applying only between an hour after sunrise to an hour before sunset; and applying when the actual air temperature and the forecasted high temperature of the day are both below 85 degrees F.
Subscribe to receive top agriculture news
Be informed daily with these free e-newsletters
You May Also Like
---