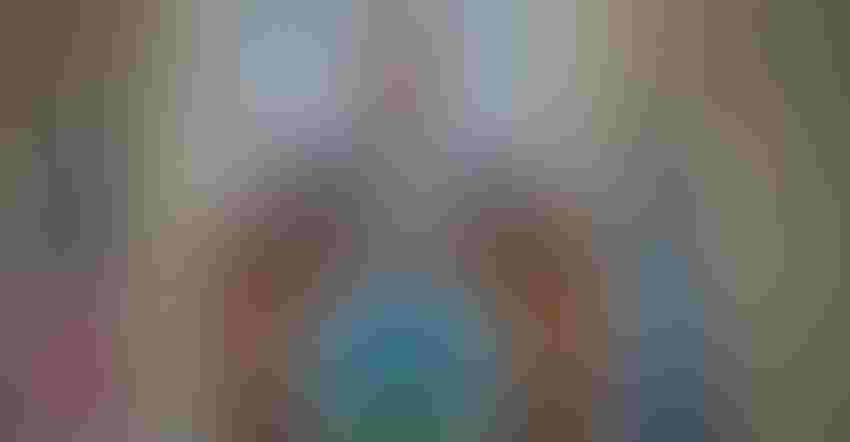 Under Secretary for Trade and Foreign Agricultural Affairs Ted McKinney.
USDA Photo by Preston Keres
USDA Under Secretary for Trade and Foreign Agricultural Affairs Ted McKinney is on a trade mission to Guatemala through March 2, accompanied by a delegation of agribusiness and state government leaders seeking to grow U.S. agricultural exports to Central America's Northern Triangle of Guatemala, Honduras and El Salvador.
"The Northern Triangle offers significant market opportunities for exporters of U.S. farm and food products," McKinney said. "Thanks to population and economic growth in the region, demand for imported goods – particularly high-value, consumer-oriented food products – is on the rise. And more than 95% of U.S. agricultural exports enjoy duty free access to the region under the CAFTA-DR trade agreement." 
Since implementation of CAFTA-DR in the Northern Triangle in 2006, U.S. agricultural exports to El Salvador, Guatemala and Honduras have doubled, totaling $2.2 billion in 2017. In all three countries, rising GDPs and rapidly expanding urban and middle-class populations are expected to lead to continued growth in demand for food and farm products over the coming decade.
While the mission will be based in Guatemala, participants will also connect with importers from El Salvador and Honduras who will travel to Guatemala. In-country staff from USDA's Foreign Agricultural Service will arrange nearly 450 one-on-one business meetings between U.S. delegates and representatives from local companies interested in purchasing U.S. products.
Mission participants include Nevada Department of Agriculture Director Jim Barbee, New Mexico Department of Agriculture Director/Secretary Jeff Witte, North Dakota Agriculture Commissioner Doug Goehring and Washington State Department of Agriculture Director Derek Sandison, as well as representatives from the Alabama, Arizona and Tennessee state departments of agriculture and the Idaho Department of Trade. Participating companies and organizations: 
1. Ag Biotech, Inc., Livonia, N.Y.
2. Agropur, Jerome, Idaho
3. Alltech, Inc., Nicholasville, Ky.
4. Corona Seeds, Camarillo, Calif.
5. Crown Products, Inc., Metairie, La.
6. Dayka & Hackett, LLC, Reedley, Calif.
7. Eastern Quality Foods, Ponte Vedra Beach, Fla.
8. F&A Dairy Products, Las Cruces, N.M.
9. Flavor Consultants, Inc., North Las Vegas, Nev.
10. Florida's Natural Growers, Lake Wales, Fla.
11. Glanbia Nutritionals, Twin Falls, Idaho
12. Idaho-Eastern Oregon Onion Committee, Parma, Idaho
13. Inkrumah Exporting and Food Services, LLC, Atlanta, Ga.
14. JM Grain, Garrison, N.D.
15. Kirschenman Fruit, Edison, Calif.
16. Mariani Packing Company, Vacaville, Calif.
17. MCT Dairies, Millburn, N.J.
18. Metafoods, LLC, Atlanta, Ga.
19. Mirasco, Atlanta, Ga.
20. Mountain States Oilseeds, American Falls, Idaho
21. Oppenheimer Companies, Boise, Idaho
22. Promo International, Inc., Medley, Fla.
23. Shining Ocean, Sumner, Wash.
24. Tomex Foods, Glen Ellyn, Ill.
25. TRC Trading Corporation, Roseville, Calif.
26. TYR Food Products, Portland, Ore.
27. U.S. Dairy Export Council, Arlington, Va.
28. U.S. Rice Producers, Katy, Texas
29. U.S. Soybean Export Council, Chesterfield, Mo.
30. USA Rice, Arlington, Va.
31. Velour Imports, Houston, Texas
32. Virginia Natural Beef, Inc., Lexington, Va.
33. Western Onion Sales, Inc., Camarillo, Calif.
34. Xellent, Cypress, Texas 
Source: USDA
Subscribe to receive top agriculture news
Be informed daily with these free e-newsletters
You May Also Like
---