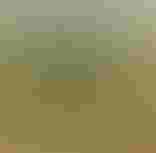 Ryan Facemire, Edinburgh, hoped to have his fourth cutting cut, raked and baled three weeks ago. Mother Nature had other ideas. Days suitable for haymaking have been few and far between since the rain spigot turned itself on again a couple weeks ago. Now he faces a dilemma: cut hay or leave it?
On one hand, hay like that could likely fetch $5 to $6 per bale if made properly. Leaf quantity and protein content are typically high and fiber low in fourth cutting. On the other hand, if he cuts it he would be gambling he could get enough decent weather to get about four inches of regrowth back on the alfalfa before cold temperatures from the approaching winter shut it down for the fall.
Given the unpredictability of this season with the slant toward the cool side, asking for good growing weather for alfalfa from here on out might be somewhere between unlikely and wishful thinking. As one corn farmer said recently, my corn isn't even quite to black layer yet- how much more warm drying weather can I actually count on after the first week of October? The obvious answer is 'not much.'
What happens if you make hay too late and the odds are you do not get sufficient regrowth before a killing frost shuts down the factory for the season? The plant does not have enough time to utilize photosynthesis, fire up its factory and make and store reserves for the winter. These reserves are cycled down into the roots to help the plant get through winter safely.
The other complicating factor is that making hay in October with shorter days and longer nights, and often heavy dews in the morning, means slower drying time, translating into a bigger chance of getting the hay wet. More days on the ground mean more opportunity to catch a rain. October is typically the driest month of the year in Indiana. However, this might not be the year to bet on that historical trend.
Whether you cut or leave a stand in October may boil down to the quality of the stand in the field, and what you plan to do with the field next season. If you are staying with hay and the stand is acceptable, cutting it might be penny-wise and pound foolish. If you are pretty sure you will opt out of alfalfa and tear up the ground next spring anyway, then there should not be a penalty for taking off the last cutting.
If you leave it and don't have accurate soil test results, Jim Camberato, a Purdue University Extension agronomist, says soil tests would be in order. Alfalfa needs pH levels in the 6.5 range or higher. It's also a big user of potassium.
Subscribe to receive top agriculture news
Be informed daily with these free e-newsletters
You May Also Like
---