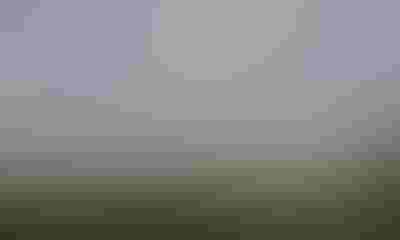 The softer ag economy is probably going to take the wind out of the sales of land values for this year. Seems logical, but in fact that may not exactly be the case. Farmers National, which manages more than 4,850 farms in 24 states is seeing some interesting trends as the year begins.
According to a new release from the firm, high quality land values remain steady, but lower quality land is seeing its value decline. Yet despite this news, and the promise of a softer economy, prices remain at historic highs when compared to long-term trends, the company reports.

Farmers National Company takes a look at land values. Higher value land retains its value.
Randy Dickhut, vice president of real estate operations for Farmers National Company, says lower grain and livestock prices are a major factor in the current measured decline inland values. "As net farm income continues to fall from the 2013 peak, we expect to see this trend in many agricultural regions of the country," he adds.
The company reports that price stabilization will carry over into 2016 for some regions as landowners hold on to the high-value land. The supply of land available for sale increased slightly toward the end of 2015, but has remained lower than normal; and demand has turned more cautious.
Farmers National Company statistics indicated positive long-term economic trends even with the current softening of values. The current land trend could encourage new buyers to enter the market or existing investors to expand portfolios.
Regional information
Farmers National breaks out information by region. Here's a summary of their results:
Michigan, Ohio, Indiana, Illinois, Missouri, Kentucky, Tennessee, Arkansas, Mississippi:  Land values in these states are lower than values seen in the past couple of years, but sporadic high-priced land sales of high quality land make up for that slight decline, according to Roger Hayworth, ALC, area sales manager for Farmers National Company in Lafayette, Ind.
"Values are down seven to 10 percent from six months ago," Hayworth said. "The majority of land is still being bought by local landowners and farmers looking to add another 80 to 100 acres.
"If high quality farmland is for sale in a popular county, there will be a lot of local competition, especially if it hasn't changed hands in 50 to 60 years and especially by neighboring farmers looking to expand. If it has been well maintained with proper drainage, tiling and or new irrigation equipment, then it sells well," he said. "Buyers will pay a premium to buy acres in an area they really want."
Hayworth said if commodity prices do not increase in 2016, there likely will be another slide in land values toward the end of the year.
"Since grain prices are down, farm operators have less to spend on land. They will pay up for quality acres," Hayworth said. "The marginal land, B or C ground, is not highly sought after, so there are fewer aggressive buyers for those acres and their values can be down 10 to 20 percent."
Still, land values remain historically high compared to five or six years ago, Hayworth noted.
"Seven or eight years ago, there was a spike off the charts. There were some properties in Indiana that had been valued at $3,500-5,000 that sold as high as $11,000-12,000, but now they're back down to $8,500-10,000. That's still very strong," he said.
Top prices in this region can be seen in Illinois at $11,200 per acre on average for high quality land. These levels are followed by Indiana with values up to $9,000 per acre and Ohio at $7,300 per acre.
Iowa sees lower prices; Nebraska changes 'dramatic' - >>>
~~~PAGE_BREAK_HERE~~~
Iowa: In general, Iowa saw an eight percent decrease in the value of high quality land in 2015, said Sam Kain, ALC, GRI, ABRM, national sales manager for Farmers National Company based out of West Des Moines, Iowa. This trend toward lower prices was attributed to lower commodity prices, Kain said.
"If you're thinking about selling land, be sure to expose it to all potential buyers. We saw sales toward the end of 2015 that went really well, that sold really high," Kain said. "The outlook for 2016 will depend upon how much land is put out on the market. There's still a strong demand for high quality land, but with a small supply, the market should remain stable."
Cash rents have been under pressure in Iowa since 2014, gradually lowering as grain prices have fallen, Kain said. Farmers looking to expand their operations are helping spur strong land sales, as are investors. As prices drop a bit, more investors are expressing interest, he said.
"Farmland doesn't change hands often, so when farmers have the opportunity, they try and get it. They may not have another chance in their lifetime to buy that farm. For investors, there aren't other investments out there that are as secure and stable as land that yields any type of return," Kain said. "Iowa is still seeing very, very good prices. How many other investments see values double in a little more than five years like land here has?"
In Iowa, top quality land is currently selling for around $10,100 per acre.
Nebraska: "We experienced some dramatic changes in land prices across Nebraska (cropland and pasture acres) in the last 45 to 60 days of 2015," said JD Maxson, area sales manager for Farmers National Company in North Platte, Neb.
Lower commodity prices have had a different impact on tillable acres with average to medium quality tillable acres dropping 15 to 25 percent in most areas. Western and southwestern Nebraska land sales trended downward as cropland sales dropped off throughout the year. Pasture grass and grazing acres also were impacted by the bottom line profitability of the livestock producers.
"The demand for high quality cropland has remained strong, with eastern Nebraska showing the most strength. There is less available land in the marketplace than a year ago, but buyers still exist," Maxson said.
With location being the key, land prices will be impacted in 2016 by lower commodity prices. However, other factors will also come into play, such as access, soil type, grain market accessibility and how long high quality ground has been owned by a family or entity. In Nebraska, water availability, metered wells and the moratorium on drilling wells have a huge impact on land values.
The demand for land will most likely remain consistent as investors and owner operators view land as a long-term investment to hedge against future inflation. "Looking forward to 2016, land prices (cropland and pasture acres) will most likely remain relatively flat if we don't see an upward movement in commodity prices and increased profit margins for our livestock producers," said Maxson.
Every piece of land is unique, Maxson said, and land values vary greatly from east to west in Nebraska. Prices for high quality irrigated cropland will range from $3,500 to $10,000 or more per acre.
In Dakotas, Minnesota high-quality land retains value; Kansas and Oklahoma face cautious buyers - >>>
~~~PAGE_BREAK_HERE~~~
North Dakota, South Dakota, Minnesota: The Northern Plains is a diverse region comprised of high quality, tillable farmland, grassland and recreational property. High quality land remains in demand, but many question if recent record-high grain prices will be seen again, said Brian Mohr, area sales manager for Farmers National Company in Garretson, S.D. Because of this uncertainty, Mohr says he sees more farmers buying only high quality, high producing land.
Land sale prices and cash rent rates for high quality, tillable land in East River South Dakota and western Minnesota remained stable in the latter half of 2015. Public auction is the preferred method to sell. Farmland prices were down as much as 20 percent in North Dakota in the same timeframe, with sealed bid auction as the preferred sale method there. In southern Minnesota, the once high demand for high quality farmland has slowed, and prices are down as much as 25 percent. Public auction is also the most common sale method in southern Minnesota.
Recreational ground for hunting, which also doubles as crop ground as pheasants hide amongst cornstalks, remains in high demand and garners good prices in south-central South Dakota. "This area is the pheasant hunting capital of the world, and many out-of-state land investors love to hunt pheasants," Mohr said. "Land that was selling for $900 an acre six years ago, now sells for as high as $3,000 an acre." Mohr says out-of-state land investors look for a minimum return before investing, but they'll accept lower returns for good pheasant hunting ground.
Demand for recreational land in the Black Hills of South Dakota and northern Minnesota remains good. These areas are rich with forests, lakes and rivers, which makes for excellent hunting, fishing, snowmobiling and four-wheeling. The combination of a good overall economy and low interest rates keep these sales strong.
Top quality land in South Dakota is drawing up to $8,000 per acre, while North Dakota's land prices are coming in at $6,000 and Minnesota at $7,800.
Kansas, Oklahoma: In Brock Thurman's region, landowners are still eager to sell in 2016, but buyer interest has weakened some. Thurman, AFM, is Farmers National Company vice president and area sales manager based out of Kiowa, Kan.
"While auctions are still a preferred way to sell land, in today's environment, it is important to have at least two strong bidders. Today's bidders are mostly local buyers and operators. The buyer pool is drying up a bit; however, the local landowners and operators continue to be the strongest buyers," Thurman said.
Decreased profit margins have softened the real estate market as increased cash rents, equipment costs, land costs and operational costs have pushed inputs higher and land values lower.
"Markets are still historically strong, but they're not at the high levels we saw in 2012-2013," Thurman said. "Operators want to control acres. They're willing to pay steady cash rents to continue to work and control their land."
"Local demand is always strong for high quality land," Thurman said. "What we'll see in the first quarter of 2016 is that people who have owned land for a long time will be willing to sell at not the highest, but still historically high prices. Those landowners might want to cash in while values are still much higher than the values prior to 2008 or 2009."
Investors continue to seek opportunities in the local land markets, but only if they can justify the cost in comparison to the return.
"Those returns have been squeezed, because input costs haven't adjusted relative to commodity prices. If an investor can see a ROI of three to five percent, then they'll be interested. However, they likely would be outbid by local operators continuing to expand," Thurman said.
Prices for high quality cropland are variable. The highest quality non-irrigated land in Kansas is still bringing up to $6,000 per acre, while high quality irrigated land is fetching up to $9,000 per acre.
Texas, Louisiana see land values rise; in Washington irrigation is king - >>>
~~~PAGE_BREAK_HERE~~~
Texas, Louisiana: Overall, ag land across Texas saw a three percent increase in land values for the first half of 2015, which then slowed slightly to a 2.8 percent average. The fact that most of the state has escaped drought conditions for 2015 helped improve land quality, as well as crops and grazing grounds. Specifically in the Panhandle Plains, a slight decline in value persisted across the entire region. In far West Texas, market activity has slowed down some, which could be attributed to the 11 percent increase in prices paid by purchasers by the end of 2015.
"Prices skyrocketed when wealthy investors began buying, even though the land isn't very expensive," said Dan Hatfield, ALC, area sales manager for Farmers National Company in Comfort, Texas. "While we can't sustain 20 percent gains year after year, Texas is still seeing 15
to 18 percent gains, because the economy follows oil and gas in an 18-month lag. We're just now beginning to see the impact of oil and gas prices being so low and we anticipate that carrying through to 2016, which will put pressure on land values. Still, local economics are booming, because of job growth."
In West Texas where pastureland and cotton ground prevail, prices paid for ag land also were up approximately 11 percent.
"Some of the cotton farms did well and a lot of people were looking for cheaper pasture, which is found there," Hatfield said. "In northeast Texas, which has water, grassland, pasture and timber ground, there was an estimated six percent increase in land values. The growth in Dallas is spurring prices there."
The Gulf Coast region saw an increase in prices of five percent, a bit lower from last year due to landowners hanging on to their farms and farm ground. The oil and gas production situation in south Texas played a role in the 4.5 percent price drop there, Hatfield said. Then in central Texas, prices paid for ground began to slow down toward the end of 2015, but at the close of the year, prices had rebounded slightly by about four percent. Hatfield attributed that to the population growth in the Houston/Dallas/Fort Worth area.
"Land is being sought after not just for farming purposes, but also development purposes," Hatfield said. "A lot of producers are going to evaluate whether or not they should renegotiate cash rents, which follow the commodity market, so they might decrease."
In west Louisiana and east Texas, small acreage tracts boasting timber ground have been in big demand this year.
"Those sold well in 2015, more as long-term holds and investments by buyers," Hatfield said.
Prices for top farmland are averaging $3,400 per acre in Texas, while average land is selling at an average of $2,450 per acre. The highest increases in land values were seen in the western and far western regions of the state.
Washington: In the State of Washington, high quality pivot irrigated land has been actively sought by investors. In fact, available land often will fall into a bidding war and is snatched up quickly.
"Investment firms are very active here, looking for property to fill portfolios. They're looking for row crop land for growing carrots, potatoes, onions, hay or alfalfa, for example. Washington growers raise more than 80 types of crops, so we have a very diverse ag landscape. I receive at least one call a day with inquiries on new property up for sale," said Flo Sayre, real estate broker for Washington. "Everyone wants high-end pivoted irrigated land without buildings and investors are seeking 500 acres or larger, but that's not how the land is laid out here. Most are in 150- to 230-acre tracts. Not all land is suited for pivots, either, as they follow the contour of the land."
In the northeast part of Washington, land prices are dependent upon rainfall and, coupled with the decline in commodity prices, the returns for dry land is nil, so producers are putting the land in CRP. Prices are holding steady for row crop land, though, and landowners are instead hanging on to their property.
Last year's closure of the port in the northwest region of the state that halted commodities shipping to the Pacific Rim is still having an impact on the area.
"Growers dumped semi-loads of apples into a ravine, because they were stuck at the port and couldn't ship them to China in time for the New Year, and they couldn't go back into storage. Same with potatoes and hay, but at least a new market developed for hay in California," Sayre said.
Cash rents have remained steady for the past two to three years, as have ag land values, which are still perched at the peak they reached two years ago. Those values continue to entice investors, who are not necessarily competing with local residents and producers.
"The investors are wanting a $2 million or more investment. If it's less than that, they won't touch it. But locals can pick up a piece priced at less than $2 million," Sayre said. "But I think the outlook for 2016 will depend upon the elections, interest rates, international conflicts, the financial world and the weather. If capital gains change, that could stifle the market. If California doesn't get rain, buyers will come to Washington."
Irrigated farmland in the area is currently averaging $10,000 per acre.
Source: Farmers National Company
Subscribe to receive top agriculture news
Be informed daily with these free e-newsletters
You May Also Like
---