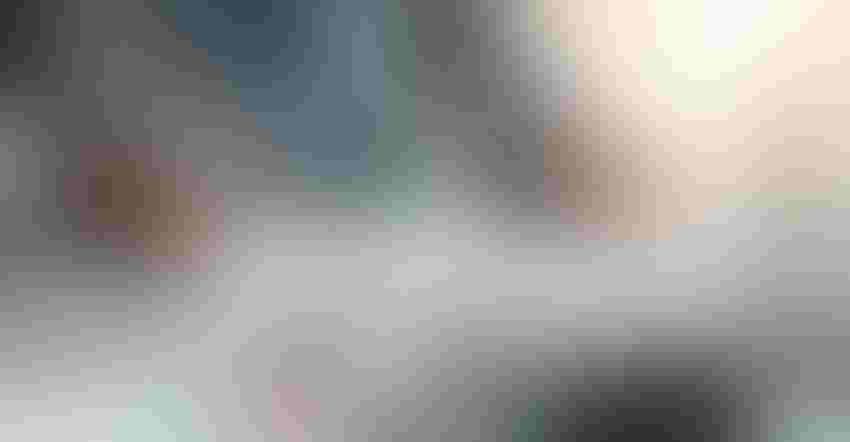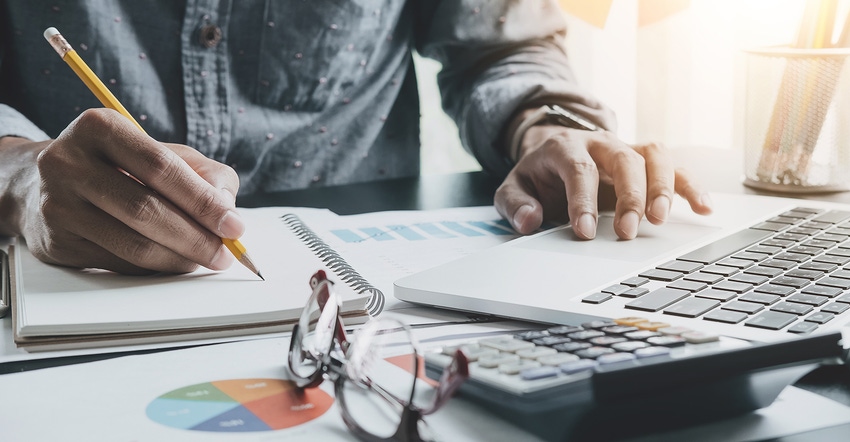 BE REALISTIC: In preparing a budget, be sure to use current commodity prices and production yields based on historical figures. Be realistic, since preparing a pie-in-the-sky budget will likely not get you too far.
Natee Meepian/Getty Images
Keep an open line of communication with your lender
My son and I milk 120 Holstein cows and raise 95 heifers in central Wisconsin. Both of our wives have full-time, off-farm jobs, which covers our family living costs and health insurance. We own 275 acres and rent 100 more from a neighbor. We owe $250,000 on our farm, which is more than I would like it to be, but we built a freestall barn and double-four milking parlor nine years ago when our son started farming with us after graduating from college. He still owes $50,000 on the cows and machinery. We have made all our payments to the bank, but we owe $8,000 to the feed mill in town, and $4,000 to the vet and $10,000 to the John Deere dealer for parts. I am hoping we can pay interest only for a year on our farm mortgage, and hopefully, by next spring, we'll have these bills paid off and milk prices will go up a bit. We already prepaid our fertilizer, seed and chemicals. I'm wondering: What do I say to my banker? What should I bring with me to the bank to prepare for this discussion? We want to keep farming, but I think we should keep our suppliers paid, too.
Doug Hodorff: With the stressed dairy economy, many farm businesses are dealing with similar problems. Your banker is a vital part of your team. First thing to do is set up a face-to-face meeting with your banker. Your banker will need an updated financial statement about your business, including information about all your outstanding bills and all your prepays. Other information to share would be needs moving forward this year. I would suggest sharing how you have revised your budget and cut expenses. With the information you supplied, I would question your business decision to prepay your seed, fertilizer and chemicals. I would have paid down the current bills on the books. These are current debts to suppliers that charge a higher rate of interest than what discounts you receive from prepays. Your outstanding creditors supply your business with necessary services. I would agree that you should keep your suppliers paid.
Sam Miller: Prepare to meet with your banker by having a plan. Complete historical financial information including a balance sheet, income statement for the last year and a forecast of your income and expenses. In addition, what suggestions do you have to clean up accounts payable, cut expenses, manage price risk or restructure debt? If you haven't looked into it, I suggest learning more about the new Dairy Margin Coverage program through the Farm Service Agency. This can help cover milk margins and provide additional revenue if prices remain low. You may also want to look at the interest charges you are paying on past due accounts. It likely is substantial, so getting them caught up can improve your bottom line. You will likely find your banker willing to seek solutions for your business if you walk in with your homework complete and plans to address the current financial situation. Good luck with your plans.
Katie Wantoch: Many farmers are under considerable stress and may be experiencing a feeling of lack of control during these challenging times. Commodity markets, the weather and relationships can compound the feeling of uncertainty. Try to keep an open line of communication with your banker to ensure that the relationship remains stable. I would suggest that you and your son work on a budget that you can present to the banker when you meet. In preparing a budget, be sure to use current commodity prices and production yields, based on historical figures. Be realistic, since preparing a pie-in-the-sky budget will likely not get you too far. Your budget could look at different alternative financing options for your farm, such as asking the bank to extend your credit limit to assist you during your cash crunch, reamortizing the real estate loan to lower payments, or pursuing interest-only payments. Be confident in your business plan and your ability to achieve your proposed budget. This will show the bank that they can be confident in your farm and continue to work with you and your son. Best of luck!
Planning for retirement
I am 64 years old. I milk 60 cows, raise 40 heifers and farm 200 acres in southwestern Wisconsin. My wife works full time at the bank in town. We are planning to retire in two or three years, or when milk prices finally go back up. It's getting harder for me to do all of the work on the farm. I'm wondering if I would be money ahead to sell my equipment this spring and hire someone to get my fieldwork done these last two or three years? Or would it be smarter to hire someone part time to help me with chores and fieldwork? My son milks Sunday nights for me, so I can get one milking off per week. He has a full-time job in town. What are your thoughts?
Hodorff: You have given some thought to retirement. I would encourage you to develop a longer-range plan using a CPA to guide you through tax implications and your future income stream. You have built up equity in your business; now is the time to figure out how to retain it and supply you an income stream. I like your idea of hiring your fieldwork done. Maybe I would hold off on selling your machinery this year, not knowing how satisfied you would be with hiring it done. In the future, you may want to sell your dairy cows and farm your land. You have many options to consider, so spend some time thinking about your future. Hiring some part-time help could help relieve some of your workload.
Miller: Fortunately, you have time on your side to plan for an orderly retirement. Your plan may make sense, but it depends on a few factors, including: the tax implications of selling the equipment; ability to hire timely custom work to meet your requirements; and the value you can realize from selling equipment. Start with a visit to your accountant to get an idea of the likely capital gains tax from selling your machinery and equipment. Make inquiries as to who could provide the custom fieldwork to determine the timeliness and cost for these operations. Then, complete a partial budget so you understand the financial impact of hiring custom work vs operating with your own machinery and equipment. You do not indicate your debt situation, but if you have any, you should probably pay down debt from the sale of the equipment; otherwise, you and your wife should visit with a financial planner to safely invest the funds for retirement. An Extension ag agent or farm technical college trainer can assist you in completing and analyzing the partial budget to assist you in your decision-making. Good luck with your transition.
Wantoch: I hate to mention this, since some men hate to ask for help. My suggestions would be to ask your wife, who works at a bank and likely has some financial knowledge, to assist you with a budget. Try to put a figure on what it might cost to complete the fieldwork if you have it hired out, and compare this to the cost of hiring part-time labor for X hours needed to assist you. You will also want to weigh the changes and costs that you will have in your management practices if you decide to sell your farm machinery. Will the timeliness of your fieldwork impact your production and the yield of your crops? Are you confident that you can find reliable, part-time labor in your area? If you have not worked with an employee in the past, what resources will you pursue to assist with managing this person? Your wife might also have some thoughts about the future of your farm and which option might work best for you. Lastly, check with your tax preparer or accountant regarding the sale of your assets. They might have a suggestion for you on staggering or lumping the sales to aid in lowering your income tax obligations and saving money for your future retirement.
Agrivision Panel members: Doug Hodorff, a Fond du Lac County dairy farmer; Sam Miller, managing director, group head agricultural banking, BMO Harris Bank; and Katie Wantoch, Dunn County Extension agricultural agent specializing in economic development. If you have questions you would like the panel to answer, send them to: Wisconsin Agriculturist, P.O. Box 236, Brandon, WI 53919 or e-mail them to [email protected].
Subscribe to receive top agriculture news
Be informed daily with these free e-newsletters
You May Also Like
---