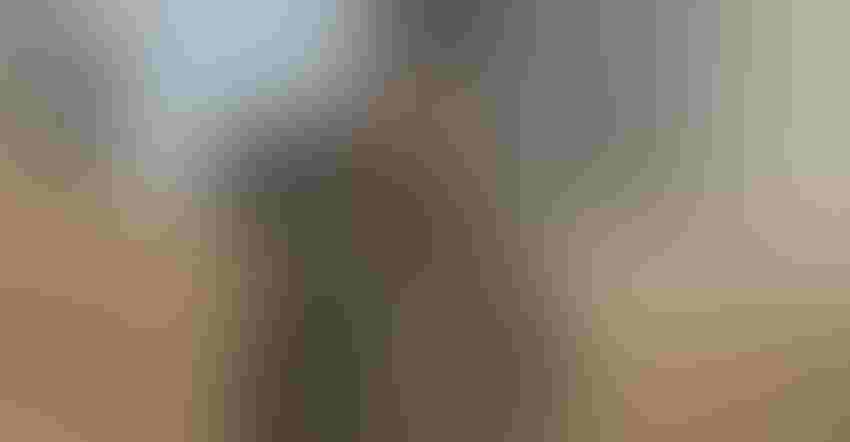 Iowan Dan Beenken and his sons are building a 72-foot bin that can hold 245,000 bushels. It's part of a larger, ongoing storage strategy, which is in its seventh year.
Craig Kienast
Many farmers closed 2020 with a much-needed dose of profits and a promise of a lucrative 2021. Now comes a question you may not have had to ask in several years: Where should I invest the money?
Competition for these dollars can be fierce. Does it make sense to pay down debt first? Invest in much-needed machinery repairs or upgrades? Initiate a new tiling project? Build more on-farm storage?
Upping bin space can be a top marketing move, but red-hot grain prices so far this year are making that decision a bit more complicated.
"The basis is screaming, 'Give the grain to me now instead of storing it,'" says Charles Hurburgh, ag engineering professor with Iowa State University.
A rising cost in raw materials — particularly steel and concrete — could also create a barrier for construction on some operations.
"I'm not optimistic we'll see a huge demand in farmer storage this year," Hurburgh says. "If there's no carry in the market and you're storing grain yourself, then you're just speculating. We still have to do something at harvest with the grain. But how much storage will happen and where is a much more open question."
End users and the elevators that serve them are moving rapidly to take control of grain sooner. Consider this: The largest grain bin in the world is being built at an ethanol plant in Mason City, Iowa, with a total capacity of 2.2 million bushels. It will include 30 rings and will be over 155 feet tall at its peak.
"The structure of demand looks like it has changed," Hurburgh says. "I am not negative to storage — that is determined by production volume. Who and where it will be done I think is a more open question, and probably regionally different in answer."
But some savvy farmers are looking beyond 2021 as they formulate more permanent storage strategies, realizing that grain prices cycle up and down through the years.
"You can't just build for one year," notes Dan Beenken, who farms in northern Iowa with his three sons. The family is adding to their own on-farm storage capabilities.
"These are long-term investments. We put a lot of work into making everything more efficient — from planting and harvesting to drying and storage. And in a normal year, we can probably pick up 25 cents per bushel between the fall and spring on basis. Whatever we do, we want to make sure it fits into the future."
The Beenkens are building a 72-foot-tall bin to store 245,000 bushels. It's part of an ongoing storage strategy, now in its seventh year. Prior projects have included building similar-sized bins, upgrading from LP to natural gas, improving legs and electrical components, and installing pits for faster unloading.
Location is an important factor to consider, Beenken adds. Their setup is on a state highway a couple of miles from an ethanol plant.
Despite the probability that more corn will be sold off the combine this fall, there's still value in having on-farm drying and storing capacity, says Kenneth Hellevang, ag engineering professor at North Dakota State University.
"Many farmers harvest at a rate where it's hard to keep trucks moving back and forth, and there are sometimes labor considerations, too," he says. "Keeping that grain on the farm instead of hauling it 20 or 30 miles away and waiting in a line makes some sense."
Even if farmers aren't increasing their farm storage, it makes sense to add some technology to monitor storage more effectively, such as a simple carbon dioxide monitor. Hellevang points out that grain spoilage creates carbon dioxide as a byproduct, so "that gives us an indication if a problem is developing."
Temperature sensors are another way to monitor grain. Automated systems can turn dryers on and off depending on grain condition.
For Beenken, it all comes down to peace of mind. "When we store grain, it means less reliance on someone else," he concludes.
Closer look at costs
If you have some "wallet worry" over rising costs for increasing on-farm storage, that's a factor you will need to consider this year.
"With the new construction material market on an upward trend in all areas recently, this is one area farmers are not exempt," says Adam Abels, sales manager with Iowa-based Ag Advantage Systems Inc. "All brands of grain bins have experienced price fluctuation recently due to steel prices."
But that also means it may pay off to take advantage of any discount programs that manufacturers offer, he adds. Farmers can still overcome those higher costs if their storage strategy is sound.
"When the need for additional on-farm storage is not met, the farmer is missing the opportunities that the added capacity offers, which can go a long way in making up any steel price difference there might be," he says.
Subscribe to receive top agriculture news
Be informed daily with these free e-newsletters
You May Also Like
---