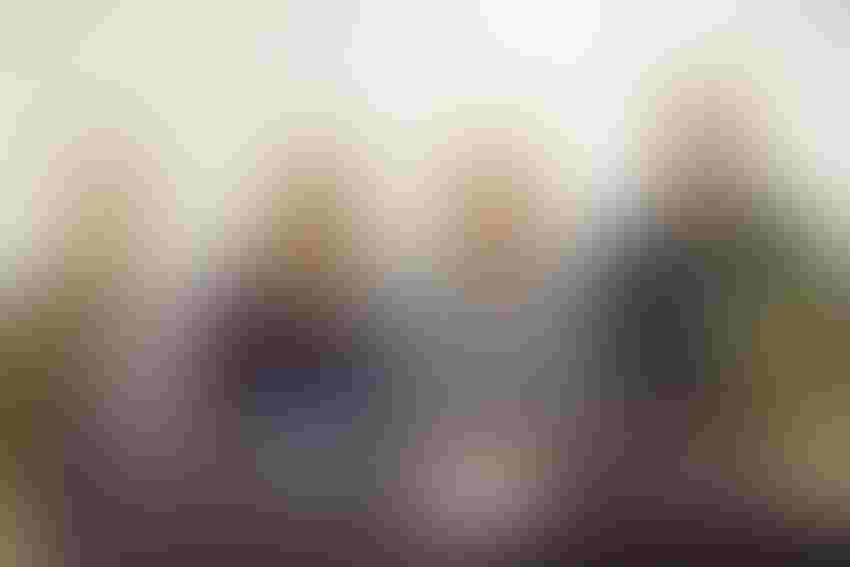 WINEMAKERS: The Iowa Wine Growers Association signed the registered apprenticeship program into effect in July 2016 at Fireside Winery in Marengo. From left: Anne Zwink, Soldier Creek Winery, Cassie Bott, Fireside Winery & president of IWGA, Nicole Eilers, IWGA and Mike Vincent, Wooden Wheel Vineyards & vice president of IWGA.
The Iowa Wine Growers Association launched their Cellar Worker and Wine Maker Registered Apprenticeship Program in July 2016, as the first state association sponsored program of its kind in the nation. To date, there are eight wineries and five apprentices already enrolled in the program. The new apprentices are off to a great start with their on-the-job training and the association hopes to ramp up enrollment in the coming months and years.
Iowa now has approximately 100 wineries across the state
"The wine and grape growing industry here in Iowa is continually evolving," says Nicole Eilers, marketing director for the Iowa Wine Growers Association. "Not too many years ago, there was a boom in Iowa, as wineries were popping up left and right. Now we've seen the industry level off to around 100 wineries across the state. Some of these winery owners are now looking to retire and pass on the family business, whether that's to second-generation winemakers or training new workers to handle the job."
She adds, "There is a definite need for qualified workers in the wine industry here in Iowa, now and in the coming years. We see this registered apprenticeship program as a means to support and grow our industry for future generations by providing a resource for qualified workers."
Program combines work-based learning with classroom instruction
Apprenticeship is an "earn and learn" training model which combines work-based learning with related classroom instruction or educational hours using the highest industry standards. Companies that offer apprenticeship programs can diversify their workforce, improve productivity and profitability, standardize training, reduce turnover, receive tax credits and more.
The IWGA registered apprenticeship program combines on-the-job learning for an enrolled apprentice at an Iowa winery (or multiple wineries); with the education hours to be designed and administered through the Midwest Grape & Wine Industry Institute on the campus of Iowa State University, or other approved educational institutions.
Apprentices are able to complete the Cellar Worker program's 2,000-hour combined education and on-the-job learning requirement before moving on to the Wine Maker portion of the program. Upon completion of one or both programs, a certificate is received and the apprentice officially becomes a highly qualified and sought after journeyman worker in the wine industry.
Iowa's wine and grape industry greatly impacts rural communities
The United States currently has approximately 375,000 apprentices working with more than 150,000 employers. Last year, President Obama established a goal of doubling the number of apprentices within five years. The state of Iowa is on target to meet the president's goal. Currently, more than 8,100 Iowans are working in registered apprenticeship programs statewide. Iowa has added about 100 registered apprenticeship programs each year for the past three fiscal years. "The goal of the National Apprenticeship Week is to educate businesses and leaders about the importance of registered apprenticeship programs. These programs can lead to great jobs that also help positively impact our economy. In our case, the vast majority of wineries and vineyards in Iowa are located in rural areas, so our industry greatly impacts small towns and rural communities across the state," says Erin Norton, education and outreach coordinator with the Midwest Grape & Wine Industry Institute, and a member of the IWGA registered apprenticeship training committee.
To learn more about the IWGA Cellar Worker and Wine Maker Registered Apprenticeship Program, visit iowawinegrowers.org/apprenticeship.
About National Apprenticeship Week: It is an opportunity for the apprenticeship community to tell the story of apprenticeships and is an invitation to business and industry, education, career seekers, community based organizations, students and workers to learn about the real world advantages of developing careers through adoption of the apprenticeship model.  Apprenticeship is for those who aspire to be great, lead in innovation and creativity, strive to innovate in business and industry, and recognize the value of combining paid on-the-job learning coupled with a substantial educational component to build generational greatness in careers and commerce. National Apprenticeship Week is Nov. 14 to 20, 2016.
About the Iowa Wine Growers Association: This is a nonprofit organization representing the more than 100 wineries and 300-plus vineyards operating in Iowa. Established in 2000, IWGA provides support and education to encourage sustainable viticulture practices and promotes creation of quality wine from grapes grown in Iowa.
Have you visited an Iowa winery lately? Explore Iowa's 100-plus wineries and Taste the Experience of Iowa wine. For more information, visit iowawinegrowers.org.
Subscribe to receive top agriculture news
Be informed daily with these free e-newsletters
You May Also Like
---