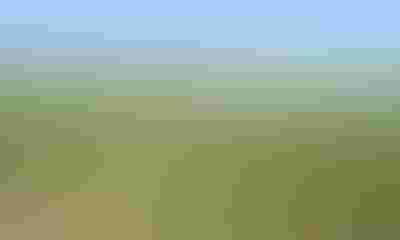 Many Iowa farmers were able to make good progress in the field last week thanks to dry weather. The latest weekly USDA survey issued May 23 shows 96% of the corn and 74% of the soybeans are now planted statewide. Farmers will be anxious to plant the remaining acres of corn and soybeans, but could be delayed again as wet weather is forecast for much of the state the rest of this week.

BEANS PLANTED HERE: This field is planted to soybeans, no-tilled into the cover crop on May 20 by Steve Berger in Washington County, Iowa. This is what it looked like May 22, as he sprayed it with herbicide. Cover crop on the left is spring planted oats; cereal rye is on the right and is headed out.
"In Iowa, 75% of the corn was emerged as of May 22 when our crop reporters sent their weekly survey reports in to us," says Greg Thessen, director of the USDA National Ag Statistics Service office in Des Moines. "The first rating of the 2016 season put the crop at 1% very poor, 3% poor, 23% fair, 62% good and 11% excellent. There were scattered reports of some corn being replanted in parts of northern Iowa. Parts of northern Iowa saw some frost injury showing up in some fields, due to the low temperatures the previous weekend."
Planting beans no-till into cover crop is working well
Soybean planting in Iowa is at 74% finished, putting Iowa ahead of Illinois at 51%, Indiana 31% and Ohio at 22%. In southeast Iowa, no-till farmer Steve Berger finished planting soybeans on May 22. He plants all of his corn and soybeans into cover crops; then sprays glyphosate immediately after planting to kill the cover crop. "This system has worked well this spring. We've had some heavy rains and there has been very little soil erosion in these cover crop fields," says Berger.
The complete weekly Iowa Crop Progress Report is available on the Iowa Department of Agriculture & Land Stewardship's website www.IowaAgriculture.gov or on USDA's site www.nass.usda.gov/ia.  The report summary follows here:
CROP REPORT: Drier conditions allowed farmers to make good progress with 5.5 days suitable for fieldwork statewide during the week ending May 22, 2016, according to the USDA's National Agricultural Statistics Service. There were scattered reports of corn being replanted in the northern third of Iowa.
Topsoil moisture levels increased to zero percent very short, 5% short, 84% adequate and 11% surplus. Subsoil moisture levels rated zero percent very short, 3% short, 85% adequate and 12% surplus.
First corn condition rating shows Iowa 62% good, 11% excellent
The survey shows 96% of the state's corn crop has been planted, two days ahead of last year and six days ahead of the five-year average. Corn emerged reached 75% as of May 22, on pace with last year, but four days ahead of normal. The first corn condition rating of the season was 1% very poor, 3% poor, 23% fair, 62% good and 11% excellent.
Soybean planting reached 74% complete, almost a week ahead of last year. Also in Iowa, 21% of the soybeans have emerged, two days behind last year, but equal to the five-year average. Oat emergence is nearly complete at 96%, while oats headed reached 11% this week, 11 days ahead of last year and six days ahead of the five-year average. Oat condition is rated 80% good to excellent.
The first cutting of alfalfa hay advanced to 19% completed. Hay conditions improved slightly to 75% good to excellent. Pasture condition also improved to 76% good to excellent. Livestock conditions were described as generally good with some feedlots starting to dry up.
IOWA PRELIMINARY WEATHER SUMMARY—for week ending May 22, 2016
By Harry Hillaker, State Climatologist, Iowa Department of Agriculture & Land Stewardship
The past reporting week was mostly on the cooler and drier side of normal. Temperatures were below normal statewide through Saturday (May 21) morning with mild days and cool nights. Temperatures climbed into the 70s statewide on Saturday (May 21) afternoon and into the 80s over most of Iowa on Sunday (May 22). Temperature extremes varied from a Wednesday (May 18) morning low of 30 degrees at Elkader to a Sunday (May 22) afternoon high of 87 degrees at Le Claire.
Temperatures for the week as a whole averaged one to three degrees below normal across northern Iowa to three to six degrees subnormal over the south where daytime cloud cover was more frequent. The statewide average temperature for the week was 3.5 degrees below normal.
Finally, a much drier-than-normal week and planting progressed
Light rain fell over about the southern one-third of Iowa on Monday (May 16) and parts of the southeast one-half of the state on Tuesday (May 17). There were a few, isolated, very light showers scattered across small areas of southern and western Iowa on Thursday, Friday and Saturday. Randolph in Fremont County reported the most rain for the week with 0.52 inches while no rain was reported over parts of northwest, north- central, west-central, central and east-central Iowa.
The statewide average rainfall for the week was only 0.07 inches while normal for the week is 1.05 inches. Soil temperatures at the 4-inch depth were averaging in the low to mid-sixties over most of Iowa as of Sunday (May 22).
Subscribe to receive top agriculture news
Be informed daily with these free e-newsletters
You May Also Like
---