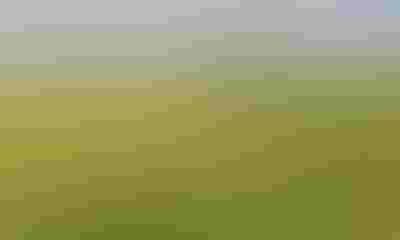 Thanks to favorable summer weather farmers in Iowa and across the nation are expected to harvest record crops of corn and soybeans in 2016. The good yields and bumper crops will do little to help farmers battling low corn and soybean prices that have left many struggling to make a profit.

WHOPPER CROPS: Large corn, soybean crops will fill bins to overflowing this fall. "Big crops get bigger and it doesn't look like we're going to have an early end to the growing season, so soybeans are going to get a chance to finish out and fill the pods," says market analyst Don Roose.
USDA's September Crop Production Report released Monday forecasts Iowa will produce 2.67 billion bushels of the nation's 15.1 billion bushel corn crop. If realized, Iowa's corn production would set a new record, as would Iowa's corn yield if the forecast for 196 bushels per acre turns out to be correct. Soybean production in Iowa is estimated at 560 million bushels this year, while the nation is forecast to harvest a 4.2 billion bushel bean crop. Iowa's soybean yield is projected to average 58 bushels per acre, which would also be a new record.
These numbers put a cap on any rallies in corn, bean prices
Nationally, the 15.1 billion bushel corn crop is expected to average 174.4 bushels per acre. Soybean production in the U.S., forecast at 4.2 billion bushels, is predicted to have a yield averaging 50.6 bushels per acre nationwide. USDA will update its September corn and soybean production estimates in October. The October report will be released October 12 and will be based on conditions as of early October.
"These September USDA crop estimates put a cap on any rallies in corn and soybean prices," says Don Roose, a well-known market analyst based in West Des Moines. "With reports from more farmers saying they have greater numbers than usual for soybean pod counts, that's an indication USDA could easily end up increasing its harvest estimate for soybeans before the end of the year." Central Iowa farmer Steve Anderson says his pod counts are about 10% higher than normal.
Early harvested corn is yielding better than expected
Farmers have already started harvesting some corn in a few areas of Iowa this fall, and yields are coming in higher than expected in many cases. But with rains falling across much of Iowa this past week, corn and soybean crops are still a few weeks away from the start of harvest statewide. Also, the extra moisture has contributed to some reported signs of stress on the 2016 crop, according to USDA's latest weekly statewide crop survey for the week ended September 11.
"We continue to see some aerial seeding of cover crops into standing corn and soybeans to allow the cover crops to start growing before the corn or soybean crop is harvested this fall," notes Bill Northey, Iowa Secretary of Agriculture.
Iowa's wettest week of the year limited field work last week
The complete weekly Crop Progress & Conditions Report is available on the Iowa Department of Agriculture & Land Stewardship's website www.IowaAgriculture.gov or USDA's www.nass.usda.gov/ia. The report summary follows here:
CROP REPORT: Iowa's wettest week of the year, with especially heavy rains in northern Iowa, limited fieldwork during the week ending September 11, 2016, according to USDA's National Agricultural Statistics Service. Statewide there were just 3.7 days suitable for fieldwork. Producers reported seeing corn stalk rot and stress on soybeans due to excessive moisture. Activities for the week included chopping corn for silage, seed corn harvest and cutting hay.
Topsoil moisture levels are rated 1% very short, 3% short, 86% adequate and 10% surplus as of September 11. Subsoil moisture levels are 1% very short, 6% short, 84% adequate and 9% surplus.
Survey shows 29% of Iowa corn crop has reached maturity
Ninety percent of Iowa's corn crop has reached dent stage or beyond, 5 days ahead of the 5-year average. And 29% of the corn has reached maturity, 3 days ahead of last year, but 1 day behind average. Corn condition is rated 83% good to excellent. For soybeans, 62% of the crop has started to turn color, 2 days ahead of last year's pace. And 19% of soybeans were dropping leaves, 3 days ahead of average. Soybean condition is rated 82% good to excellent.
The third cutting of alfalfa hay is 91% complete, two weeks ahead of last year. Producers in several parts of Iowa have been working on a fourth cutting of hay. Especially green and productive for late summer, pasture condition has improved slightly to 65% good to excellent. Livestock conditions are reported as excellent although there were a few reports of muddy feedlots.
IOWA PRELIMINARY WEATHER SUMMARY—for week ended September 11, 2016
By Harry Hillaker, State Climatologist, Iowa Department of Agriculture & Land Stewardship
Iowa recorded its wettest week of the year with two statewide rain events. The largest rain event of the week occurred between Tuesday (Sept. 6) night and Thursday (Sept. 8) morning with heaviest rains occurring across eastern Iowa with 5.42 inches at Bluffton (Winneshiek Co.) and 4.54 inches at De Witt. The other statewide event came between Friday (Sept. 9) morning and Saturday (Sept. 10) morning with heaviest rains falling over northeast Iowa where Clarksville picked up 4.26 inches.
Statewide average rainfall above normal for 9 of past 12 weeks
Additionally rain was widespread over northwest and north central Iowa on Sunday (Sept. 4) night into Monday (Sept. 5) morning with much of the northwestern corner of the state picking up one to two inches of moisture. Rain totals for the week varied from 0.43 inches at Clarinda to 7.71 inches at Bluffton. The statewide average precipitation was 2.32 inches while normal for the week is 0.84 inches. The statewide average rainfall total has been above normal for nine of the past 12 weeks.
Meanwhile temperatures were well above normal from Sunday (Sept. 4) through Thursday (Sept. 8). A cold front moved across Iowa on Friday (Sept. 9) with much cooler weather prevailing over the weekend. Temperature extremes for the week varied from a Tuesday (Sept. 6) afternoon high of 94 degrees at Burlington to Sunday (Sept. 11) morning lows of 45 degrees at Elkader, Manchester and Stanley. Temperatures for the week as a whole averaged 5.1 degrees above normal.
Subscribe to receive top agriculture news
Be informed daily with these free e-newsletters
You May Also Like
---