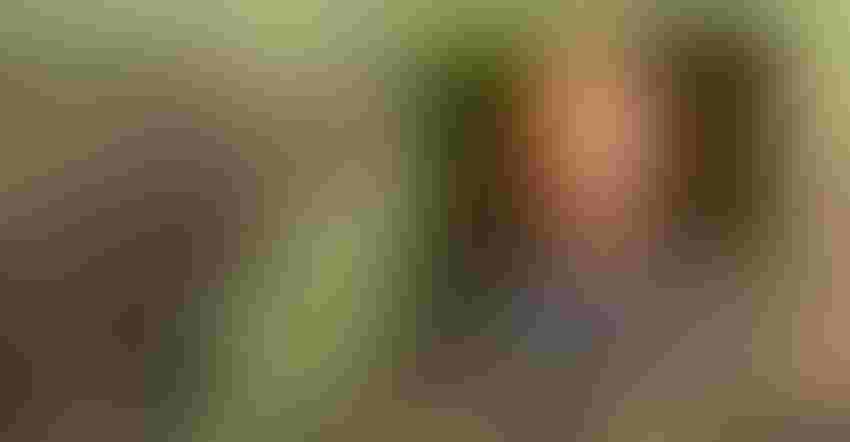 CONSERVATION FARMER: Kelly Garrett, Arion, Iowa, was named Field to Market 2022 Farmer of the Year, one of three awards announced on the eve of the 2022 Sustainable Agriculture Summit. He was recognized for his work in conservation, and sharing practices with farmers across the country.
When entering a conversation with Kelly Garrett, founder of XtremeAg.farm, and a sixth generation Iowa farmer, it's fair to be ready to gain understanding about the potential for regenerative agriculture and "carbon farming." Garrett, who farms near Arion, Iowa, was honored today – Nov. 15 – as Field to Market's 2022 Farmer of Year for his work in conservation and innovation, on the eve of the 2022 Sustainable Agriculture Summit in Glendale, Ariz.
"I'm the original carbon farmer, the guy that sold his carbon credits first," Garrett says. "And that was because of XtremeAg. We were approached…by a biological company wanting to be involved in carbon markets. And the things they talked about were tailor made to the way I farm with no-till and cover crops here in Western Iowa."
Garrett Land & Cattle has about 7,000 acres of corn and soybeans and raises 500 head of cattle in a cow-calf herd.
Garrett is no stranger to recognition. His work with XtremeAg with four other cofounders around the country, is recognized for exploring new opportunities for farmers. That includes digging in to discuss the potential benefits of capturing carbon, and not always for money.
"No. 1, I don't change the way I farm to chase these carbon dollars, I think it's the best way to farm," he says. "The more carbon I can put in the soil, the healthier my microbial system will be. The healthier my microbial system will be, the more plant available nutrition I will have for my corn and soybean crop. The better my yields will be."
He notes that if farming the way he does with no-till, and cover crops falls in line with the carbon market's goals that's "icing on the top." But where will he turn next?
Managing crop nutrition
"We're learning more and more, and my next project is being more efficient with my nitrogen," Garrett says. "There's real potential for nitrogen reduction dollars to come down the pipeline. We don't know exactly what it's going to look like yet, but I'm optimistic it's going to be there."
Release of nitrous oxide into the atmosphere is 300 times more impactful as a greenhouse gas than carbon dioxide, and there is more attention to managing nitrogen use. He's working with products that boost microbial activity to make nitrogen available from the soil. And he's also paying more attention to balanced nutrition.
"The No. 1 priority is balancing the soil," Garrett observes. "I think that is something that is really lost on farmers today, and I can tell you that I know that I want my phosphorus to zinc ratio to be 10 to 1. If I do that I get a nice yield gain." There's more attention to the balance of nutrients in the soil and he's working to better understand how that pays off in crop performance.
Garrett says that farmers in the past were going down the right path for capturing carbon and building soil health, but didn't have the tools to measure their work. "It's a testament to what Truterra is all about," he says of the carbon market he works with now. "Their program is farmer friendly, and they keep the farmer first."
Truterra, a division of Land O'Lakes, has developed measurement tools and a carbon market program that Garrett has been part of for some time.
He credits his family's conservation practices going back to the start of the Dayton Ridge Watershed. "My grandfather was instrument in watershed dams and in terraces and he started the Dayton Ridge Watershed. That started working in the 1960s, and then we started putting in terraces in the late 1970s and early 1980s."
Looking ahead, Garrett makes an observation: "I don't think being sustainable is enough anymore. I think we need to be regenerative. I believe we're being regenerative in trying to allow Mother Nature to release that elemental nitrogen. I think we're going back to my grandfather's way of farming with new technology so we can measure what's happening and understand it better."
Honoring sustainability leadership
Garrett is Farmer of the Year for the Field to Market program for 2022. Two other honorees were recognized with 2022 Sustainability Leadership Awards.
The 2022 Collaboration of the Year is a program called "Supporting Nebraska Farmers to Boost Resiliency Via Cover Cropping Project." This collaboration and cross-sector partnership honors ADM, PepsiCo, Practical Farmers of Iowa, Keurig Dr Pepper and Farmers Business Network for their efforts to advance corn and soybean sustainability in Nebraska.
Enrolled in Field to Market's Continuous Improvement Accelerator, the project has united cross-sector organizations and competitors to continuously improve productivity, profitability and environmental outcomes for farmers, through direct contribution of funds to provide technical assistance to growers and subsidize cover crop seed.
The 2022 Trusted Adviser of the Year is Beatriz Moreno-Garcia, a post-doctoral researcher at the University of Arkansas. Moreno-Garcia was honored for her work in counseling Arkansas farmers to help implement sustainable solutions to reduce the environmental impact of rice production. She works with farmers to help them try new approaches and monitor their improvements
Subscribe to receive top agriculture news
Be informed daily with these free e-newsletters
You May Also Like
---