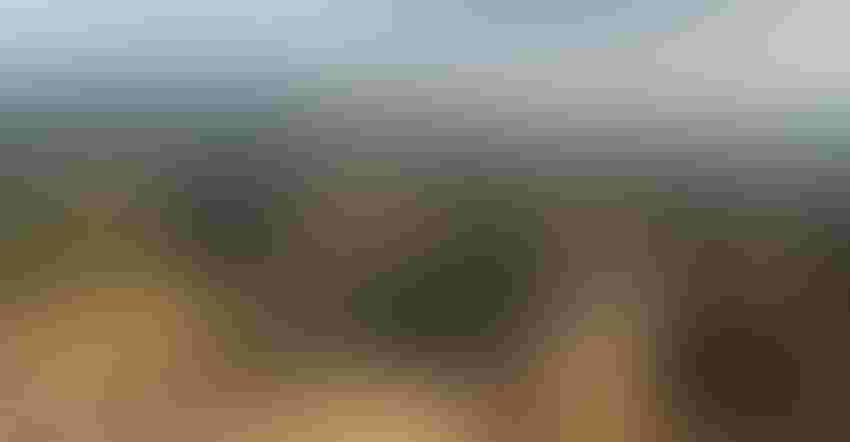 Chimney Rock in the San Juan National Forest in Southwest Colorado was designated a national monument on Friday, Sept. 21, 2012.
USDA
After U.S. Secretary of the Interior Deb Haaland wrapped up several days of field visits and meetings in Utah with elected officials, Tribal leaders, and stakeholders invested in the stewardship of the Bears Ears and Grand Staircase-Escalante National Monuments, industry stakeholders hope she will listen before acting. 
During the Obama administration these two monuments were significantly expanded. When accounting for state and private land, the perimeter of Bears Ears encompasses almost 1.5 million acres. Grand Staircase is 1.7 million acres. After an initial review of the actions taken by the Obama administration, in 2017, President Trump unveiled his plan to downsize the boundaries of the Bears Ears National Monument in Utah by 85% and Grand Staircase-Escalante National Monument by 50%. 
As Kaitlynn Glover, executive director of natural resources at the National Cattlemen's Beef Association, explains, the size enacted under the Obama administration of these specific national monument designation consists of a land area larger than the entire state of Delaware. And the executive branch – through the Department of Interior – can fundamentally alter the management of that area with the use of the Antiquities Act.
Glover explains national monument designations can be quite controversial because historically the use of the Antiquities Act was intended to protect small discrete places that were particularly special and needed to be preserved. Glover says over time, the Antiquities Act has become a tool to designate vast swaths of land that really don't meet that original intent of being the smallest area necessary for protection.
"What you've seen and what you saw with these monuments in Utah and then several others across the West, really is this broad designation of entire landscapes, millions of acres, of permanent protections," she says.
The Bears Ears and Grand Staircase-Escalante monuments have been quite controversial and widely discussed. Glover notes when Haaland visited during the week of April 7-9, she was pleased to see that Haaland said she was there to listen.
"And I hope that she does listen to the local communities, to the ranchers, to those who have been on the grounds for generations because there are significant ranching impacts as a result of these solely federal unilateral decisions," Glover says.
During her visit, Haaland received a briefing on the national monuments from Bureau of Land Management and Forest Service employees. Over the course of the three days, Haaland met with Tribal leaders from the five Tribes in the Bears Ears Inter-Tribal Coalition, and other Indigenous-led organizations. She met with Utah Gov. Spencer Cox, Lt. Gov. Deidre Henderson, Sens. Mike Lee and Mitt Romney, and Reps. John Curtis, Blake Moore, Burgess Owens and Chris Stewart.
She also held a series of listening sessions in both Kane and San Juan Counties that included state, county and city leaders, local ranchers, conservation organizations, local business owners, mining companies, outdoor recreation permit holders, paleontologists and archaeologists.
Many environmental groups welcomed Haaland's visit to the area and also called for the return to the expansions previously seen under the Obama administration.
"Every day that goes by leaves the irreplaceable resources at Bears Ears and Grand Staircase vulnerable to damage or destruction from looting, vandalism or other threats as a result of lack of protective management," says Phil Francis, chair of the Coalition to Protect America's National Parks, a national organization representing current, former and retired National Park Service employees. "Protections have decreased, but visitation continues to increase. Overarching national monument protections must be restored to provide signage, maps, interpretation, and active on-the-ground visitor management to better protect natural and cultural resources while also better serving the public."
Glover says she recognizes that multiple use on public lands is an incredibly important component, but grazing is changed when you designate a monument. This includes the changing of what grazing activities are allowed, access to grazing areas, changes based on motorized vehicle access and interaction with public transportation plans. It also affects the ability of that areas to be used for productive agriculture land and other uses outside of livestock grazing.
"The Antiquities Act was intended to be this really positive tool to make sure that we protected special things and special places, but it turned into this really contentious subject that really oftentimes is not supported by the local communities who have protected these areas for generations," she says.
Future outlook
Alongside the Navajo Nation and other tribes, the Natural Resources Defense Council and other environmental groups challenged Trump's revocation in court. The cases are now on hold pending the Biden administration's action.
The American Farm Bureau Federation, along with the Utah Farm Bureau Federation, the state of Utah and San Juan County (Utah), filed a brief in 2019 in support of Trump's December 2017 proclamations decreasing the size of the Grand-Staircase Escalante National Monument and the Bears Ears National Monument. Filed in the U.S. District Court for the District of Columbia, the brief backs the federal government's request to dismiss a series of consolidated cases filed against President Trump's declarations.
The brief explains how changes made by the proclamations would protect ranchers' livelihoods by enhancing their ability to graze livestock in and around the monuments. "Plaintiffs' claims, if granted, would significantly jeopardize the Farm Bureaus' members who ranch in the area under the authority of multiple federal laws and regulations, just as their ancestors have done for generations over the last 150 years," the groups wrote in their 2019 brief.
Glover says she expects a reverse action to be taken by the Biden administration similar to what was instituted by the Trump administration which did an evaluation on the monument designations, solicited public comment and made a final determination.
"We're hopeful that the Biden administration and Secretary Haaland can see that this whiplash effect of potential expansions again would be negative for the communities and negative for the economies," she says.
Instead, she hopes the administration would recommend that the agencies and administration seek to take care of the monument as it is now and focus their efforts on ensuring their national monument efforts are successful in "protecting discrete places, but not having all of those negative effects that we have seen with that larger footprint."
Glover concludes, "The important thing continues to be that the secretary is responsive to those local needs."
Subscribe to receive top agriculture news
Be informed daily with these free e-newsletters
You May Also Like
---