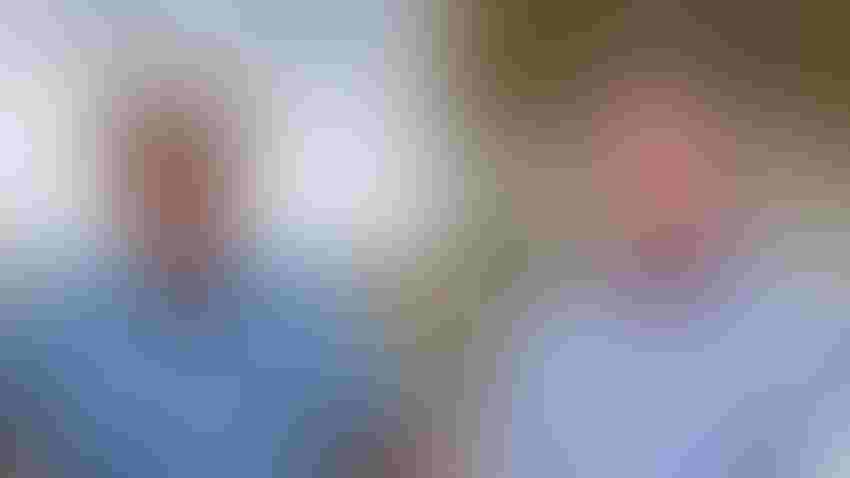 SHARING KNOWLEDGE: Farmer Glenn Heard of Decatur County, Ga., left, and farmer Jimmy Webb of Calhoun County, Ga.
Brad Haire
At a Glance
What strategy they recommend to young men and women early in their farming careers?

What do they feel is generally misunderstood by the American public about farming?
"It's hard to get excited about 5,000-pound peanuts anymore," he said, dejectedly as the Georgia farmer assessed stand loss to seedling disease. Such a statement would have been unimaginable 20 years ago when growers were happy to make 4,000 pounds per acre. Today, peanut yields may approach 7,000 lb/A. For many growers, peanuts are the "go-to" crop for profitability and profitability is tied closely to yield.
During Extension meetings this winter, University of Georgia agronomist Dr. Scott Monfort noted that the average yield for the 2022 peanut crop in Georgia was around 4,200 lb/A. A state average of 4,200 lb/A suggests that for every grower who makes 6,000 lb/A, there is another grower who only makes 2,000 lb/A, or there are two growers who make 3,000 lb/A.
In 2022, there must have been a lot of fields that didn't come close to 6,000 pounds.Obvious reasons could include adverse weather, soil fertility issues, and problems with seed quality. Diseases and nematodes, if not managed, will also keep growers from reaching yield goals.
Nearly everything growers can do to protect their 2023 peanut crop from root-knot nematodes, tomato spotted wilt, seedling disease, and Cylindrocladium black rot ends when the furrow is closed. Choice of varieties, planting dates, nematicides, seed treatments, and use of an in-furrow fungicide become irrelevant after the furrow is closed.
Effective fungicide programs for management of leaf spot diseases and white mold require timely application of strong fungicides to protect yield and profit. Saving money with the wrong fungicide program will likely cut yield and profit.
I have the good fortune to work with many successful row-crop farmers. I recently asked a few of them two questions. First, I asked what "strategy" they would recommend to young men and women early in their farming careers. Second, I asked what they feel is generally misunderstood by the American public about farming.
Wallace Anders, Gilmer County, Ga.
"My strategy for farming from the very beginning has been to pay close attention to my debt load and to pay things off as quickly as possible. Sometimes it felt like we lived on bread and water rather than buy the nicer things.Before any equipment purchase, I make sure it will pay for itself by putting a pencil to it and see what my savings and costs will be. You really have to love farming."
"What I find most troubling with the non-farming community is their lack of knowledge on the amount of cost and work that is involved and required to be a farmer. Equally frustrating is a total lack of understanding on the need and use of essential pesticides and herbicides."
Chip Dorminy, Irwin County, Ga.
"The most important strategy for successful farming is perseverance and timeliness. To be successful, a farmer must be willing to do whatever it takes to accomplish the task."
"I wish the American public could understand the following. Farming is not all about money. It's about the love of the land, family, and enjoying God's creations."
Jimmy Webb, Calhoun County, Ga.
"Accounting is the critical strategy. Farming is a business and you've got to know the numbers."
"The public has no idea that we put up everything we own to make a crop. The ratio of "risk" to "reward" really isn't worth it, but I do love watching a crop grow. That's rewarding!"
Jerry Davis, Santa Rosa County, Fla.
"Cost containment is an important strategy. It does not take the newest equipment to be profitable if you use the latest research and agronomic tools."
"The public does not understand that government programs are here to ensure that farmers sustain the most economical and plentiful food in the world for the American people."
Shannon Nixon, Okaloosa County, Fla.
"For me, the single most important strategy is to understand how to maximize profitability and mitigate risk. Without profits, no business is sustainable. That's why agricultural research is vital to our decision-making processes."
"I feel what we do is arcane to 90 plus percent of the public. A lot of the misconceptions are the fault of our industry because we don't have the right conversations that could calm the fears and the misinformation. The public grossly underestimates the complexity and challenges farmers face in providing them with an abundant, safe, and economical food supply."
Lamar Black, Jenkins County, Ga.
"My strategy for farming? First you have to love it. Be willing to work long hours at times. Although it is first a business, it is also a way of life, a very good life."
"Our wise use of chemicals to enable farmers to feed and clothe the world is misunderstood by the public. They feel we don't care about our livestock or the environment. They also feel we get government payments without any effort on our part."
St Elmo Harrison, Grady County, Ga. (He is planting his 72rd peanut crop in 2023)
"Hard work and dedication are key strategies for success. Farming is not about fancy trucks, expensive equipment and getting rich quick. It is about patching up equipment and working long hard hours, many times for not enough pay."
And, finally, in the fewest of words:
Glenn Heard, Decatur County. Ga.
"Success depends on learning, and the public does not understand our risk."
Subscribe to receive top agriculture news
Be informed daily with these free e-newsletters
You May Also Like
---