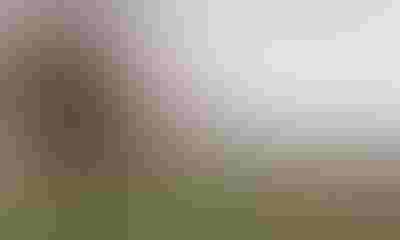 How did Muddy Fingers Farm at Hector, N.Y., harvest a 13.6% net income gain and 1,700 pounds more of high-quality salable produce in 2015 compared to 2014? The answer: By tweaking high tunnel soil health management practices.
After seven years of growing crops in high tunnels, owners Liz Martin and Matthew Glenn knew diseases were eating away at yields and profitability – despite all their best management practices to keep soils healthy. They rototilled between crops, subsoiled middle beds annually, rotated crop families between beds to reduce disease risks, applied animal manure compost and irrigated from a nearby farm pond. Despite it all, production slowly sagged.

EXPERT HELP CALLED IN: (Right to left) Muddy Fingers Farm owners Matthew Glenn and Liz Martin talk production tech with Cornell's Reid and Hall near one of their new high tunnels in April. Photo: Spencer Tulis
The pair has been organically producing spring greens and summer tomatoes in five 96-foot-long high tunnels at their Community Supported Agriculture business since 2013. So Martin and Glenn called in the "science squad" to solve the mystery. "The timing was perfect," says Glenn.
The pair worked with Cornell Vegetable Program Specialist Judson Reid as part of a New York Farm Viability Institute-funded project aimed at increasing high tunnel profitability. Soil, foliar and water testing were done by Reid. Cornell field research technician Cordelia Hall evaluated nutrient levels.
'Tiring' soils clues
Soils in the stationary tunnels were experiencing excess nutrient levels and increased disease – both limiting yields, notes Reid. "By testing for nutrient levels pre-season and in-season, we were able to optimize fertility rates and adjust pH to increase yield and fruit quality."
Soil tests indicated nutrient and organic matter content were sufficient, "so we didn't need to add spring compost," elaborates Martin. "Foliar testing provided an instantaneous understanding of what nutrients were present and what we lacked."
But the water test results were eye-openers. "You naturally think about soil pH, but we didn't consider that the pH of our irrigation water was impacting soil pH," she adds.
Due to problems with the field siphon plus no post-acidification reading, the starting pH was 7.8. Over time, high pH irrigation water can cause high tunnel soil pH to creep up and limit nutrient availability in the long run, explains Cornell's Hall.
"Acidifying irrigation water is a long term management strategy, not an immediate fix," she adds, "and not likely to immediately increase production. By acidifying irrigation water, the grower mitigates this gradual increase in soil pH, also caused by certain fertilizers and soil amendments.
"Muddy Fingers started to manage soil pH at the start of this project by applying elemental sulfur in their high tunnel soils to bring down soil pH. So, a combination of soil and water pH management strategies contributed to improvements over the course of this project."
Martin and Glenn added citric acid powder via their field siphon to acidify the water. It was releasing larger amounts of powder all at once. "That didn't seem to hurt us. But we're considering a different injector system with a more precise calibration," notes Glenn.
Fresh start
In mid-March 2016, the pair installed plastic over new, shorter, moveable tunnels and scrapped two of their stationary tunnels. The soil type in the new tunnels is the same as under the stationary tunnels – just fresher.
"We found a local designer for our first mobile tunnel and loved it. Now we have four," says Martin.
"The new tunnels are starting with fresh soil so we don't expect build-up problems for a while. But we now realize that we need to keep closer tabs on our soil and water nutrient levels," Glenn adds.
Martin notes: "We cannot rely on the crops or our eyes to tell us something is needed. The crops didn't look 'hungry' when they were tested. The foliar testing proved that the plants don't offer early warning signs."
For more on the NYFVI high tunnel project, contact Reid at 315-536-5123 or email [email protected] .
For 11 tips on boosting high tunnel soil health, click on here.
Dunn writes from Mannsville, N.Y.
Subscribe to receive top agriculture news
Be informed daily with these free e-newsletters
You May Also Like
---