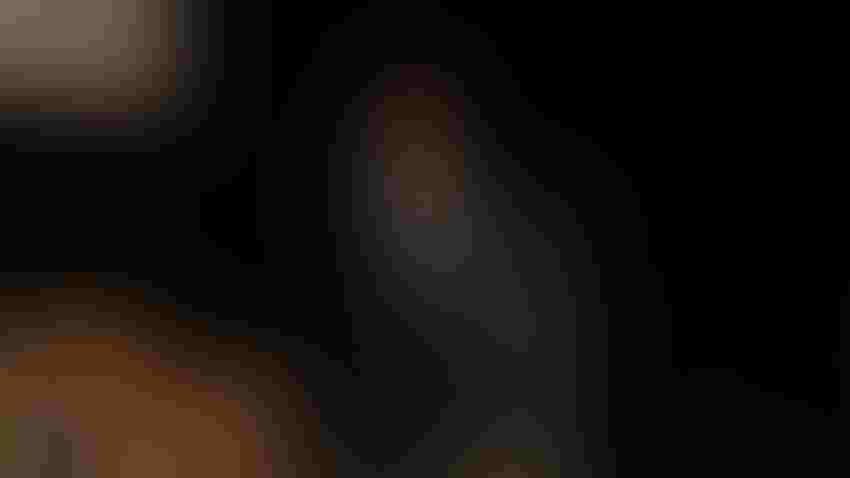 TALKING CHANGES: Christopher Cappetta, the chief financial officer for Harris Seeds, talked about the company's diversification and how it navigated through COVID-19 at the New York State Agricultural Forum.
Photo by Deborah Jeanne Sergeant
As with any industry, agriculture had its share of disruption and opportunity during the COVID-19 pandemic. Harris Seeds of Rochester, N.Y., is no exception.
At the recent New York State Agricultural Society Forum, Christopher Cappetta, the company's chief financial officer, talked about his company's experience during the pandemic and what they learned.
Founded in 1879, Harris Seeds has a long history in New York state. Cappetta said the company pioneered seed germination testing. To this day, it still performs most of its own testing in-house and works with farms along the East Coast to conduct grower trials.
Staying close to the development process has helped Harris align its products to what customers want, such as plant features and variety traits.
"Harris was responsible for the introduction of many of the hybrids available today," he said.
Changing with the times
Though the company is rooted in tradition, doing everything the same way leads to stagnation and becoming out of touch with consumers. For example, hand-drawn art with quaint rural scenes adorned the company's seed catalogs of the past. Current catalogs now feature bright photos of multiple types of produce. The goal is to broaden the company's appeal to produce farmers more interested in yield than pastoral scenes.
The company used to produce several catalogs a year. As the world shifted online, though, it has had to adjust.
"As catalogs decreased in popularity, we narrowed it down to two," Cappetta said.
The company also added QR codes to its catalogs and began offering digital catalogs that include new product offerings and ideas to help growers. Its current customer base ranges from home gardeners to medium-sized growers.
Adjusting to COVID
The company's long-standing history of adjusting to change helped it address COVID-related disruptions. Despite supply chain and labor issues, business soared, Cappetta said.
"With COVID, we saw a huge increase in volume as everyone was home," he said. "It allowed us to capitalize on digital marketing. Our growers are excited about our products."
Many customers like to show off photos of what they have grown on social media, providing free promotion for the company. In addition, the company uses Facebook, Instagram, Pinterest and, more recently, product influencers to market online. Cappetta claims Harris was the first seed company to offer an app.
He said the company sees customers' social media posts as valuable information to help it stay abreast of customer needs. It has also helped the company expand into new regions as Harris has brought on other vendors and launched product trials throughout the country.
Website analytics helps Harris make informed decisions, such as the need to expand to Amazon and Walmart as points of sale, Cappetta said.
"We use data to understand the customer base and target products for specific regions," he said.
Internally, these metrics aid in better understanding production capabilities and output, drive efficiencies in throughput, and help the company understand and track return on investment on capital investments.
Currently, Harris Seeds deals in Harris Moran, PanAmerican, Syngenta, Seminis, Sakata, IFSI and Crookham. This vendor diversity has helped the company grow.
Diversifying the business
The business itself has become more diverse through its acquisitions and homegrown expansion, going far beyond seeds. These business ventures include Plantgem; Ken-Bar and Hops Harvester, both under the Mito Technologies umbrella; and Meristem Solutions.
Mito Technologies offers American-made growing supplies and equipment. Meristem Solutions provides marketing, storefront and data management to other companies in the business.
"We're working with some big suppliers that, though they're bigger companies than we are, they lack the capacity to do what we do administratively," Cappetta said.
Plantgem, acquired in December, offers live plants and bulbs, and information to support first-time growers. "It approaches millennial and Gen Z, but isn't necessarily on the seed side," Cappetta said. "There's a huge influencer following."
To appeal to new growers, Harris started offering in-person events once COVID restrictions were lifted. Although the lockdowns and isolation periods of the pandemic have faded, it's clear that more people are interested in growing their own gardens and plants, an enduring opportunity that Harris Seeds is leveraging for its own success.
Subscribe to receive top agriculture news
Be informed daily with these free e-newsletters
You May Also Like
---