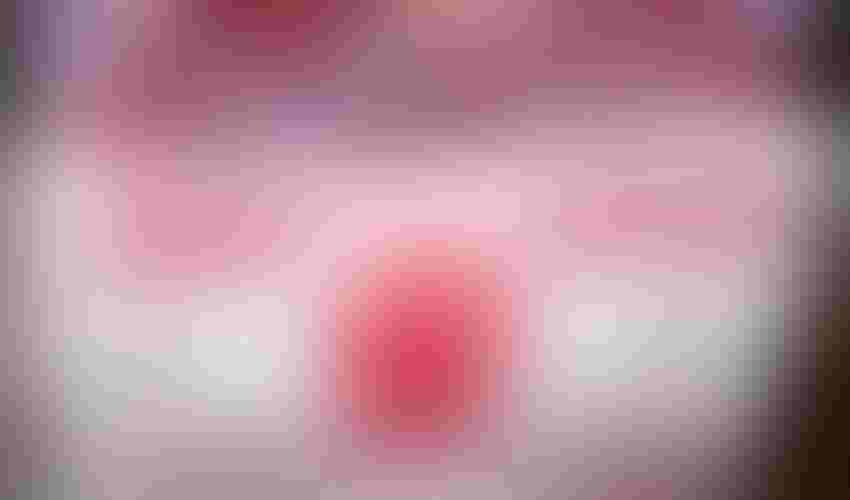 Washington state apples are ready for shipment. A coalition of farm groups is pushing for a legislative fix after a Supreme Court ruling subjected farms to lawsuits for back overtime pay.
USDA ARS
Dairy and other farm groups in Washington state are seeking protections from lawmakers after a state Supreme Court ruling in November opened the door to lawsuits against growers for back overtime pay for workers.
In a 5-4 decision that's expected to apply to all of agriculture, the state's high court ruled Washington's dairy workers are entitled to overtime pay if they work more than 40 hours a week.
The ruling cast aside a 60-year-old exemption for ag from state overtime laws and could provide a template for extending overtime in other states, Seattle University Law School professor Charlotte Garden said, according to The Associated Press.
As a result, lawyers from as far away as Los Angeles have filed 24 class actions against Washington state dairy, apple and egg farmers claiming they owe their employees three years' back overtime pay, reports a coalition of farm groups formed to fight the onslaught.
The coalition, called Save Family Farming, equates the demand to a speed limit being suddenly lowered and then motorists being retroactively fined for driving faster under the old limit.
Jon DeVaney, the Washington Tree Fruit Association's executive director, said he was recently told by a small Latina grower that having to pay retroactive overtime would put her out of business.
"Long-standing family businesses have more equity to draw on, but new and beginning farmers don't have that cushion," DeVaney said Jan. 26 during a Zoom meeting with reporters. "We need to promote this as a concern for all of agriculture."
Bills to restrict courts
The groups are pushing a pair of bills – Senate Bill 5172 and House Bill 1217 – that seek to limit the retroactive effect of court decisions regarding overtime pay by more clearly delineating the factors under which they can be applied.
Under the legislation, a court would be barred from awarding retroactive pay when:
A court announces a new rule or interpretation of law; and

The previous rule had been established in statute, ordinance, rule or court decision; or

The previous rule had been expressed in a reasonable interpretation of previous legislation or court rulings.
"For many generations, family farmers have been following the law," said Jason VanderKooy, a dairy farmer and president of Skagit Family Farmers. "We're doing what we love to do, which is farm. But now, just like that, a lawyer can come in and take that all away from us. That's pretty tough on farmers. Even though you're following the law, everything can be taken away from you."
Suit filed in 2016
The ruling came after two employees filed a lawsuit in 2016 on behalf of 300 workers against DeRuyter Brothers Dairy in Outlook, Wash., whose milking facilities were operated around the clock. The farm was requiring workers to stay and milk the cows and clean the facility.
The dairy paid $600,000 to settle most of the claims, including that it failed to provide meal and rest breaks, but the overtime issue was never resolved, the AP noted.
The Supreme Court's majority based its ruling on state health and safety protections, which grant workers in dangerous jobs a right to overtime pay to prevent employers from forcing laborers to work to the point of fatigue.
"The stated purpose of the Minimum Wage Act is to protect the health and safety of Washington workers," Justice Barbara Madsen wrote in the majority opinion. "This purpose underlies the entirety of the act, including the overtime pay protections and exemptions."
With the ruling, Washington became the first state to overturn farmworker overtime exemptions through the courts. California lawmakers in 2016 passed legislation by Assemblywoman Lorena Gonzalez, D-San Diego, which phased in an 8-hour work day and 40-hour week for farm employees, who previously were paid overtime after 10 hours in a day or 60 hours in a week.
New York in 2020 began requiring overtime pay when farmworkers work more than 60 hours in a week, and Maryland and Minnesota also offer overtime protections for farmworkers, according to the AP.
But while California growers could give input on the legislation and prepare for changes, Washington farmers have had considerably less time to react, DeVaney said.
"This was not about a legislative change of policy," he said. "This was an unpleasant surprise from a court. If they're going to make changes to the law, they should look at impacts."
Seattle University's Garden, who worked on a friend-of-the-court brief, believes the ruling could be the first of many as workers' advocates look to state courts for relief rather than a federal judiciary that became more conservative over former President Donald Trump.
"The law in this case is obviously (Washington)-specific, but it could still inspire new litigation strategies both inside and outside" the Evergreen State, she wrote in an instant message, according to AP.
High labor costs
Washington's farms already have some of the nation's highest labor costs because of its high minimum wage and its labor-intensive fruit and hops, the wire service notes. The Pacific Northwest recorded about a 70% increase in farm bankruptcies in 2020, whereas the national average was 8%, according to the American Farm Bureau Federation.
The current average hourly wage of dairy employees in Washington is $17 an hour, according to the Washington Policy Center. The center cites a state Farm Bureau estimate that the retroactive compensation would cost a medium-sized dairy about $1.5 million, a potentially business-ending cost.
"Back in November when the ruling came … we went to our employees and said, 'We have to restructure everything,'" VanderKooy said. "We got over that, but now with this threat of lawyers coming after us, that's something that's on my mind heavily.
"That's something I can't fix," he said. "These people can come in and take away everything I've put my whole life into."
Asked if they think the Republican-backed legislation can pass in a state led by Democrats, DeVaney and others pointed to a recent Gallup poll that found agriculture has the highest approval rating among industries in the U.S.
"This really shouldn't be a partisan issue," DeVaney said. "This is an issue of fundamental fairness."
Subscribe to receive top agriculture news
Be informed daily with these free e-newsletters
You May Also Like
---