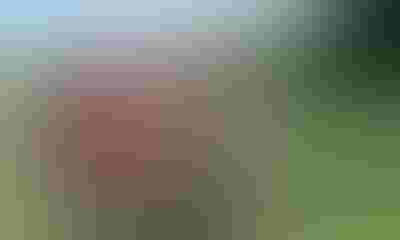 Ryan and Sarah Voiland are in a real pickle – literally and figurative. Thriving demand for organic vegetables, fruit and flowers from their Red Fire Farm's Community Supported Agriculture enterprise, two farm stands, and wholesale markets is straining their resources.
Related: Grappling with growth - Real Pickles' raw phenomenon
The Voilands grow products on farms at Montague and Granby, Mass., plus juggle a variety of markets giving them flexibility. Red Fire's CSA has 1,450 summer season shares and 12 pick-up locations. They also market produce in the Pioneer Valley and as far away as Springfield and Boston suburbs.

NOTHING'S SIMPLE: Despite challenges, Ryan and Sarah continue building their Red Fire Farm as a diversified Massachusetts farming operation.
Close to 25% of their sales are wholesale; four Wegman's stores in eastern Massachusetts consume a third of that market. They also sell to grocery stores, co-ops, restaurants, and to Real Pickles, a processor of fermented vegetables in nearby Greenfield.
With growth comes obstacles
The Voilands hire 80 to 90 employees at the season-height. They often take on interns that they train to move into management or go on to their own farms. "The problem now is finding enough local people," Sarah says. "It's hard to farm and to teach new employees at the same time. New farmers take a lot of time."
And, their local, affordable labor supply is being threatened by Massachusetts' minimum wage law. It raised this year's minimum wage to $10 an hour. In 2017, it'll jump to $11.
That's why the Voilands are doing an extensive business analysis to map out their future. "We're definitely feeling the new minimum wage law being imposed. We have to do something different," states Ryan. "We're just not sure what that is yet."
Red Fire Farm CSA started in 2001, and quickly grew to half of the business. But demand softened as the more CSAs saturated the area.
Wholesale markets provide flexibility in selling surplus, but also present another set of challenges. Customers request bar codes, labeling and packaging such as waxed cartons. Those need to be ordered and stored. Employees must be trained to pack produce to precise specifications.
Red Fire now grows more root crops and storage vegetables – onions, beets, carrots and parsnips – to even out income and labor over the year. Ryan and Sarah recently renovated their packing barn with storage bays that geothermally cool with water from a well.
The farm was one of the first Real Pickles suppliers. "Dan [Rosenberg, Real Pickles' founder] had big plans and needed growers to grow stuff," notes Ryan. The two met through a college roommate network. "I had a new farm and needed markets. So I've been growing for them every year since."
Harlow writes from Westminster Station, Vt.
Subscribe to receive top agriculture news
Be informed daily with these free e-newsletters
You May Also Like
---