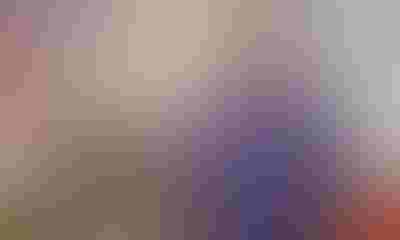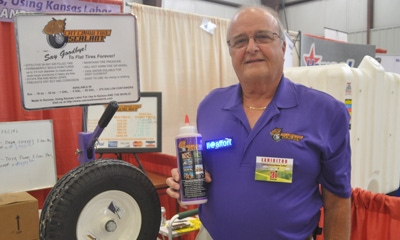 What's worse than a flat tire?
It always happens at the worst possible moment — you're headed out to take the kids to school, deliver lunch or dinner to the field, make it to the doctor's appointment — and there you sit, flat on the concrete.
Bill Zacharis feels your pain. And he has a solution: Cat Claw Tire Sealant, a patented product that seals the hole or crack in your tire permanently.
His product comes in bottles as small as 8 ounces, about right for a bicycle tire, or as large as a 275-gallon tote.
"This works for anything," Zacharis said at his booth at this year's 3i Show in Dodge City. "I was exhibiting at the Kansas State Fair when this young lady came up with a double baby stroller that had a flat rear tire. I took a bottle from the display and fixed her tire."
Zacharis, who was born and raised in Kansas, lives at Clay Center. He said the sealant he sells under private label was patented by another Clay Center resident, Mike Wernette, and is the only hot-mix sealant made in the U.S.
"It is a proprietary chemical formula that contains a rust inhibitor to protect steel wheels, a little antifreeze and fiberglass particles, among other ingredients," he said. "The heating process bonds the chemicals and gives the material the ideal viscosity to permanently seal a tire."
Zacharis, who is retired after a 36-year military career, said Cat Claw Tire Sealant is his plan to secure income in his retirement while also offering a business opportunity for his son-in-law.
"My daughter is a pharmacist, and they have two kids, ages 4 and 2," he said. "My son-in-law is a stay-at-home dad. This business is an opportunity that helps him be able to work from home and provide care of the kids."
He is actively working to find distributors for Cat Claw Tire Sealant.
He has joined the From the Land of Kansas network and is proud to offer a product that is made in Kansas.
Each package of Cat Claw sealant contains a tool to help the user remove the valve from a tire. The bottle-top applicator is then inserted in the tire, and the user squeezes the sealant into the tire. The valve is then replaced and the tire aired up.
"I recommend that you immediately rotate the tire several times to make sure that the sealant covers the entire interior surface," he said.
Zacharis said his goal is to set up a network of 1,000 dealers to market his product.
About the Author(s)
Subscribe to receive top agriculture news
Be informed daily with these free e-newsletters
You May Also Like
---